1103 Electric Heat Gun
09221
-Efficient 2000W heat gun provides adequate power and quickly heat up to 600℃ in few seconds
-7 Temperature settings from 50℃ to 600℃ and 3 Air flow speed control [1st:250L/min, 2nd:250L/min, 3rd:500L/min] can satisfy all the requirements 
-Built-in overload protection system shuts the heating element down for more service life
-Ergonomic design and handle with non-slip surface provides convenient handling
-Adjusting temperature wheel allows user to adjust the temperature easily 
-Constant Heat Control for continuous work without over heating
Melting Airflow, Feel the Destructive Heat
The Ronix 1103 Industrial Heat Gun is designed to take on a whole host of DIY tasks. Therefore, it is equipped with a super powerful 2000 W motor, which provides adequate power and quickly heats up to 600℃ in few seconds. Safety-wise, by including the built-in overload protection system inside the heat gun, overheating during constant work is on the first of never. The way this mechanism works is by shutting the elements down for a few seconds in case of overheating. Ronix heat guns are also equipped with a Constant Heat Control system, which constantly controls the working temperature by shutting the elements down and turning them on to stabilize the temperature on the desired amount during continuous wok. These two mechanisms make your heat gun safer, more reliable, and also extends the service life.  This device is built to be as dynamic as you need it to be. To satisfy all the users' needs, it includes 7 temperature settings from 50℃ to 600℃, which are easily adjustable by a wheel designed at the back of the device. Not all jobs are alike, and Ronix experts take that to heart when designing the heat guns. In addition to the temperature settings, 1103 is equipped with 3 airflow speed control (1st:250L/min, 2nd:250L/min, 3rd:500L/min) to satisfy all the requirements. The ability to customize your temperature and airflow speed can give you great dominance over the job your performing and decrease the risk of any damages to the workpiece to the least.

Ronix has been constantly trying to gather functionality and durability in a single unit. The Ronix 1103 Industrial Heat Gun may be one of the most lightweight power tools in your workshop with only 1.1 Kg. In addition to the lightweight, ergonomically designed handle with a non-slip surface provide convenient handling and relieves your hand fatigue in continuous work.

The usages of a heat gun like Ronix 1102 is vast. It is an industrial power tool and can take care of a huge number of duties in your worksite. Its power and heating mechanism are quite enough to deal with any possible melting workpiece. The amazing specifications and features in it are the answers to all of your needs.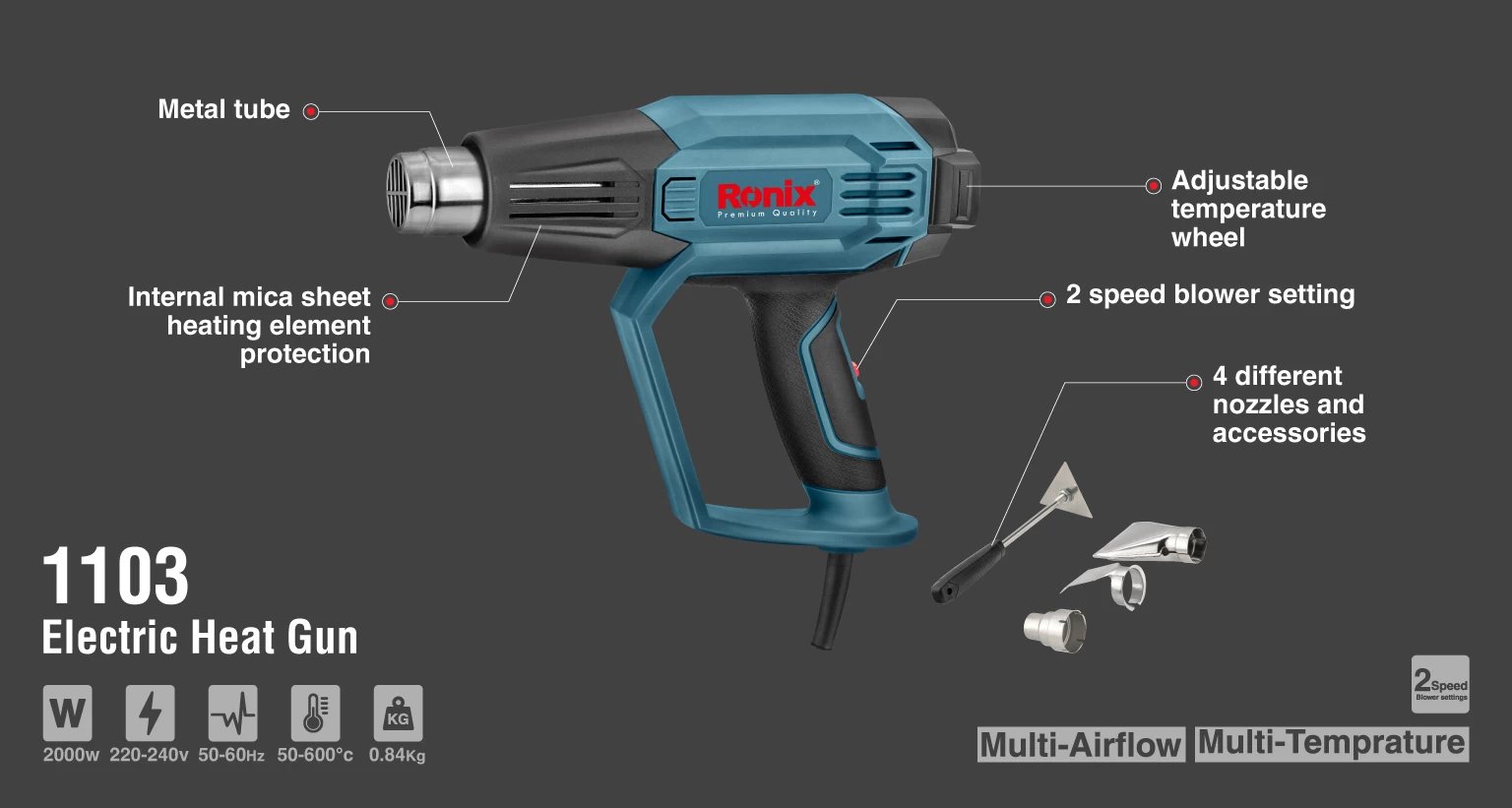 | | |
| --- | --- |
| Model | 1103 |
| Power | 2000W |
| Frequency | 50Hz |
| Weight | 0.84kg |
| Voltage | 230V |
| Air Volume & Temperature | 1: 250 L/min 50℃ 2: 250 L/min 50-600℃ 3: 500 L/min 50-600℃ |
| Supplied In | Ronix Color box |
| Includes | 3 Nozzles, Scraper tool |