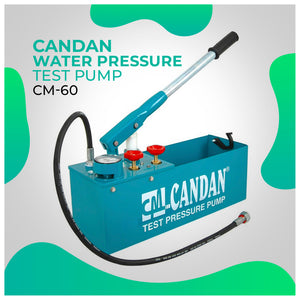 Candan Water Pressure Testing Pump CM-60
18119
Name: TEST PRESSURE PUMP (TESTING PUMP).
Code: CM - 60.
Dimensions: 190x530x305 mm.
Weight: 8 kg.
Tank volume: 12 l.
Piston volume: 45 ml.
Outlet connection: R 1/2".
Test Liquid Water: oil.
Maximum temperature: 500 C – 1200 F.
Maximum pressure: 60 bar 860 psi. 6 Mpa.
Other Remarks: The system pressure of the drinking water we consume at home and at work in our daily life is between 5 and 8 bars. A test pressure of 15 bars is sufficient for a leak test on this kind of systems.