Ronix 2702 Rotary Hammer Drill 1100w sds-plus 220v
09670
Features
-High performance 1100W rotary hammer drill with 3 functions: drilling, hammer drilling, chiseling
-Die-cast aluminum housing enables light weight and superior heat dissipation 
-Large capacity cylinder for stronger 5J impact energy and more efficiency
-Unique chisel rotation system for adjusting hammering positions
-Double anti-vibration system reduces operator's fatigue and improves efficiency
-360° anti-shock auxiliary Ronix-design handle provides a wide range of movement along with operator's comfort
-SDS Plus tool-free bit system with automatic bit locking mechanism
-Lock button switch for comfortable working in continuous operations
-Ergonomic handle design improves comfortability and better handling
-High-torque safety clutch system can protect armature and ensures safety
Rotary hammers are not necessarily the most rapid of tools in terms of rotational speed, but their strength of impact has made them ideal for drilling in hard materials such as steel, concrete, brick, etc. The Ronix 2702 rotary hammer drill is a perfect tool for both professional and amateur users, meaning that it is used in the demolition process as well as in drilling. In fact, these heavy-duty tools are used in light demolition and drilling activities on various materials such as concrete, stone, and brick. The Ronix 2702 rotary hammer with 1100W, 4200 BPM, and 5J is the preferred way to drill holes and demolish surfaces quickly.
Similarly, the Ronix 2702V rotary hammer is manufactured with all the same features and capabilities, the only difference between these two devices is their voltage and frequency.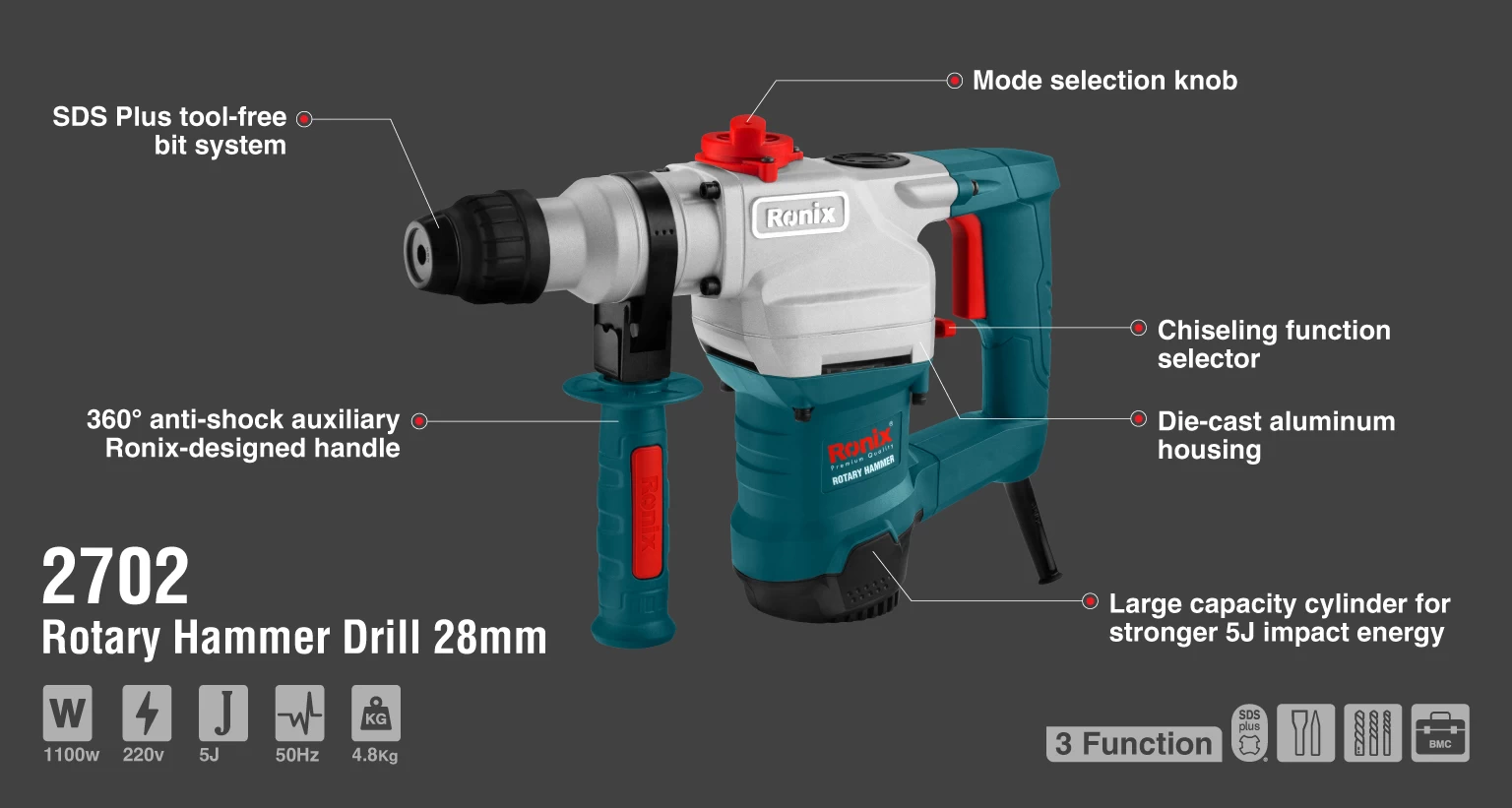 Specifications
| | |
| --- | --- |
| Model | 2702 |
| Impact Energy | 5J |
| Chuck Type | SDS Plus |
| Chuck Size | 28mm |
| Power | 1100W |
| Frequency | 50Hz |
| Max Capacity In Wood | 40mm |
| Max Capacity In Steel | 13mm |
| Max Capacity In Concrete | 28mm |
| Weight | 4.8kg |
| Voltage | 220V |
Detailed Description 
The Ronix 2702 rotary hammer drill with its powerful 1100W motor is the ideal tool for drilling into tough materials.
 
Ronix 2702 220v, 28mm SDS Plus Rotary Hammer Drill:
It can be difficult to choose the right tool to complete your task with ease; so, scroll down to see the features of the Ronix 2702, that might be useful for your needs!
 
Motor:
As we know, a rotary hammer is a kind of powerful drill that is used to perform heavy activities such as demolition and drilling on materials such as concrete, stone, and brick, but at the same time, it must have a powerful and durable motor to carry out these activities effectively. The Ronix 2702 rotary hammer has a powerful 1100W motor that delivers a speed of 950 RPM and a power output of 4200 beats per minute. The powerful motor of this unit allows the users to perform drilling, hammer drilling, and chiseling and enables them to work on different materials such as wood, metal, and concrete. The drilling capacity of this device is 40mm in wood, 13mm in metal, and 28mm in concrete. Features that distinguish this power tool from other similar models. User safety has always been a priority for Ronix, which is why the Ronix 2702 is equipped with a safety clutch system.
 
Bit holder:
The SDS Plus bit holder allows reliable drilling in reinforced concrete; the geometric shape of this bit head having 4 cutting edges, prevents it from jamming and breaking, which allows for accurate and error-free work results. In addition, one of the advantages of this system is the ability to adjust the device with one hand and the transmission of high torque, which helps the user to perform various activities. The Ronix 2702 with a 28mm SDS Plus bit holder and an automatic locking mechanism allows users to enjoy the highest power while working and complete tasks easily. In addition, the unique chisel rotation system used in this power tool will help you adjust the chisel for different hammering positions.
 
Body:
One of the features that set a tool apart from its peers is its design. A tool with a suitable and compact design will have many more fans.
With its professional design, ergonomic body, and 4.8 kg weight, the Ronix 2702 rotary hammer is a perfect tool for long-duration work. Furthermore, the ergonomic auxiliary handle of this tool is shock-resistant and has the ability to rotate 360 degrees, which will reduce the user's hand fatigue while working. You'll also find a lock button switch on the handle to work comfortably during continuous operations.
 
Accessories and packaging:
The Ronix 2702 rotary hammer drill is housed in a BMC case that includes a Ronix auxiliary handle, several different-sized drill bits, a wrench, and a tube of grease. It also contains a protective rubber cap to prevent dust and wood chips from entering the tool.