Mini Angle Grinder, 1400W, 3160
08046
MVR 1,04000

MVR 1,040.00

Save MVR 3,000
---
---
Features
-High power heavy-duty 1400W motor that enables top performances in different functions
-3 positions anti-shock ergonomic side handle which promotes easy work and perfect machine control in different range of operator movements 
-Direct motor cooling system which allows higher industrial operation capabilities and protects armature
-Variable speed setting regulates the speed to adapt
to the operator's needs
-Quick change of disc guard that allows the user to position the guard in many different working angles
-Easy and fast carbon brush changing mechanism
-New locking pin system for easy and fast disc changing and safety mechanism
-Anti-dust switch which reduces dust penetration, especially in construction usages
Small Dimensions, the Numbers Blow Your Mind
It's just 3.2kg as a long handle mini angle grinder and when it comes to talking about RPM and motor power, 9000 to 11000RPM and 1400W motor power alongside its weight blow everybody's minds who want to work with it. Its ergonomic cooling system for the motor and lubricating system through the gears have made the Ronix 3160 Mini Angle Grinder a strong and durable device among its own kind. Its long handle and the dimmer switch make any operations possible, like heavy-duty tasks and delicate applications. Different usages expected from a power tool like 3160 include cutting, grinding and polishing at repairing garages, construction sites, mining industries, metal fabrication shops, carpentry, etc. 
Specifications
| | |
| --- | --- |
| Model | 3160 |
| Spindle Size | M14 |
| Power | 1400W |
| Frequency | 50Hz |
| No-load RPM | 9000 RPM |
| Weight | 3.2kg |
| Wheel Diameter | 115mm |
| Voltage | 220V |
| Supplied In | Ronix color box |
| Includes | Auxiliary Ronix-design handle, Ronix wheel guard |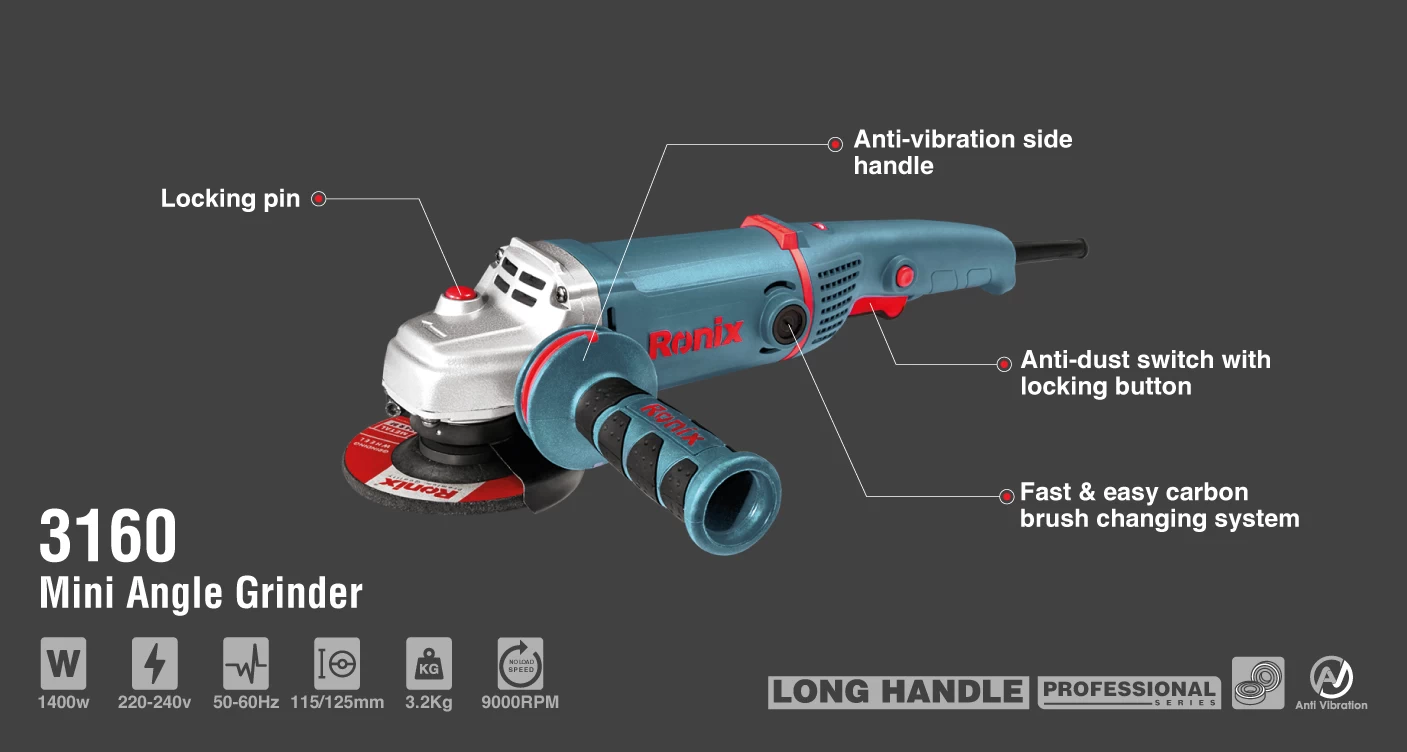 Detailed Description 3160 115mm
Long Handle Mini Angle Grinder with Dimmer Switch
Motor: Although some might say that you cannot expect much from mini angle grinders, with the 1400W power of motor and 9000 to 11000 no-load of speed in RPM, almost any operations is possible for the Ronix 3160 115mm Mini Angle Grinder. The rotor, stator and the gears inside the gearbox are industrially designed for heavy and high-pressure duties which plays an important role for the motor's lifetime. After working for long hours, the cooling system and louvered housing come to aid for easing the air flow inside the motor. The shape of gears is in a way that they get lubricated constantly and fast. Both of these systems will help protect all the parts from wear and tear. Furthermore, by including the dimmer switch and the ability to attach discs or polishers up to 115mm in diameter, you could polish delicate wooden or metal pieces, or go for cutting stone or different types of steel. Additionally, the carbon brush is designed in such way that you could change pieces of carbon as fast as possible.  
Body: At first, you see the word "mini" in its name but as it was mentioned, its vast usages will meet anyone's desire working on any kinds of metal, stony or wooden pieces. And then, when you hold a Ronix 3160, you feel the ergonomic design and the comfort while it is operating. The aluminum housing of the gearbox and high-quality plastic included on the body and also the auxiliary Ronix designed handle are all the reasons for this power tool's lighter weight and perfect balance between the parts. This combination will lead to low fatigue and more effective applications too. A serious factor about the motor is the epoxy coated field windings that make the lifetime of the motor longer by preventing dust and small pieces from penetrating the motor windings. The ergonomic anti-vibration handle that is attached to the body is the most comfortable part of our Ronix 3160 Mini Angle Grinder which is impeccably designed to meet the operator's needs completely.
The numbers and the experiences of our customers here show that the Ronix 3160 115mm Mini Angle Grinder has proved itself as a top-notch power tool among its own kind. With its reasonable price and superior quality, Ronix 3160 is a competitive advantage for anyone who needs an angle grinder at jobsites.