Circular Saw 4318 180mm
06315
Features

-Powerful, high performance 1350W motor delivers 6000 RPM for greater speed and faster cuts
-Ergonomic light weight design improves working efficiency and reduces user fatigue
-Suitable for fast and precise cutting in different woodworking applications
-Spindle lock system for easy and fast wheel changing and safety mechanism
-High-performance guard design for controlling chip and dust wood ejection
-Bevel adjustment with detents at 45 and 90 degrees
-Adjustable cutting depth enables different working applications
-Well balanced design for superior handling and performance
-Easy access carbon brush for easy maintenance
-Steel base plate is completely effective for the highest cutting precision.
Make Straight Cuts in Wood Anywhere!
Are you a woodworker who moves from one project to the other one constantly? Do you have a carpentry workshop but your space is limited? Well, for straight cutting applications, there is a great tool that is both extremely portable and really compact; a woodworking circular saw! The Ronix 4318 Circular Saw has a high-performance motor that can generate 1350W of power for all of your wood cutting projects. Its light weight enables you to take it on various construction sites and use it on many projects. Additionally, its compact and handy design makes storing it really easy.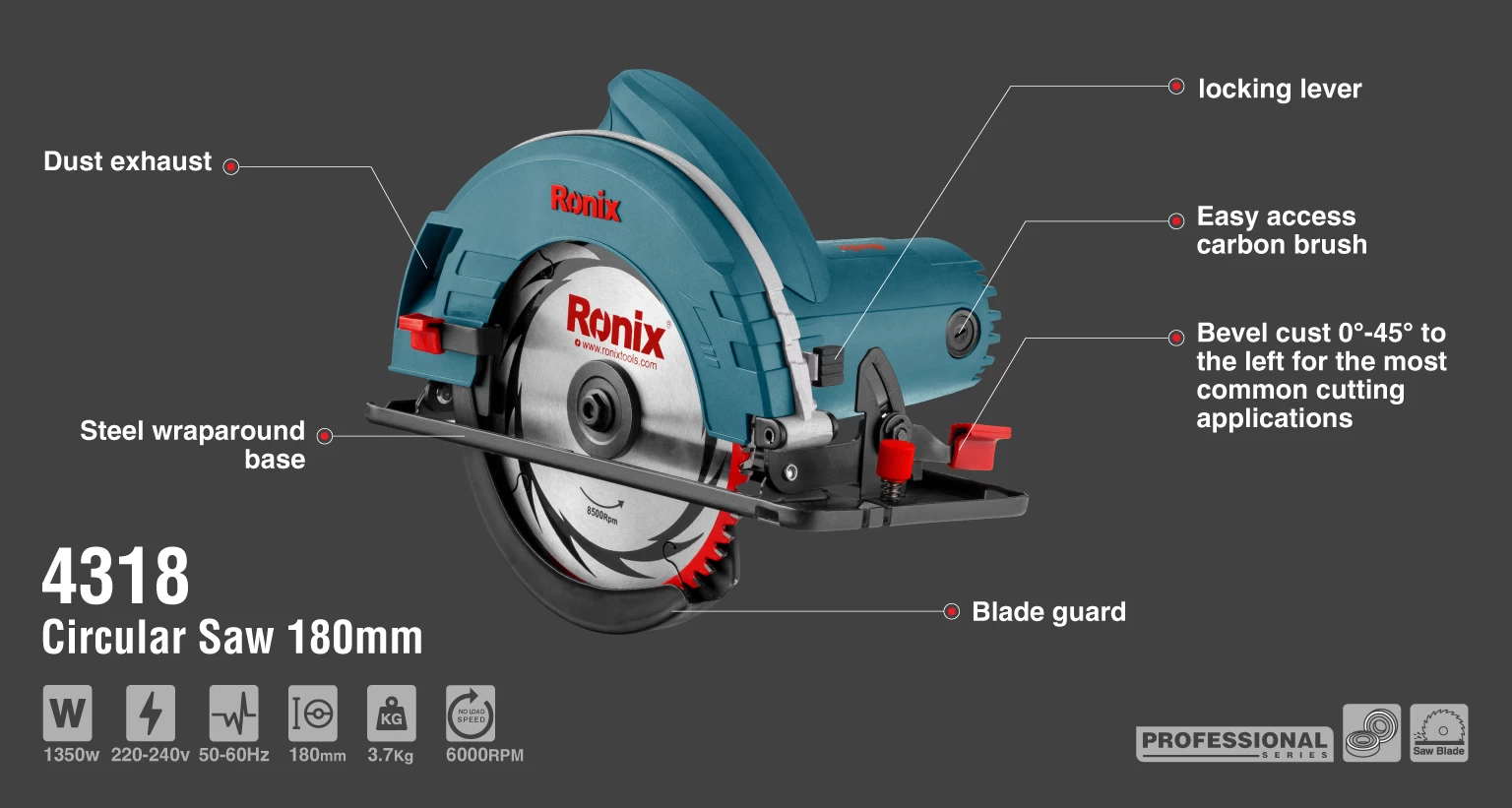 Specifications

| | |
| --- | --- |
| Model | 4318 |
| Max Cutting Depth at 90° | 60mm |
| Max Cutting Depth at 45° | 45mm |
| Saw Blade Diameter | 180mm |
| Power | 1350W |
| Frequency | 50Hz |
| No-load RPM | 6000 RPM |
| Weight | 3.7kg |
| Voltage | 220V |
| Spplied in | Ronix color box |
| Includes | Guide rail, 2 pieces adjustable blade rings, Spring, 6mm hex wrench, 180*2.4*30mm, 56T circular saw blade |
Detailed Description 4318 180mm Circular Saw
Motor:
To make flawless cuts in different kinds of wood, the Ronix 4318 Circular Saw is equipped with a powerful 1350W motor using 220V electricity. This high-performance motor can deliver a no-load speed of 6000 in RPM which can bring faster performances in simple and quick cuts. With its highly efficient motor, this circular saw is suitable for precise cutting. In order to maintain this power tool to deliver more reliable performance in the long run, the access to the carbon brush of 4318 is easy and simple. This high power produced by the motor is enough for both ordinary home applications and industrial usages. Therefore, trades people and home users can benefit greatly from this woodworking power tool.
Body:
To ensure maximum portability, the Ronix 4318 Circular Saw is designed to be compact. Therefore, you can easily take on various construction sites and move from one project to another. This woodworking electric saw is also extremely well-balanced to bring a superior handling experience and a more controlled performance. To reduce users' fatigue during continuous operations, this power tool has an ergonomic design which greatly improves efficiency when working.
As working with saws is generally dangerous, this power tool is manufactured with a high-performance guard. This guard controls the wood chips and dust and prevents them from reaching to the users' hands. There is also a spindle lock system in this power tool to help the users change cutting wheels on this device in a safe and fast way.
To ensure durability, the base plate of this woodworking power tool is made from high-quality steel. This steel base plate is completely effective for highest cutting precision. With the help of this steel base plate, users can easily adjust the cutting depth. They can adjust their desired cutting depth up to 60mm at 90 degree. It is also possible to make beveled cuts with the Ronix 4318 Circular Saw. The maximum cutting depth of this power tool at 45 degree is 45mm. To make the straightest cuts in wood, there is also a guide rail included in the packaging of this device.
To sum it up, this woodworking power tool delivers an outstanding performance due to its 1350W powerful motor and its light-weight and ergonomic design. The safety precautions are also applied in this machine. Therefore, you can take care of your straight cutting projects with confidence and trust. If you are looking for a durable and practical saw to cut different kinds of wood, the Ronix 4318 Circular Saw is a great tool to add to your collection of tools!