Ronix Electrical Sander, 230W, 100*110mm 6404
17402
Features

-High efficiency, powerful 230W motor delivers a smooth performance over a variety of sanding application
-Superlight, compact and handy machine for comfortable one-handed operation
-New clamp design for easy and fast paper attachment
-Special soft-grip design provides stable handling and extended comfort
-Low-vibration working thanks to smooth running operation
-Anti-dust ball bearings ensure the durability of the motor and make it work more smoothly and more efficiently
-Anti-dust switch with rubber cover for reducing dust penetration
-Lock on button for convenient use in continuous operations
Fine Finish
When it comes to finishing materials, knowing how to sand them is an essential part of the process. There are many ways to do the job.
Sanding is a common activity in carpentry, woodworking projects, and smoothing and finishing surfaces. Although there are many situations that you can start to hand-sand. but for larger sanding activities, you have to use an electric sander. Ronix 6404 Electric Sander with 230W, 220V, 50HZ, high efficiency, and powerful motor delivers a smooth performance over a variety of sanding applications.

To safely use a power sander, first choose the appropriate tool. There are different types of sanders and you have to choose the right tool for the right job. Ronix 6404 Electric Sander with 230W, 13000 OPM, and only 1.3kg is the perfect choice for your sanding, polishing, smoothing, finishing surfaces, and woodworking projects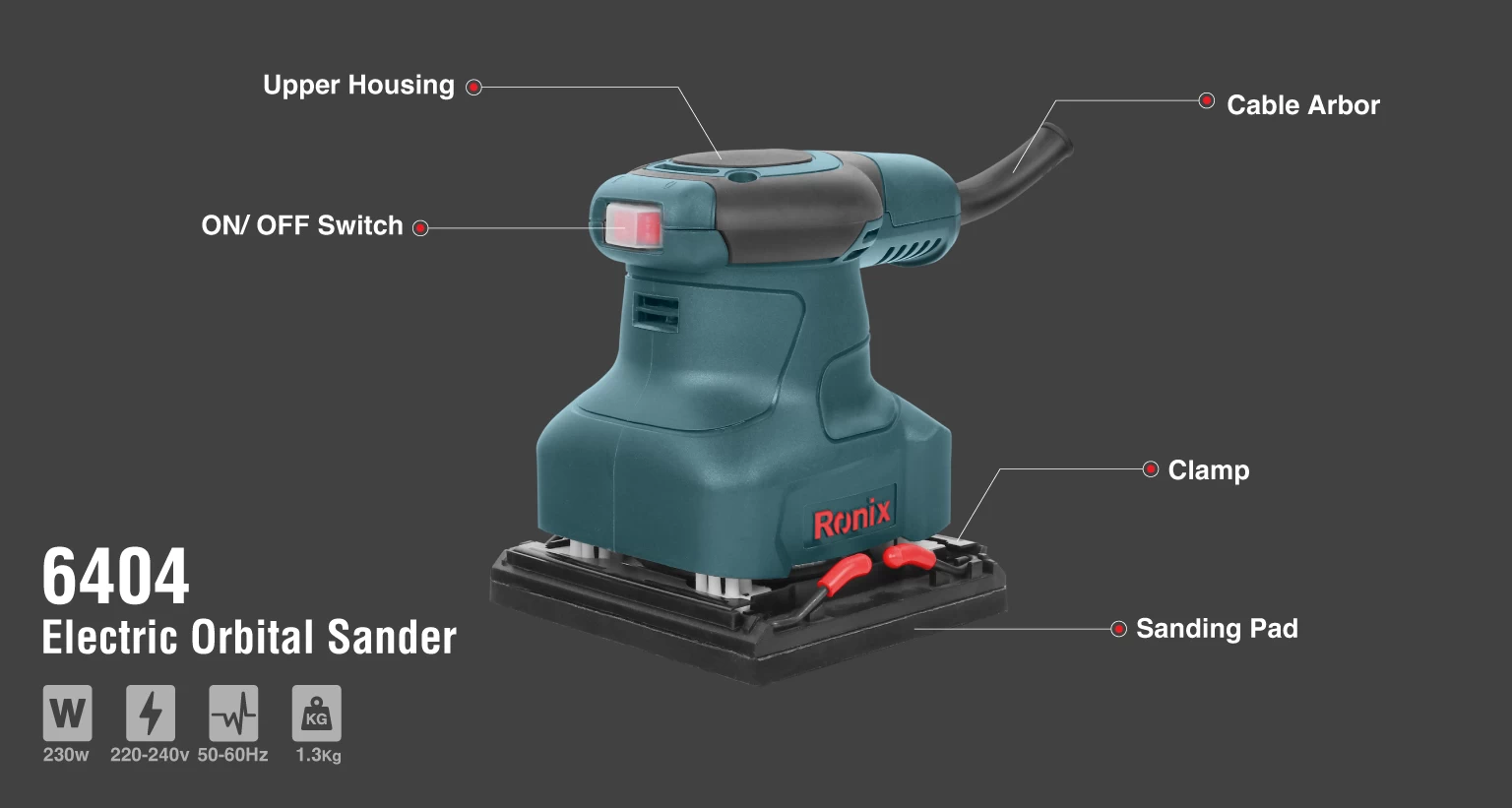 Specifications

| | |
| --- | --- |
| Model | 6404 |
| No-Load OPM | 13000 OPM |
| Base Plate | 100*110mm |
| Power | 230W |
| Frequency | 50Hz |
| Weight | 1.3Kg |
| Voltage | 220V |
| Supplied In | Ronix color box |
| Includes | Abrasive paper, Sponge Pad, Plate |

Detailed Description 6402 Electric Sander
The orbital sander is one of the tools used in every woodworking shop to remove scratches and smooth out wooden surfaces. The 6404 electric orbital sander comes as a handy tool that, with a 230W motor, can oscillate up to 13000 OPM.
 
Ronix 6404, 230W Electric Orbital Sander:
This sander has an ergonomic design and a lightweight body, which allows the user to operate it with one hand. In addition, an ergonomic handle for the 6404 is installed, which increases the user's accuracy by reducing vibration while working. Read on for more information on the Ronix 6404.

Motor and Mechanism:
With 13000 OPM, this orbital sander activates its 230W motor to deliver high-performance work, without you feeling that the sander is weakening. With a 100*110mm base plate, 6404 supports high-efficiency sanding.

Ball bearings:
Dust in the workplace is normal, but it is important to control this waste. Dust that rises into the air as a result of activities such as cutting, sanding, smoothing, etc., has many negative effects on equipment and its performance and reduces its lifespan. That's why Ronix 6404 is equipped with anti-dust ball bearings to ensure the durability of the motor and make it work more smoothly and more efficiently. Thanks to the smooth-running operation, this electric sander operates with minimal noise and vibration levels.

Clamp:
The Ronix 6404 is fitted with a new clamp that makes it quick and easy to secure the sandpaper. It is used to hold and secure the abrasive paper to prevent movement or separation by applying downward pressure.

Body and switches:
The Ronix 6404 electric orbital sander is a super light, compact and convenient machine for comfortable one-handed operation. This hand tool is small and can be easily controlled with one hand, which is very comfortable to use. The weight of this sander is 1.3 kg. Its special soft grip design ensures stable handling and ultimate comfort and control during use.
This heavy-duty machine is also equipped with several switches that serve as machine controls. A dust switch with a rubber cover is designed to reduce dust ingress and protect the tool from dust ingestion, as well as a lock button for convenient, constant, and trouble-free operation.

Packaging:
To ensure the safety of the unit during transportation, the Ronix 6404 electric orbital sander comes in a color box specially designed by Ronix.