Ronix Trimmer 7106
04953
MVR 1,22500

MVR 1,225.00

Save MVR 575
---
---
-Professional, high-power 550W motor enables efficient wood processing operations
-Transparent base design enables easy usage and great accuracy which is easily recognizable in processing
-Precision depth adjustment mechanism ensures quick and accurate bit height adjustments
-Slim and ergonomic body design for increased comfort and control
-6mm bit holder which is suitable for all kinds of router bits with 6mm shank diameter
-Dust guard for controlling chips and dust wood ejection
-Made from high-quality material for more durability and longer service life 
-Can be widely used in wood processing, cabinet processing, surface finishing, curve cutting, planning wood edge and pattern processing operations activities
-Includes several accessories such as parallel guide, guide bar, blades, spanner,...
Give Wooden Workpieces A Trim!
If you work in the cabinetry industry and make kitchen cabinets for a living, you probably have heard about a trimmer. A trimmer can help you bring edging to alignment and make shelf lipping. The Ronix 7106 Trimmer is a portable and compact power tool that can help you a lot if you work with wood. Its high-power and professional 550W motor can deliver a no-load speed of 30000 RPM. This trimmer's 6mm bit holder is suitable for all kinds of router bits and can hold bits that are up to 6mm in diameter tightly.
| | |
| --- | --- |
| Model | 7106 |
| Power | 550W |
| Frequency | 50Hz |
| No-load RPM | 30,000 RPM |
| Weight | 1.8kg |
| Voltage | 220V |
| Collet Size | 6mm |
| Supplied In | BMC |
| Includes | (1) Parallel guide, (1) Guide bar, (1) Guide bush, (2) Router bits, (2) Spanners, 1 set of fixing knob and nut |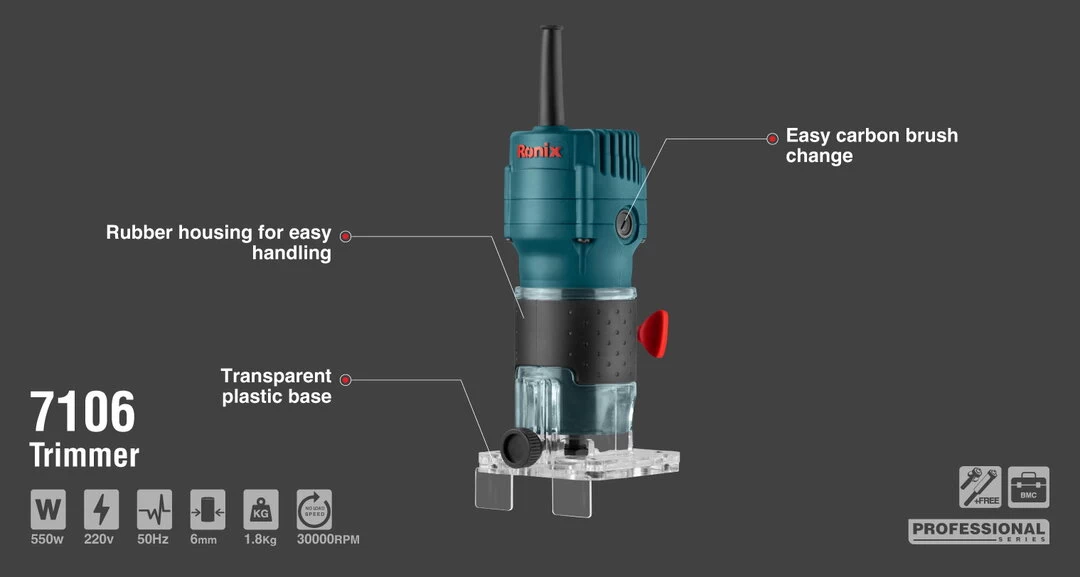 Detailed Description 7106 Trimmer
Motor
The Ronix 7106 Trimmer is powered by electricity. It converts 220V electricity to 550W of power. This professional motor provides a no-load speed of 30000 in RPM which is great for all kinds of trimming and edging applications. The highly powerful motor of the Ronix 7106 Trimmer enables the users to work efficiently in wood processing operations. With its 550W motor, this woodworking power tool can also be widely used in cabinet processing, surface finishing, curve cutting, planing wood edges and pattern processing operations.
Collet
To maximize its versatility, the Ronix 7106 Trimmer has a 6mm collet. This bit holder can hold a variety of router bits that have a shank diameter of 6mm.
Body
The Ronix 7106 Trimmer has a compact body design. This feature is really practical when you want to work in unreachable corners and edges that other bulky and space-consuming power tools like regular routers cannot reach. We at Ronix pay a lot of attention to the comfort of our users. This is why besides being extremely compact, this practical tool is designed to be slim and ergonomic to provide a highly comfortable working experience for the users. This ergonomic design also brings more control over the workpiece and operation.
To provide maximum precision, this woodworking tool has a base. In order to make working with this trimmer as simple as possible for users and deliver great accuracy, the base is designed to be transparent. The easiness of using this transparent plate is recognizable in processing. In 7106, it is also possible to adjust the bit's height. You can do that quickly by using the precision depth adjustment mechanism. Safety is also an issue in all types of woodworking power tools. This is why the Ronix 7106 Trimmer is equipped with a dust guard for controlling the ejection of wood chips and dust.
The Ronix 7106 Trimmer comes in a BMC which makes transporting it a lot easier. In the BMC, you can find various accessories like 1 parallel guide, 1 guide bar, 1 guide bush, 2 router bits, 2 spanners and a set of fixing knob and nut. Additionally, to have more durability and longer service life, this trimmer is made from high-quality materials.
Considering all of its features, the Ronix 7106 Trimmer can be a great assistant to your workshop and construction site if you continuously work with wooden workpieces. The powerful and professional 550W motor can perform a variety of tasks from surface finishing to pattern processing. If you want a compact and handy tool for light duty and delicate applications, definitely consider this amazing woodworking power tool.