Brushless Impact Driver, 8906K
18666
Features
-Super power 20V screwdriver enables perfect functionality in fastening with different torques
-High-performance brushless, waterproof motor ensures maximum longlife
-Light-weight ergonomic small body design with considerable power
-3-speed for Hi-Mid-Low RPM & IPM fastening control in a wide range of applications
-Metal gear box enables heavy-duty application and longer life-time
-High resistance, anti-shock body designed with ergonomic rubber grip 
-Automatic stop motion on loosing fastener
-Efficient in hard-to-reach and dark places thanks to the best LED work light
Practically A lot Easy
Why do you need a brushless impact driver? An impact driver, as the name implies, is a professional tool for driving a large quantity of fasteners, longer screws and bolts on any surface. It generates much more maximum torque and has a tangential impact. If you need to drive a screw or a fastener, use an impact driver.

Ronix 8906K is one of the best ones in our all-in-one 86 family. A powerful 20V brushless motor produces maximum torque of 280N.M in only about 1.08kg of weight. With three fastening modes, you can adjust the speed and power of the screwdriver, ranging from 1600RPM and 1800IPM, all the way up to 2500RPM and 3300IPM, for different screw sizes and materials and various applications overall.

If you are looking for an impact driver that can be carried everywhere you want and powered by two 2.0Ah batteries, Ronix 8906K Brushless Impact Driver Kit can be your best fit.
Specifications

Model
8906k
Battery Chemistry
Lithium
Battery Voltage
20V

Max Torque

280NM



Chuck Size

No-load RPM


"0-1600 RPM 0-2000 RPM 0-2500 RPM"

Impact Rate

"0-1800 IPM 0-2500 IPM 0-3300 IPM"

High Tensile Bolt
M10 - M16

Supplied in

Ronix color Box

Standard Bolt

Net Weight


1.08kg

 
Includes

2pcs 2Ah/20V battery, 1Fast charger(2.2A)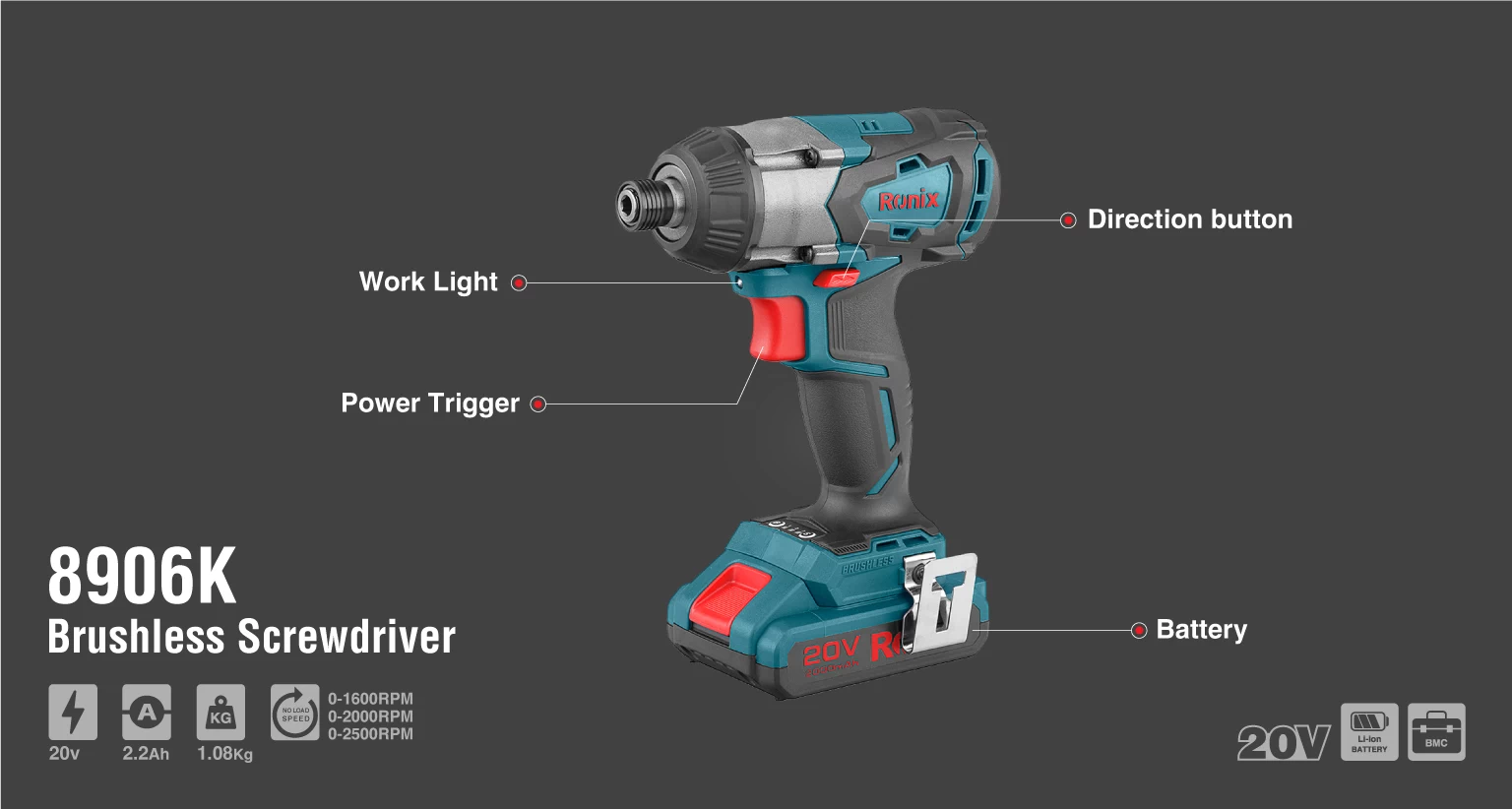 Detailed Description 
Ronix 8906K 3-Speed Brushless Cordless Impact Driver Kit is a powerful tool that can greatly improve and speed up your screwdriver workflow. Make sure to select the appropriate fastening mode for your application. In order to avoid damaging the workpiece.
Ronix 8906K: Your Assistant in screwing tasks!
You need to consider some tips before buying a high-quality driver. In the following, we give you a detailed description of the Ronix 8906K impact driver. 

Motor and Mechanism:
It has a powerful, high-performance brushless, waterproof motor that ensures a maximum long life for the best performance in screwing. A high-resistant waterproof engine allows working in wet situations. By delivering 280NM of torque, your 8906K Brushless Impact Driver Kit won't have any issues during screwing through any surfaces like wood, plastic, or hard metals and steel.

Gearbox:
Its metal gearbox enables heavy-duty applications and a longer lifetime. Ronix 8906K Brushless Impact Driver has 3-speed for Hi-Mid-Low RPM & IPM fastening control in a wide range of applications. The no-load speed of 0-1600 RPM, 0-2000 RPM (working with high power), 0-2500 RPM (works with high speed), and the impact rate of 0-1800 IPM, 0-2500 IPM, and 0-3300 IPM helps the motor run more efficiently.

Chuck:
The 1/4" inner hexagon chuck design in Ronix 8906K Brushless Impact Driver and cordless screwdriver ensures high durability in tight workspaces. There are two hexagons headed partially threaded high tensile bolts M10 and M16, and two standard bolts, M10 and M20, for Ronix 8906K, which can be used in a wide variety of applications.

Body:
Ronix 8906K is super comfortable and ergonomic for long-time usage. High-resistant, anti-shock housing with a durable metal gearbox and a waterproof motor is excellent for heavy-duty applications, even in wet situations. Its high resistance and anti-shock 1.08kg body is designed with an ergonomic rubber grip to control the machine and remove the risk of damage in case of falling or stroke. There is a built-in LED light sensor that helps you screw in hard-to-reach and darker places.

Switches:
The tool's turning ON and OFF is done with a power trigger switch placed on the handle. The forward/reverse button helps to change the rotation direction and remove a stuck bit.

Automatic Stop Function:
It has an automatic stop function when loosening screws that you can activate by pressing the 'B' button. 
If the green light is on, the motor is set to speed 1 (0-1600 rpm and 0-1800 bpm).
If two green lights come on, the motor is set to speed 2 (0-2000 rpm and 0-2500 bpm).
If three green lights come on, the motor is set to speed 3 (0-2600 rpm and 0-3300 bpm).
Press the S button on the electronic clutch screen to change the device's speed between modes 1, 2, and 3.

Battery:
Ronix 8906K Brushless Impact Driver can work with 2.0Ah and 4.0Ah lithium-ion batteries, designed with one to run all technology. It means that both the 2.0Ah and 4.0Ah batteries of the Ronix 89 Lasting Series can power this tool. The fast-charging system in the charger provides optimum performance in tight working situations. Ronix 8906K Brushless Impact Driver has a battery charging indicator that lets you know the battery level quickly and easily.

Accessories and Packaging:
The Ronix, 8906K brushless cordless impact driver kit is supplied in a Ronix BMC hard case and includes two 2.0Ah/20V batteries and a 220-240V all-in-one fast charger.