Cast iron Submersible pump 4032
18726
MVR 1,83000

MVR 1,830.00

Save MVR 1,170
---
---
-Submersible pump design to be immersed in water for lifting and draining water 
-Suitable for clean water and free of solids and abrasives, non-viscous, nonaggressive, non-crystallised and other liquids similar to water in physical and chemical properties
-Properly in domestic,drainage or lifting  water from the thanks or pool, irrigation of gardens and allotments usage
-Pumps equipped with float switch for automatically controlling water level and pump operation
-Provides with Protection level IP68 Thermal protector and insulation Class B to ensure motor long life
-More efficiency by using Ceramic/Graphite mechanical seal,  cast iron pump housing 
-The motor duty cycle type S1 lead to increase  durability
Point to Shine
Cast iron submersible pumps are a type of pump designed to be submerged in liquid and are constructed from cast iron, which makes them resistant to corrosion and wear. These pumps feature an electric motor that rotates an impeller to draw water or other liquids in and then expel it through the pump's outlet pipe. When you need to move large volumes of water or other liquids from one surface to another submersible pumps are the best tools to use. That is why these pumps are quite popular among farmers, gardeners, and even construction workers. Armed with a powerful motor in addition to multiple safety features, Ronix RH-4032 is a submersible pump with a body made of cast iron that can make work of large volumes of liquid in a matter of minutes.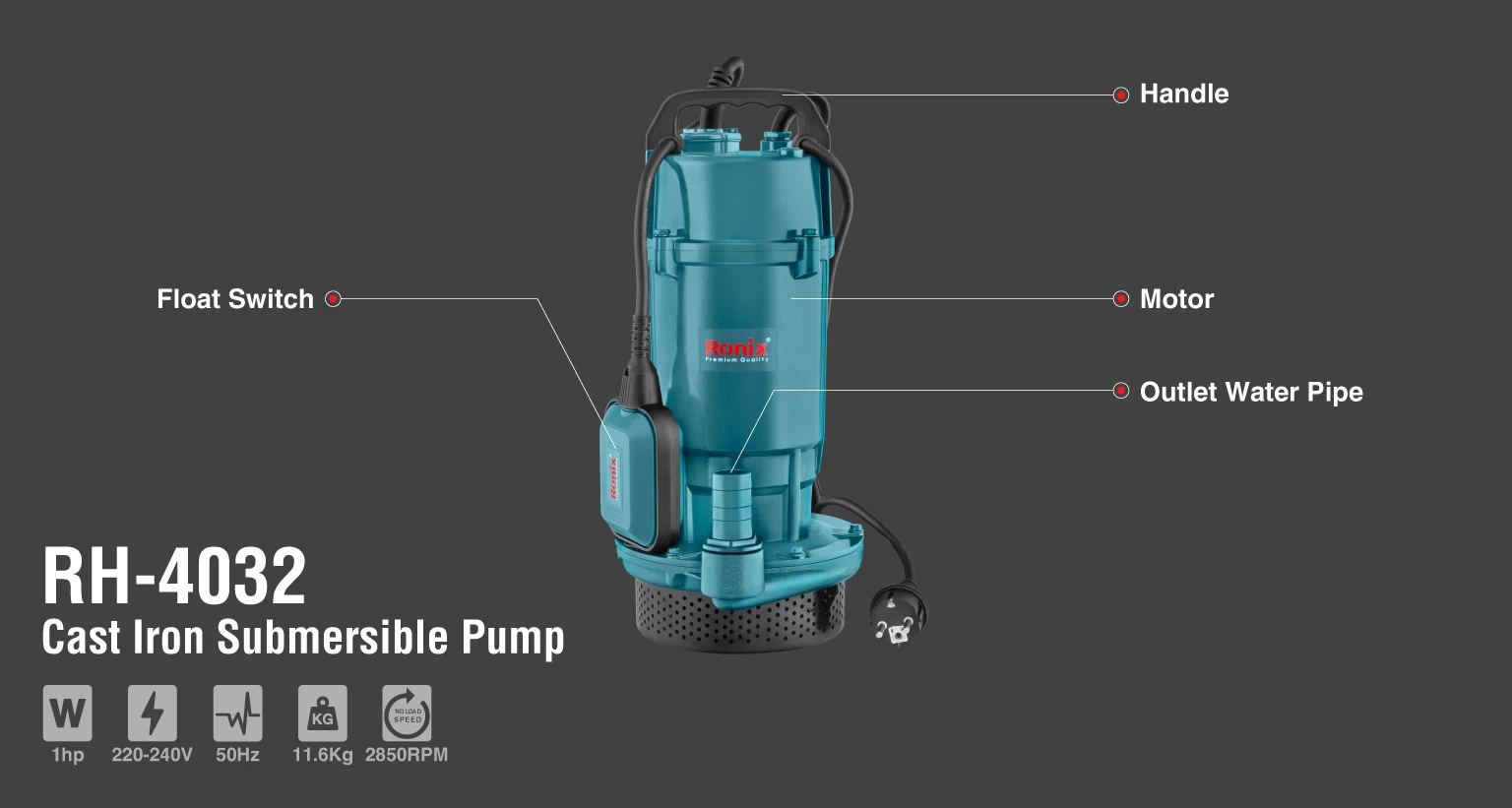 | | |
| --- | --- |
| Model | 4032 |
| Power | 1hp |
| Voltage | 220-240V |
| Frequency | 50Hz |
| Min. Flow | 0.6m³/h |
| Max. Flow | |
| Min. Head | 8.8m |
| Inlet/outlet port diameter | 1" |
| Speed | 2850RPM |
| Max liquid Temperature | |
| Max. Ambient temperature | |
| | 3.2 Bar |
| | 2mm |
| | 5mm |
| | 30 seconds |
| | IP68 |
| | Class B |
| | |
| | |
| | |
| | |
| | Copper |
| | ALUMINUM |
| | |
| | 11.6kg |
| | |
| Includes | |
Detailed Description
Ronix RH-4032 is a 1hp submersible pump that can offer a large pumping head of 32m with the ability to work with liquids as hot as 35 degrees Celsius.
 
Ronix RH-4032, 1HP Cast Iron Submersible Pump:
As we mentioned earlier, submersible pumps are commonly used by various professionals. But some specific scenarios where these pumps can be used include pumping water from a flooded basement, irrigating crops or gardens, and draining pools or ponds. In addition to the versatility and useability of submersible pumps, a pump with a cast iron body can withstand heavy usage better and will be able to operate for long periods without overheating. This is why our RH-4032 is equipped with such an exterior body material. A durable body is not the only selling point of this model, however, as it is packed with other useful features too. Keep scrolling to learn more about these features and the construction of Ronix RH-4032. 
Motor and mechanism:
Submersible pumps are highly efficient and can move large volumes of liquid with ease and our RH-4032 model is no exception to that. It is equipped with a 1 horsepower strong motor that works with 220 to 240V AC electricity and can rotate this model's impeller as fast as 2850RPM. 
Pump:
This powerful pump has a working pressure of 3.2 bar, offering a great performance that results in a water flow range of 0.6 to 8.4m3/h with a pumping head range of 8.8 to a staggering 32m! Because of the robust internal components which will cover shortly, Ronix RH-4032 can operate at a maximum depth of 5m while also being able to work dry for 30 seconds without any damage to the motor or any other part. 
Body:
Ronix RH-4032 is equipped with a cast iron body, featuring a protection rating of IP68 that houses all of its internal machinery. In addition to this protective layer, each of the internal parts of this beast-of-a-machine is made of highly durable materials as well. Its impeller and the motor's housing are made of aluminum while its shaft uses carbon steel. The coil winding is also done using high-quality copper. These material choices work together to ensure the RH-4032 model's durability and long service life. This cast-iron body weighs 11.6kg and also features a 1-inch wide outlet pipe that can pass through solid objects as wide as 2mm in diameter. 
Safety:
Alongside its powerful motor and sturdy materials used in its components, we have equipped our RH-4032 model with various safety features too. Its motor is protected by a thermal protection system that prevents overheating in addition to a ceramic/graphite mechanical seal that works in tandem with the cast iron body of this device to offer an insulation class of B. 
Working temperature:
These features and capabilities result in an operating temperature of 40 degrees Celsius in addition to the RH-4032 model's ability to work with liquids that are as hot as 35 degrees Celsius. 
Accessories and packaging:
Ronix RH-4032 is not only a durable and sturdy device itself but it also includes a few accessories. These include a 9m-long power cable and a float switch that detects the presence of water and turns the motor off when there is none, preventing the motor from running dry for too long. The device itself and the included accessories all come packaged in a Ronix color box.