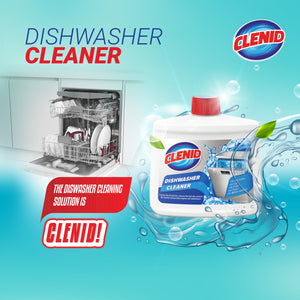 Clenid Dishwasher Cleaner
18201
FIELD OF USAGE
Clenid Dishwasher Cleaner with special formula cleans the food residues, oil and limescale residues that have accumulated over time in your dishwasher, opens the blockages, removes bad odors and provides hygiene. Use Clenid Dishwasher Cleaner regularly and extend its life.
USAGE INSTRUCTIONS
Empty your machine. With the cap is closed, remove the label on the cap.

Turn the bottle upside down and place it in the plate handling section.

Operate your dishwasher empty at temperatures of 65 ° C or higher, do not add detergent.

Suitable for all dishwashers. Clenid Dishwasher Cleaner is single use only.

Use once in every month.
WARNINGS
Do not mix with other cleaning materials and never use them together. Do not use in scratched, worn, damaged devices.