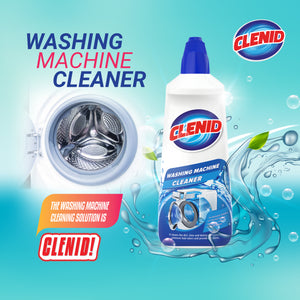 Clenid Washing Machine Cleaner
18200
FIELD OF USAGE
Get rid of detergent residues, dirt, mold, bad odors and stubborn lime from your machine in 3 steps with Clenid Washing Machine Cleaner, ensure immaculate hygiene in your machine. Use Clenid Washing Machine Cleaner regularly and extend the life of your machine.
USAGE INSTRUCTIONS
Empty your machine. Mix 100 ml product (about one tea cup ), half bucket of (4 lt) water. Keep detergent tank in this mixture for about 30 minutes.

Then rinse the tank and place back its place. Pour a small amount of Clenid Washing Machine Cleaner on a cleaning cloth and clean your machine's rubber.

Wait for a while and wipe off with a wet cloth.

Pour the rest of the product into the main wash detergent compartment and run your washing machine at 60 ° C in the main wash program without prewash; do not add detergent.

Product is single use only. Suitable for all washing machines.

Use once in every 3 months.
WARNINGS
Do not mix with other cleaning materials and never use them together. Do not use in scratched, worn, damaged devices.