Corded Screwdriver 2506
18662
MVR 1,16500

MVR 1,165.00

Save MVR 635
---
---
-Durable, high power 600W motor enables perfect functionality in fastening with different torques

-Full metal gearbox for maximum performance and durability

-Ronix unique design machine suitable for dry wall screwing

-Ergonomic design screwdriver provides maximum power at minimum weight and reduce user fatigue

-Variable speed control enables working at customized speeds in order to adapt to various materials and applications

-Anti-dust switch to reduce dust penetration

-Automatic clutch system can adjust the speed automatically during screwing operations
Experience the Real Drilling Power
If you are a fan of DIY and handmade work, you need several tools to make your job easier. Among them, we can mention the electric screwdriver. Thanks to this powerful tool, you no longer need to spend long hours screwing and fixing certain elements, often without success. Of course, to benefit from the most advantageous aspects of this type of tool, it is necessary to choose them well. To do this, many criteria must be taken into consideration and it is best to trust an expert in the field. Ronix 2506 corded screwdriver has a rotation speed of 4500 RPM in addition to a power of 600W. In other words, it is one of the most powerful tools. To make things even easier for you, this electric screwdriver has a variable speed control switch that allows you to have full control over the tool.

Similarly, the Ronix 2506V corded screwdriver is manufactured with all the features and capabilities listed, the only difference between these two devices is their voltage and frequency.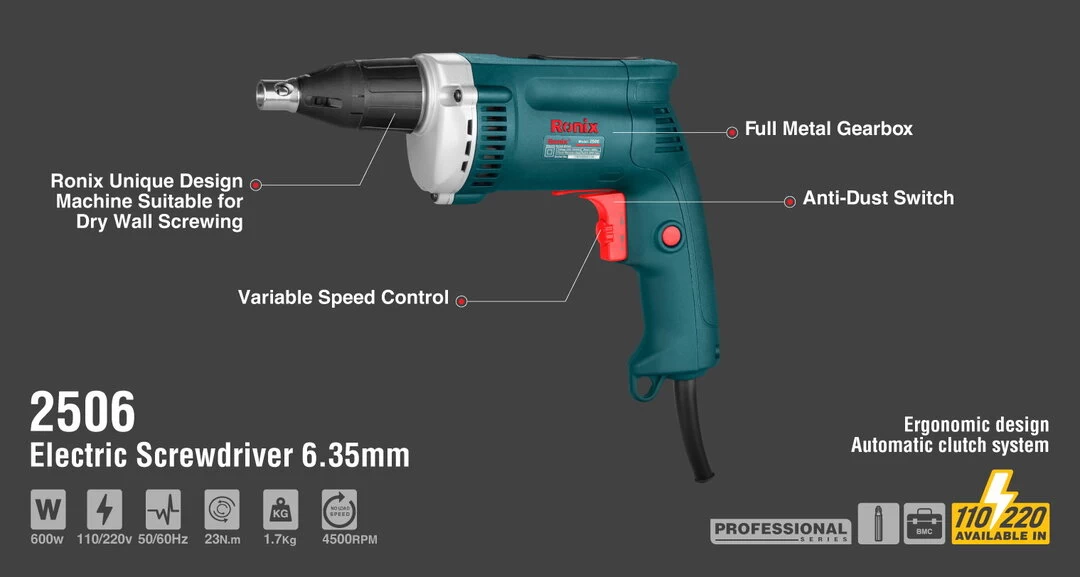 | | |
| --- | --- |
| Model | 2506 |
| Power | 600W |
| Frequency | 50-60Hz |
| Driving Shank | 1/4" HEX |
| Weight | 1.67kg |
| No-Load Speed | 0-4500RPM |
| Voltage | 220-240V |
| Supplies in | BMC |
| Included | |
Detailed Description
A corded screwdriver is much like a drill and is useful for quickly loosening and fastening a large number of screws in industrial applications. If you are a professional user, the Ronix 2506 corded screwdriver is one of the most important tools in your toolbox!
Ronix 2506, 600W 23N.M Corded Screwdriver:
If you're a DIY enthusiast or a professional user, you probably know that Ronix Tools is one of the best brands on the market. This is proven with this Ronix 2506 corded screwdriver. This device has a speed of 4500 RPM which will get your job done in no time. In addition, like every self-respecting tool of this kind, this one is equipped with a clutch system to adjust the speed automatically during screwing operations. Discover in this article all you need to know about this electric screwdriver. 
Motor and gearbox:
The Ronix 2506 corded screwdriver has a combination of 600W, for 23 Nm of torque which makes it suitable for drywall screwing. Indeed, it has a speed of 4500 RPM. This allows you to enjoy an excellent fluidity of use, you will not even feel the shock that other products can make you feel. 2506 is equipped with a heavy-duty metal gearbox that offers extraordinary performance in heavy industrial operations. It can create two-speed modes for different uses with great precision. The automatic clutch system is another feature that Ronix corded screwdriver can benefit from. With this mechanism, you can adjust the speed automatically during screwing operations. 
Switches:
This unit has an on/off switch with dust control to prevent dust particles from entering the tool and allows you to control the speed for working with different materials. Its lockout button that keeps the unit on for long-term use is a real plus. Ronix 2506 also has a forward/reverse function above the on/off button to determine the direction of rotation of the screwdriver. 
Chuck:
In a professional range of corded screwdrivers, we can mention Ronix 2506. It comes with a 1/4'' HEX driver to meet your needs. 
Body:
If you are looking for a powerful, ergonomic, and lightweight screwdriver with which you can work for many hours without tiring, with precision, and speed, we recommend the Ronix 2506 corded screwdriver with a weight of 1.67 kg.  Small and light, it is precise in its use and reaches the narrow spots of the surfaces. 
Accessories and packaging:
To avoid losing all the accessories, this electric screwdriver has a storage box. Ronix 2506 corded screwdriver comes in a BMC case and includes a power bit. This BMC case is perfect for optimal and satisfying storage.