Corded Screwdriver 2513T
18663
MVR 67000

MVR 670.00

Save MVR 830
---
---
-High performance 280W motor enables perfect functionality in fastening with different torques

-Ergonomic, light compact screwdriver provides maximum power at minimum weight and reduce user fatigue

-High resistance, anti-shock body designed with rubber grip removes the risk of damage in case of falling or any kind of stroke

-2 adjustable Speed gearbox for better performances in various applications

-Variable speed control enables working at customized speeds in order to adapt to various materials and applications

-Anti-dust bearing and switch to reduce dust penetration
Experience the Real Drilling Power
For driving all kinds of fasteners, from intact ones to damaged or oxidized ones, all you need is an accurate screwdriver with different torques and speeds. Ronix 2513T Corded Screwdriver is the tool that comes with the mentioned features and can handle a wide range of screwing and unscrewing operations. It has a 280W motor that provides a maximum 36Nm torque. It is also equipped with a 2-speed gearbox that brings exceptional performance in various applications. Besides, it is so ergonomic, lightweight, and compact that working with it is highly convenient. The risks of falling and stroke damage are also removed while working with it, because of the anti-shock body and its rubber grip.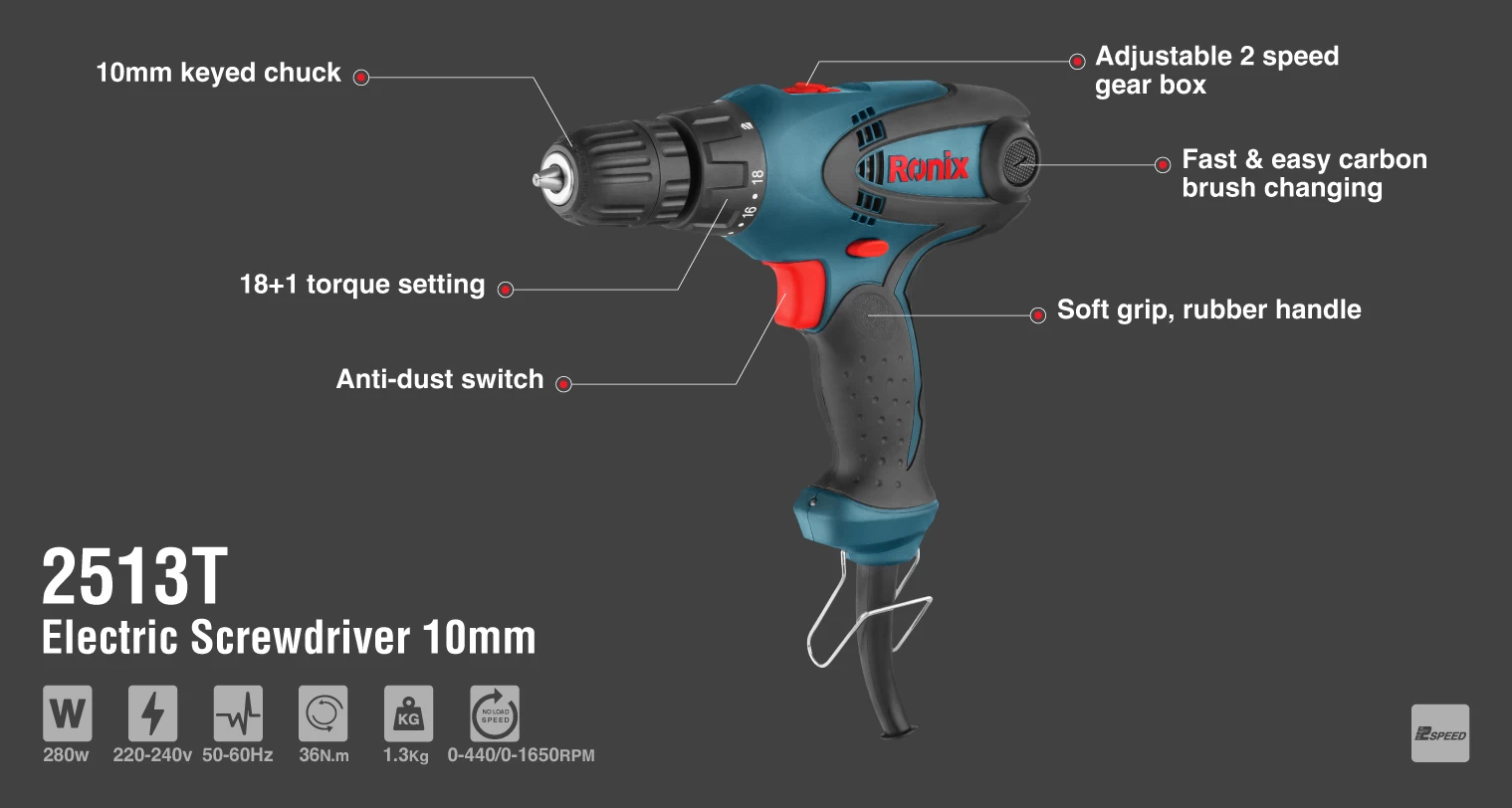 | | |
| --- | --- |
| Model | 2513T |
| Power | 280W |
| | 10mm |
| | |
| Frequency | |
| No-Load Speed | |
| Voltage | 220-240V |
| Weight | |
| Supplied In | |
| Includes | |
Detailed Description
Ronix 2513T corded screwdriver is such a durable electric tool that you can use it for different driving tasks for a lifetime. Its highly resistant body, powerful motor, along with its anti-dust system is among the most important reasons. But there are a wider number of features that make it worth using. 
2513T Corded Screwdriver for Driving Accurately 
The details will help you reach a wide view of 2513T and decide if it is the driving tool that you are looking for. Here are the specific qualities of 2513T in detail.  
Motor and Mechanism:
A high-performance 280W motor enables the Ronix 2513T screwdriver to deliver a maximum torque of 36N.M. The tool is powered by a 220-240V power outlet and a frequency of 50-60Hz.
Torque-Meter:
The 18-settings torque system with a maximum torque of 36N.M adapts to various materials and applications.
Gearbox: 
The strong gearbox can enable a 2-speed power selection of 0-440 RPM and 0-1650 RPM for various applications.
Chuck:
Ronix 2513T electric screwdriver features a two-sleeve keyless metal 10mm chuck. 
Body:
Ronix 2513T electric screwdriver is an ergonomic, light, and compact screwdriver with a 1.3 kg weight, providing maximum power at minimum weight and reducing the operator's fatigue. The tool's high resistance, anti-shock body, designed with a rubber grip, removes the risk of damage in case of falling or stroke. 
Switches:
2513T features an anti-dust bearing and switch to reduce dust penetration. A forward/reverse switch also helps to change the screwing direction.

Accessories and Packaging:
Ronix 2513T electric screwdriver color box is supplied with the tool and a pair of carbon brushes.