Ronix Cordless Planer 20V 8603
19369
 Features
-Capable of generating a no-load speed of 15000 RPM.
-Ergonomic light weight design improves working efficiency and reduces user fatigue
-Soft grip handle for improved comfort and less fatigue.
-Equipped with safety key to increase application safety
-It has the ability to easily replace the blade
-Anti-dust ball bearing for more efficiency and higher durability
-Anti-dust switch for reducing dust penetration
-Ideal for woodworking, fixing doors, fitting wood and correcting splinters, chips and misshapen edges
 A Small Giant
The cordless planer is an indispensable woodworking tool. Planing wood removes a layer of wood to make a wood surface or assembly as flat as possible. This step follows the sanding process. To choose your cordless planer, it is important to look at several points. The power: it is advisable to choose a planer of 18V or more so that it is powerful enough to perform your work. A cordless planer is a power-consuming tool, so the amperage of the batteries is important. We advise you to choose a model with batteries of 3Ah minimum to have satisfactory working autonomy. Ronix 8603 with 20V and 4Ah is an ideal tool for woodworking, fixing doors, fitting wood, and correcting splinters, chips, and misshapen edges.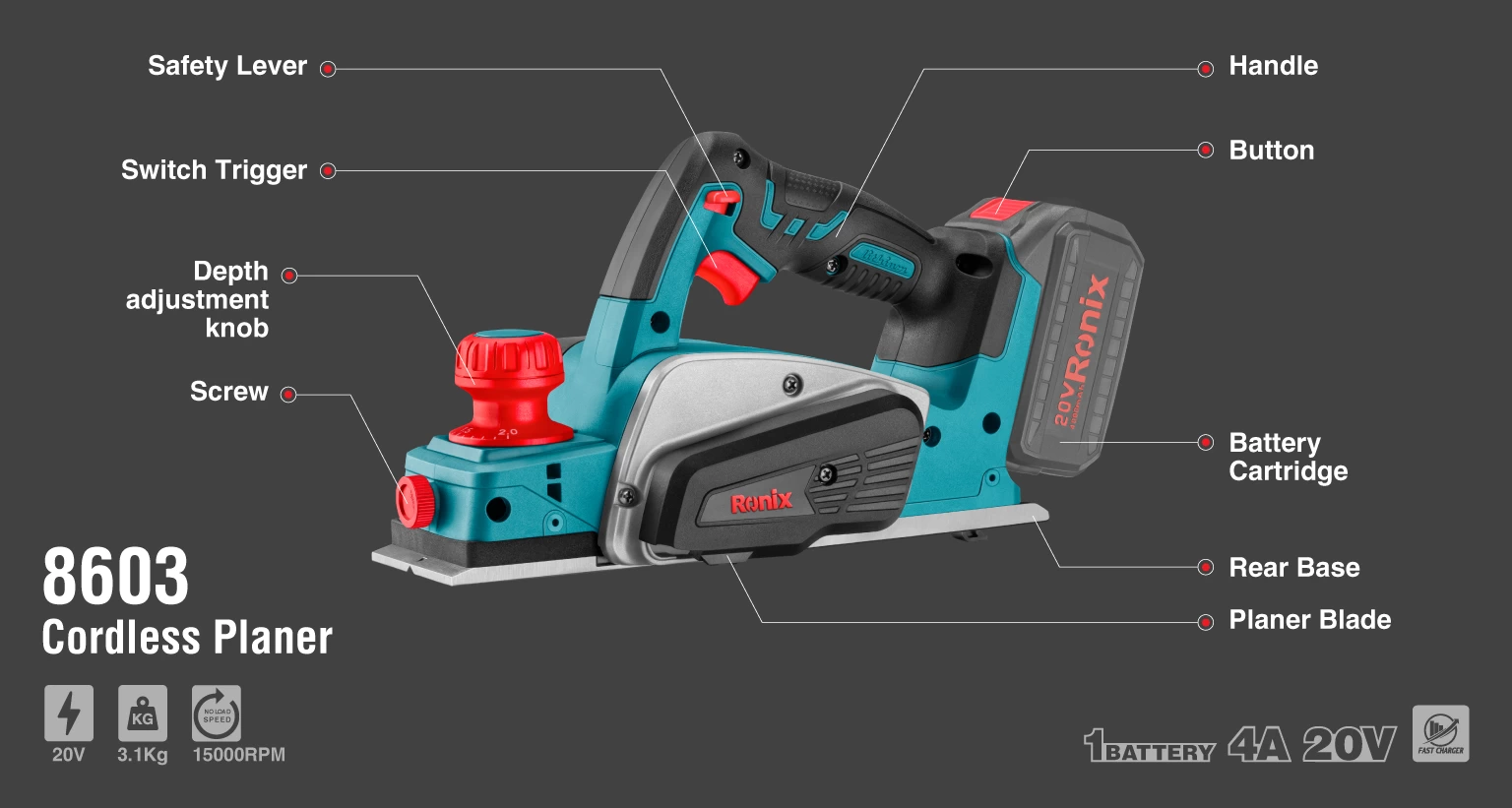 Specifications
| | |
| --- | --- |
| Model | 8603 |
| | 4.0Ah |
| Battery Voltage | 20V |
| | |
| | |
| Cutting Depth | |
| | Brushed |
| | HSS |
| | Trigger Switch |
| | |
| Includes | 1,Guide Plate 1pc 2,Hex wrench 8# 3,Internal hex wrench 4, charger 4A 1pc 5, Battery pack 4.0Ah 1pc |
| | |
Detailed Description 
The Ronix 8603 planer is the perfect choice for saving time and energy. This cordless planer is a reliable solution in all circumstances. It offers real mobility while working.

Ronix 8603, 20V Cordless Planer:
Ronix 8603 cordless planer is a woodworking machine used in carpentry and cabinetmaking for machining and working wood. If you want to know more about this heavy-duty cordless device, stay with us and check out the "detailed description" section completely.

Motor:
This cordless planer from Ronix allows you to plane wood with great precision thanks to its brushed-type motor. The powerful 20V motor of Ronix 8603 is capable of creating a high speed for the device; it is capable of generating a no-load speed of 15000 RPM. In addition, its anti-dust ball bearings are designed for more efficiency and higher durability of the equipment.

Blade:
The Ronix 8603 cordless planer with its HSS-type blade allows for a cutting depth of 82*2 mm. This device enables the user to easily change the blade.

Body:
Thanks to its relatively lightweight and compact size (only 3.1 kg), Ronix 8603 can be transported. This feature allows the user to use this tool for long-term tasks and in hard-to-reach places. In addition, this planer has a soft grip handle that allows the user to control the device and the work process.

Switch:
Woodworking produces a lot of dust and over time can damage your unit, which is why Ronix is equipped with an anti-dust trigger switch to reduce dust ingress.

Battery:
The versatility of the cordless planer requires this tool to have a powerful and durable battery that allows the user to use it for long hours at a time. The Ronix 8603 is equipped with a lithium-ion battery with a capacity of 4 amps and a voltage of 20 volts. This Ronix rechargeable planer is equipped with a charger with fast charging capability, which recharges the batteries in the shortest possible time, thus avoiding downtime.

Accessories and Packaging:
Ronix 8603 cordless planer is supplied in a hard BMC case, including a guide plate, 2 Hex wrenches, 4 internal hex wrenches, a fast charger, and a 4Ah battery pack.