Cordless Grass Trimmer, 20V, 300mm 8921
17409
Features
-20V Lithium cordless grass trimmer, 4 Ah super battery capacity which can meet your working requirements
-Pivoting head allows for edging and trimming capability
-Telescopic shaft adjusts to the user's height and posture so all people can find a comfortable working position
-Adjustable auxiliary handle adjusts to different positions for comfortable and precise working
-Cutting angle adjustable from 0º to 60º can get into hard to reach areas
-Ergonomic soft grip handle for professional working
-Gas free cordless design eliminates the gas hassle while getting the job done
Work makes Much Faster
Gardening power tools are one of the most popular categories among home users. Furthermore, everyone needs a grass trimmer to take care of tough weeds, grass, and overgrowth lawns. Considering customers' needs, Ronix company has come up with the manufacture of a multifunctional grass trimmer with 8500 RPM of no-load speed. You don't need to worry more about the clearance and beauty of your patio and yard. With this lightweight and ergonomically designed tool you have a firm grip and low fatigue on the tool even for long hours of work. It also offers you an easy access to hard to reach working places thanks to the telescopic shaft, which is adjustable to your height and posture.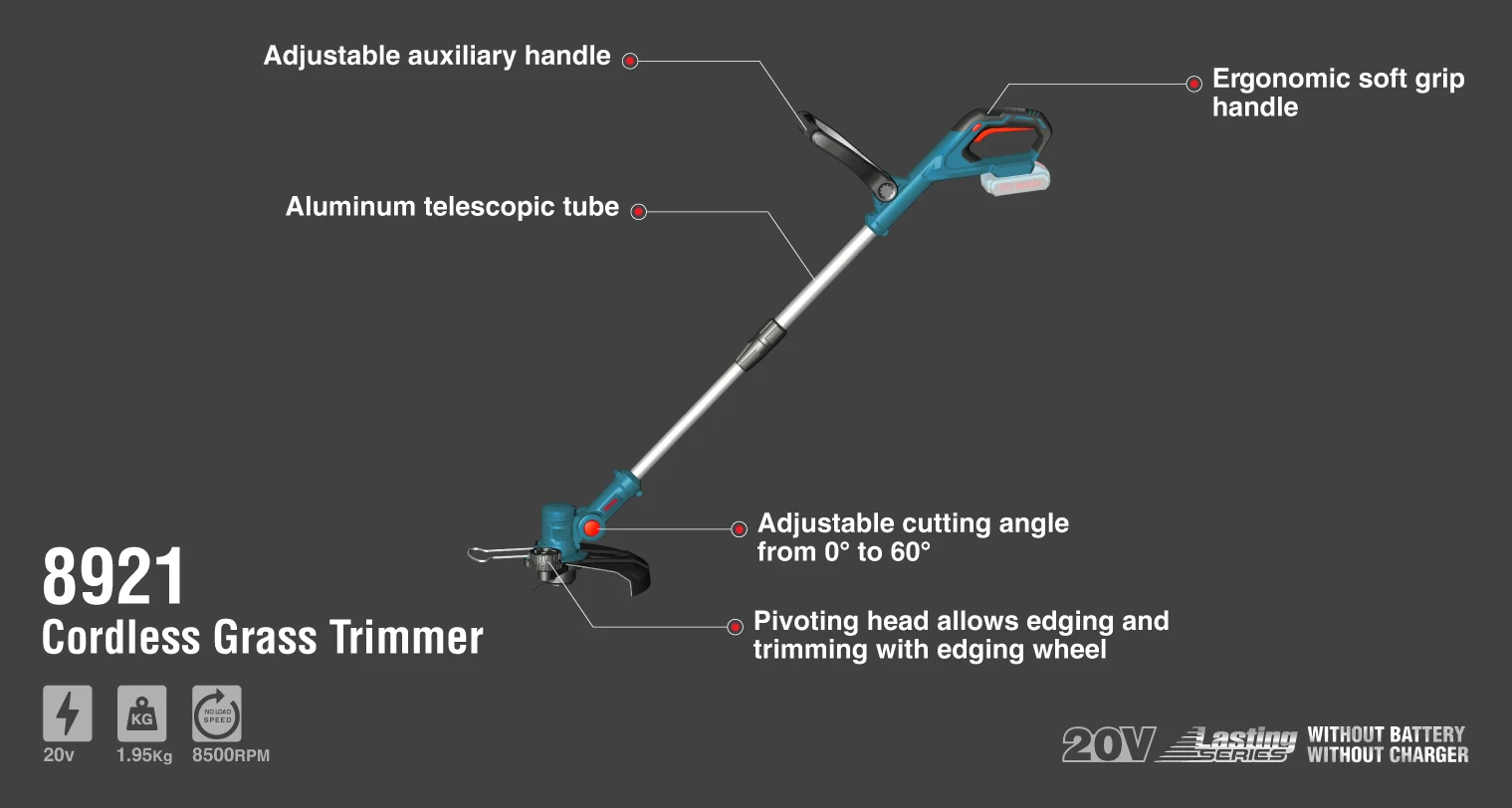 Specifications
| | |
| --- | --- |
| Model | 8921 |
| Battery Chemistry | Lithium |
| Battery Voltage | 20V |
| Cutting Width | 300mm |
| Telescope tube | 320mm |
| Running Time | 50 mins |
| Supplied In | Ronix Colour Box |
| Battery | Included |
Detailed Description
After inspecting customers' needs, Ronix group has come up with the production of a multifunctional grass trimmer, which not only provides the trimming function but also edging. The edging function gives you straighter lines and cleaner cuts. Even if you have trouble with overgrown grasses on the edges or inaccessible corners, which are difficult to trim with a lawn mower, Ronix 8921 Grass Trimmer is there to help you with its pivoting head. It is possible to adjust the head from 0º to 90º.
Ronix 8921 cordless grass trimmer: Choice of professional users. but why?!
To better understand what features and specifications 8920 has offered to users and tools enthusiasts, keep reading the detailed description below.

Motor and Mechanism:
This fantastic grass trimmer is powered by a strong motor that turns 20V of DC power from its lithium-ion battery to 8500 RPM of rotation speed. This speed is considered the most effective among all trimmers to ensure the best performance and help you work efficiently and safely. The powerful motor also allows you to get rid of the annoying weeds.

Body and Handle:
Comfort in handling has always been playing a decisive role for Ronix. Our designing group considers your height and the posture of your trimming by coming up with an adjustable telescopic auxiliary handle. Besides, with this soft grip handle, you can perform long hours of fatigue-free trimming. The pivoting head allows for edging and trimming capability. The tool is 1.95kg in weight and features a safety guard plus a flower guard for more user safety during operation. The gas-free cordless design eliminates the gas hassle while getting the job done.

Switches:
An ON/OFF trigger switch is placed on the rear handle, and a lock-off button is used to lock the trigger more conveniently during operation.

Shaft:
The tool is offered with an aluminum telescopic shaft to do the trimming in easy access and hard-to-reach working places. This telescopic tube is a maximum of 230mm and can be adjusted to your height and posture.

Blade:
The adjustable head's 300mm cutting width makes it possible to cut through nearly anything. The cutting angle is adjustable from 0° to 90° and can get into hard-to-reach areas. It is also equipped with edger /trimming support wheels.

Battery:
This product does not include batteries or a charger. But the battery of the Ronix 89 Lasting series is compatible with all the tools in this professional series. The battery can be charged when needed by a fast charger, and it takes 1 hour to charge it fully. The trimmer can run up to 55-60 minutes upon each full charge.

Accessories and Packaging:
Ronix 8921 Cordless Grass Trimmer is supplied in a Ronix color box. A safety guard and a flower guard are also included in the package.