Cordless High-pressure Washer, 24.5Bar, 2 L/Min - 8930
17404
Features
-Lightweight and portable-ideal for areas without water or electricity connections
-Self-priming function for using alternative water sources such as water butt or cisterns
-For cleaning the outside of your house and in your garden or for watering plants
-Spray lance with practical multi-function nozzle for 6 different spray types
-Suitable for use with detergents-includes nozzle with detergent container
-For cleaning with a gentle but efficient medium pressure(max.24.5 bar)
-6m suction hose with a filter basket
-Ergonomic pistol grip with a locking switch and non-slip soft gripe
Point to Shine
The Ronix 8930 cordless 20V high-pressure washer transforms drab, filthy, and old surfaces into bright, colorful, new-looking bricks, decks, siding, and other surfaces. Ronix 8930 cordless high-pressure washer is a battery-powered, compact power tool which can answer most your gardening needs and requirements. Ronix 8930 is lightweight and portable; therefore, it can be used for areas without water or electricity connections. Ronix 8930 cordless high-pressure washer is highly suitable for cleaning with a gentle but efficient medium pressure level (max.24.5 bar). 

In case you are planning to clean outside of your house, water your garden and your plants, 8930 cordless high-pressure washer is what Ronix offers its valued customers. Ronix 8930 provides its users with comfort and ease of use, thanks to its ergonomic pistol grip with a locking switch and non-slip soft grip.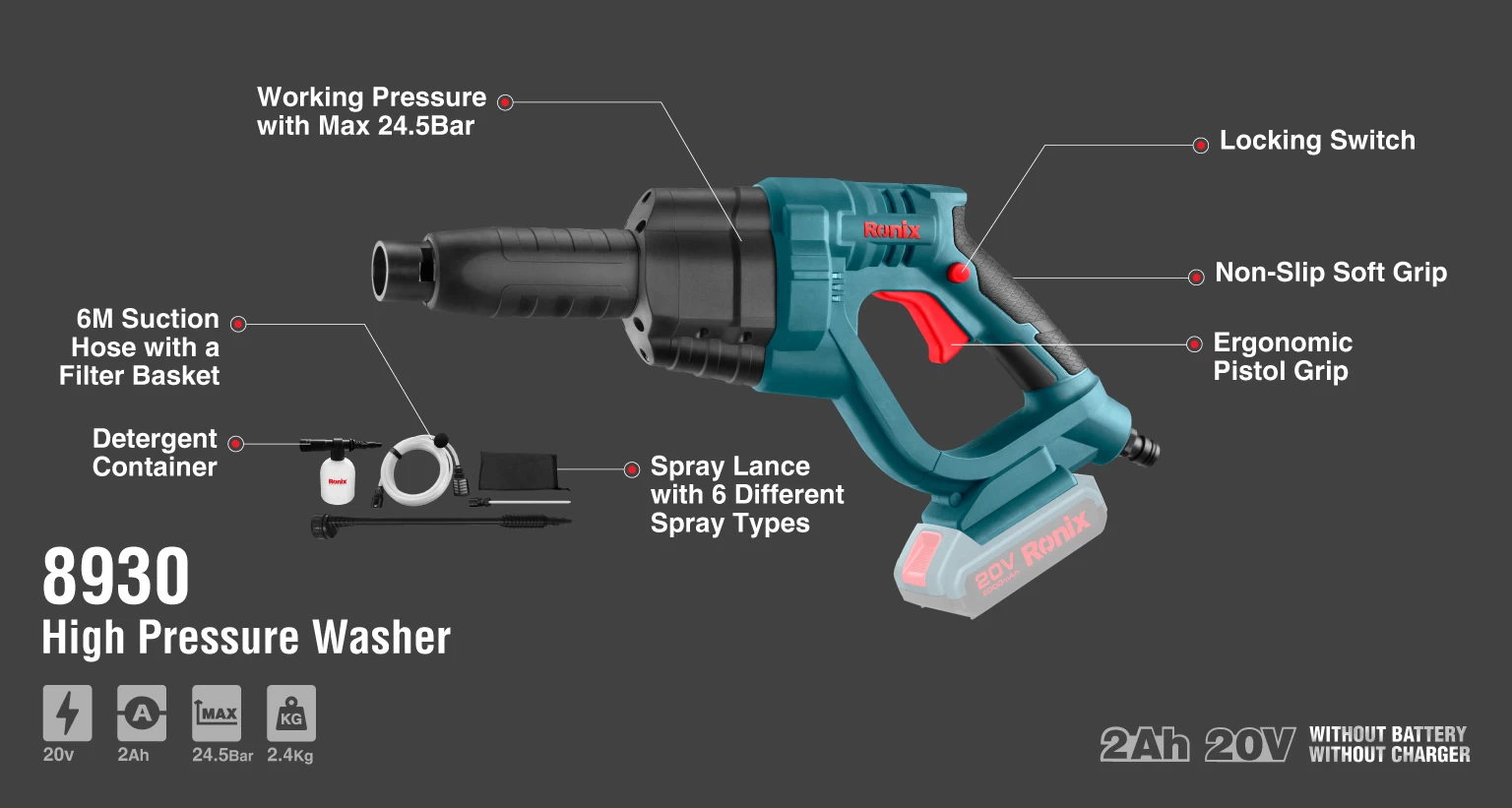 Specifications
| | |
| --- | --- |
| Model | 8930 |
| Battery Voltage | 20V |
| Battery Capacity | 2.0Ah |
| Max. Flow | 2L/min |
| Working Pressure | 24.5 Bar |
| Nozzle Type | 6(0,15,25,40, shower, Diagonal) |
| Water Sucking Height | >4m |
| Spray response Speed | <15 Seconds |
| Battery charging time | 1 hour |
| Weight | 2.4kg |
| Supplied In | Ronix color box |
| Includes | 6mm Hose, Dust bag, Bottle connector, Detergent Bottle, Lance |
| Battery | Included |
Detailed Description
If you're considering cleaning the exterior of your property, watering your garden and plants, or washing your vehicle, the Ronix 8930 cordless high-pressure washer is what Ronix offers its customers. This practical tool offers its users comfort and ease of use, thanks to its ergonomic pistol grip with a locking switch and a soft, non-slip handle.
 
Ronix 8930, 20V Cordless High-Pressure Washer:
The Ronix 8930 rechargeable high-pressure washer makes it easy to wash and clean your vehicles, yard, etc. by creating consistent water pressure and flow, while saving energy. The unique features of this device make it the first choice of users. In this section, you will learn more about the features of this popular Ronix product. 
Motor:
With a maximum pressure of 24.5 bar, this Ronix 8930 high-pressure washer is suitable for cleaning outdoor areas with a maximum flow of 2 L/min. It can also be used to wash your car, motorcycle, or garden furniture. This unit is equipped with a powerful 20-volt motor that guarantees long life and durability. It increases the pressure of the sprayed water and the cleaning power. In addition, the Ronix 8930 washer has a self-priming capability from the water tank and is capable of spraying water at the desired location with a suction power of 4 meters and a duration of 15 seconds. 
Body:
Ronix high-pressure washer is lightweight (only 2.4 kg) and relatively compact, so you can easily transport it as needed. Easy to use, it has a self-priming function for using alternative water sources such as water tanks or cisterns. This helpful tool features an ergonomic pistol grip with a lockout switch and a soft, non-slip handle. Besides, Ronix 8930 pressure washer comes with a 6 m suction hose and a filter basket. 
Nozzle:
The nozzle improves the performance of the device and users can use it easily. The nozzle can be used in 6 different modes, with zero, 15, 25, and 40 angles, shower, and diagonal spray. 
Battery
The power source of 8930 is a 20V lithium-ion battery with a capacity of 2Ah. With its long life, this battery will always power your tool. The most significant advantage of the Ronix 89 Lasting Series is that the battery is compatible with all its members. So, you can run all your tools with just one battery. This battery has a charge indicator and can inform you of the battery status before it runs out in the middle of an operation. The fast-charging system in the charger provides optimum performance and can charge your device in an hour. 
Accessories and packaging:
The Ronix 8930 cordless high-pressure washer comes in a Ronix-designed color box and includes a 6m hose, a mesh bag, a bottle connector, a detergent bottle, and a lance.