Cordless Hammer Drill Brushless 20V 8905k
15990
Features
-Super power efficient drill with 3 function: Drilling, Screwing and hammer drilling
-High-performance brushless, waterproof motor ensures maximum longlife
-Light-weight ergonomic small body design with considerable power
-Full metal keyless chuck type ensures high durability in tight work spaces
-21 clutch settings enable efficient and accurate screwing and reduce fastener damage
-55Nm maximum torque delivers incredible performance 
-2 speed functions competent for both high-speed and high-power applications
-Metal gear box enables heavy-duty application and longer life-time
-High resistance, anti-shock body designed with ergonomic rubber grip 
-Battery charging indicator lets you know the battery level fast and easy
-Fast charging system in charger provides optimum performance
Practical in A Compact Size
Have you ever wondered what absolute freedom at jobsite looks like? Have you ever felt that cordless drills are not powerful enough to take care of your professional needs? If yes, the wait is over! The Ronix Cordless Hammer Drill Brushless 20V is probably one of the best cordless drills you will ever see! Its extremely powerful 20V battery has enabled this tool to take care of a wide range of applications. With this brushless hammer drill, you can drill, screw and hammer drill in variety of materials like wood, metal and even concrete.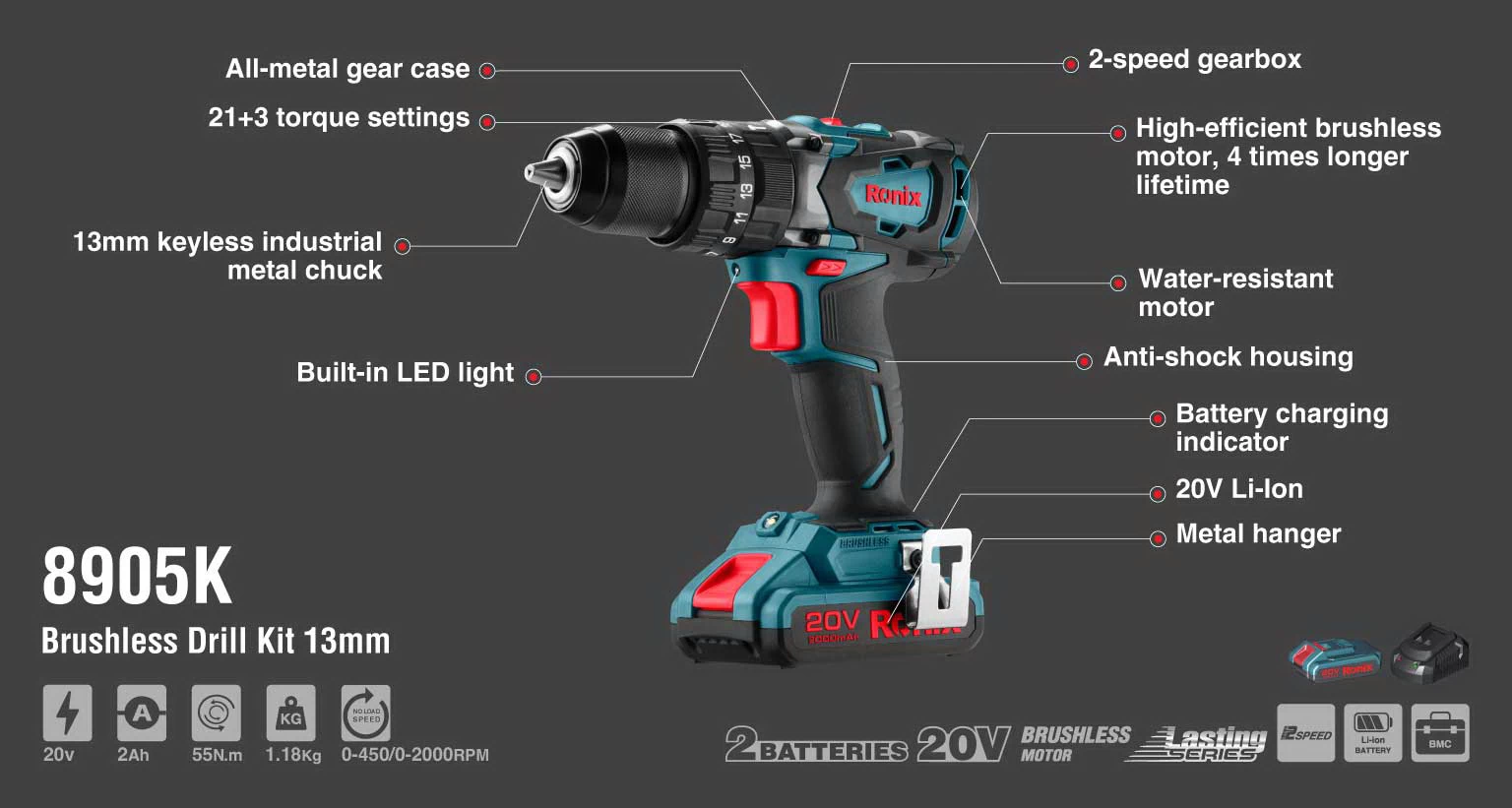 Specifications
| | |
| --- | --- |
| Model | 8905K |
| | 20V |
| | Lithium |
| | Keyless |
| | 13mm |
| | |
| | |
| | 55NM |
| | 38mm |
| | 13mm |
| | |
| Supplied in  | BMC |
| Includes | Two 2Ah/20V batteries, 1Fast charger |
| | |
Cordless Hammer Drill Brushless 20V
You can work with materials like concrete and brick without breaking a sweat if you have a Ronix 8905K Cordless Hammer Drill Brushless 20V on hand. Using a mix of rotary drilling and hammer thrusts, this power tool is particularly designed to drill through hard and brittle materials. We also provide all of the information you'll need to pick the best hammer drill for any project.
Motor
The Ronix 8905K Cordless Hammer Drill Brushless 20V is equipped with a high-performance brushless motor. This engine is built to withstand the elements. As a result, if you're working in a damp environment, you won't have to worry about moisture damaging your priceless instrument! In addition, this motor guarantees that the item lasts as long as possible. Screwing, drilling, and hammer drilling are all possible with this super-powerful and efficient drill. This brushless drill has 21+3 clutch settings for optimal precision and efficiency in screwing while reducing fastener damage.
This motor has a maximum torque of 55Nm, which results in outstanding performance. Furthermore, this cordless tool's 2-speed function is capable of high-speed (i.e. screwing) as well as high-power (i.e. drilling and hammer drilling) applications. The maximum no-load speed in high-power mode is 0-450 RPM, and in high-speed mode, this figure rises to 0-2000 RPM. Another remarkable feature of the Ronix 8905K Cordless Hammer Drill Brushless 20V is its metal gearbox, which allows for heavy-duty applications and a longer lifespan.
Bit Holder
The Ronix 8905K Cordless Hammer Drill Brushless 20V is equipped with a 13mm keyless chuck to provide the users with convenience in changing different drill and power bits. In addition, this full-metal chuck ensures durability in tight working spaces. The maximum drilling capacity of this tool in wood is 38mm and in metal and concrete is 13mm.
Battery
The Ronix 8905K Cordless Hammer Drill Brushless 20V's strong battery is what sets it apart. Two 20V/2Ah Lithium Ion batteries are included with this fantastic cordless tool. If you're familiar with the Ronix 89 Series, you're aware that one battery can power over ten different cordless instruments, ranging from an impact wrench to an angle grinder! If you use a variety of cordless instruments on a regular basis, these compatible batteries are ideal. Experience simplicity and independence on the workplace by simply switching a single battery between multiple equipment! In addition, the charger has a quick charging technology that ensures optimal performance.
Body
The Ronix 8905K is designed to facilitate comfortable working in a variety of postures by adhering to ergonomic principles. As a result, the drill's body is light in weight and compact in size, yet it packs a punch. A battery charge indicator is also included, allowing you to quickly and easily determine the battery level.
The Ronix 8905K Cordless Brushless Hammer Drill Kit is the perfect option if you require a strong cordless drill with exceptional performance. This tool's long-lasting 20V battery and light-weight body design make it ideal for long periods of fatigue-free use.