Cordless Screwdriver 8591
18665
MVR 42000

MVR 420.00

Save MVR 580
---
---
-high performance motor enables perfect functionality in fastening with different torques
-Special ergonomic small body design for maximum efficiency and convenient use
-Provides up to 220 RPM and 1.8NM of torque for effortless operation
-High performance, long life and fast charging 850MAh, 3.6V Lithium battery
-1/4-inch quick release chuck
-Advanced magnetic bit holder system for better performance
-Quick change chuck system for easy and fast bits replacement
-Equipped with LED light which illuminates the dark zone and brings optimal brightness in the work area
-All-inclusive screwdriver set includes 9 applicable bits  made from high quality S2 material plus charger 
Designed for Excellent Precision!
A screwdriver is one of the most practical items in every enthusiast's toolkit, and having a cordless one makes your screwing tasks more efficient and functional. So, if you expect the screwing tasks in your projects to be done with precision and speed, Ronix 8591 Cordless Screwdriver is the tool you are looking for!

With the Ronix 8591 cordless screwdriver, you can fasten or loosen screws of any sort in your operations. Thanks to the 3.6V lithium-ion battery, this cordless tool will always provide adequate power for your regular and DIY projects. With its 2000mAh battery capacity, the screwdriver can provide up to 220RPM no-load speed and 1.8N.M of torque for an effortless operation. The Ronix 8591 cordless screwdriver is designed ergonomically for maximum performance and efficiency.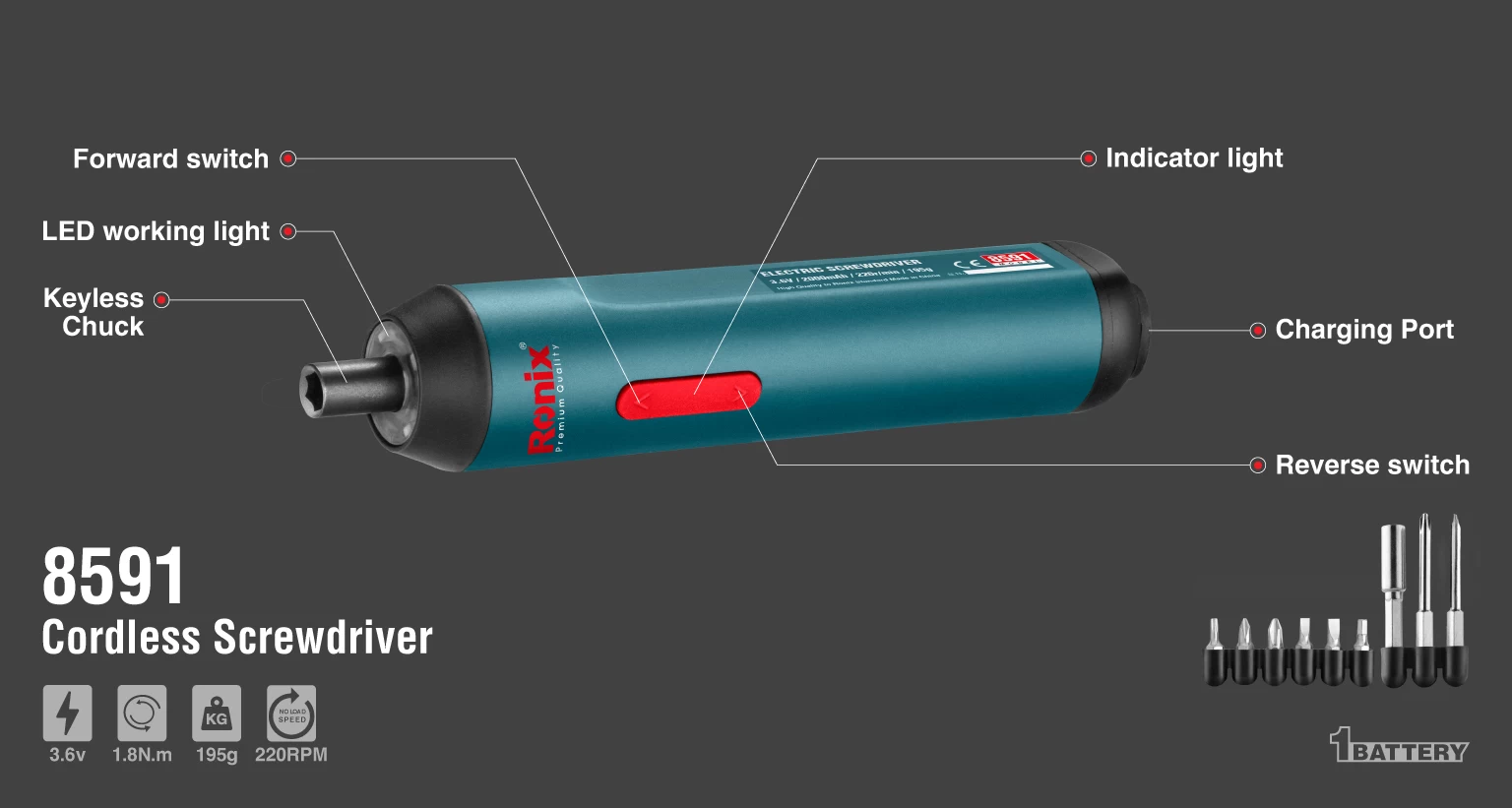 | | |
| --- | --- |
| Model | 8591 |
| Voltage | 3.6V |
| Battery Capacity | 2000mAh |
| No Load Speed | 220rpm |
| Max Torque | 1.8Nm |
| Battery Charging Time | 2.5h |
| Continuous Working Time | 2h |
| Charging Current | 1A |
| Weight | 195g |
| Supplied In | EVA bag |
| Accessories | "Charger USB/Type-C charger cable EVA bag 75mm Bits:2 pcs (SL6,PH1) 25mm Bits:6 pcs (PH1,PH2,SL4,SL5,T10,H4) Extension bar 1pc Lanyard 1pc" |
Detailed Description
If you think you need a screwdriver, you should consider that having a cordless one gives you complete mobility in the workspace. Ronix 8591 cordless screwdriver is a handy tool coming in your help in many DIY projects, like putting up shelves, hanging a mirror, or doing other screwdriver jobs.
What to consider when buying a rechargeable screwdriver?
In the following, we'll get into the housing of the 8591 and review the components of this rechargeable screwdriver and its features in more detail.
Motor and mechanism:
A high-performance 3.6V/2000mAh motor enables the Ronix 8591 screwdriver's perfect functionality with different torques. This powerful motor delivers the rotary power to the chuck through its strong, full-metal gearbox. The 1.8N.M maximum torque has ideal power and outstanding performance. Ronix 8591 gives the user a 220RPM no load speed for effortless operations. 
Body and Switches:
Ronix 8591 cordless screwdriver's smart, lightweight and compact design, with 195gr weight, makes it a perfect and handy tool for all kinds of operations and spaces and long hour uses. There is an LED light under the chuck system to provide illumination in dark and small spaces. There are also two forward/reverse switches on the tool to tighten and loosen the screws efficiently. 
Battery and Charger:
 A high-performance, long-life 3.6v lithium-ion battery with a capacity of 2000mAh ensures the most efficient operations. The tool can work up to 2 hours on each full charge, and it takes up to 2.5 hours for the charger to fully charges the battery. The fast-charging system in the charger provides optimum performance during tight working hours. The charger is supplied with a USB Type-C charger cable. 
Chuck:
A 1/4-inch keyless quick-release chuck handles the 220RPM speed professionally. The quick-change chuck system for easy and fast bit replacement saves a lot of time for the user and minimizes the down working time. Also, the bit holder has an advanced magnetic property for better performance and holding onto the metal screw. 
Accessories and Packaging:
Ronix 8590 Cordless Screwdriver comes in an EVA bag, including 9 applicable bits made of high-quality S2 material (75mm Bits:2 pcs (SL6, PH1) | 25mm Bits:6 pcs (PH1, PH2, SL4, SL5, T10, H4)), a USB/Type-C Charger, a charger cable, an extension bar, and a Lanyard.