Demolition Hammer 2802
18655
MVR 6,00000

MVR 6,000.00

Save MVR 4,000
---
---
-1750W robust motor brings the impact force of 48J which is most suitable in vertical operations
-The extraordinary demolition speed
-Compact streamline design makes it ideal for light chiselling applications in brick, light masonary and occasionally in concrete
-HEX toolholder with robust power can impressively enhance demolition performance
-High quality special grease lubricating system secures durability and longer lifetime
-Die-cast magnesium alloy housing enables light weight, superior heat dissipation and enhances body strength
-Extensive soft grip impressively reduces fatigue during long hours of working
-Switch lock function can protect the armature in continuous operations
-Power indication light
-Service reminder light
- Double Anti-Vibration System to minimize the reflection of the impact energy 
-Large and longer impact construction
Demolishing at its best!
If you are looking for an ideal tool for light chiseling applications in brick, masonry, and concrete, Ronix 2802 demolition hammer is your best bet. 

Powered by a 1750W motor, this tool offers extraordinary demolition speed and unmatched performance. It delivers a combination of 1500BPM maximum impact rate and 48J impact energy to live up to any professional user's expectations.  

2802 is 15.5kg in weight but has a compact streamlined design and comes in a wheeled BMC case which makes it easy to handle. Furthermore, thanks to an extensive soft grip, this demolition hammer is easy on the arms. 

This power tool is equipped with a double anti-vibration system to ensure users' convenience and a high-quality grease lubricating system to secure the tool's durability. A service reminder light is also added to this demolition hammer to remind you of the maintenance requirements. 

A die-cast magnesium alloy housing contributes to this tool's superior heat dissipation and enhanced body strength.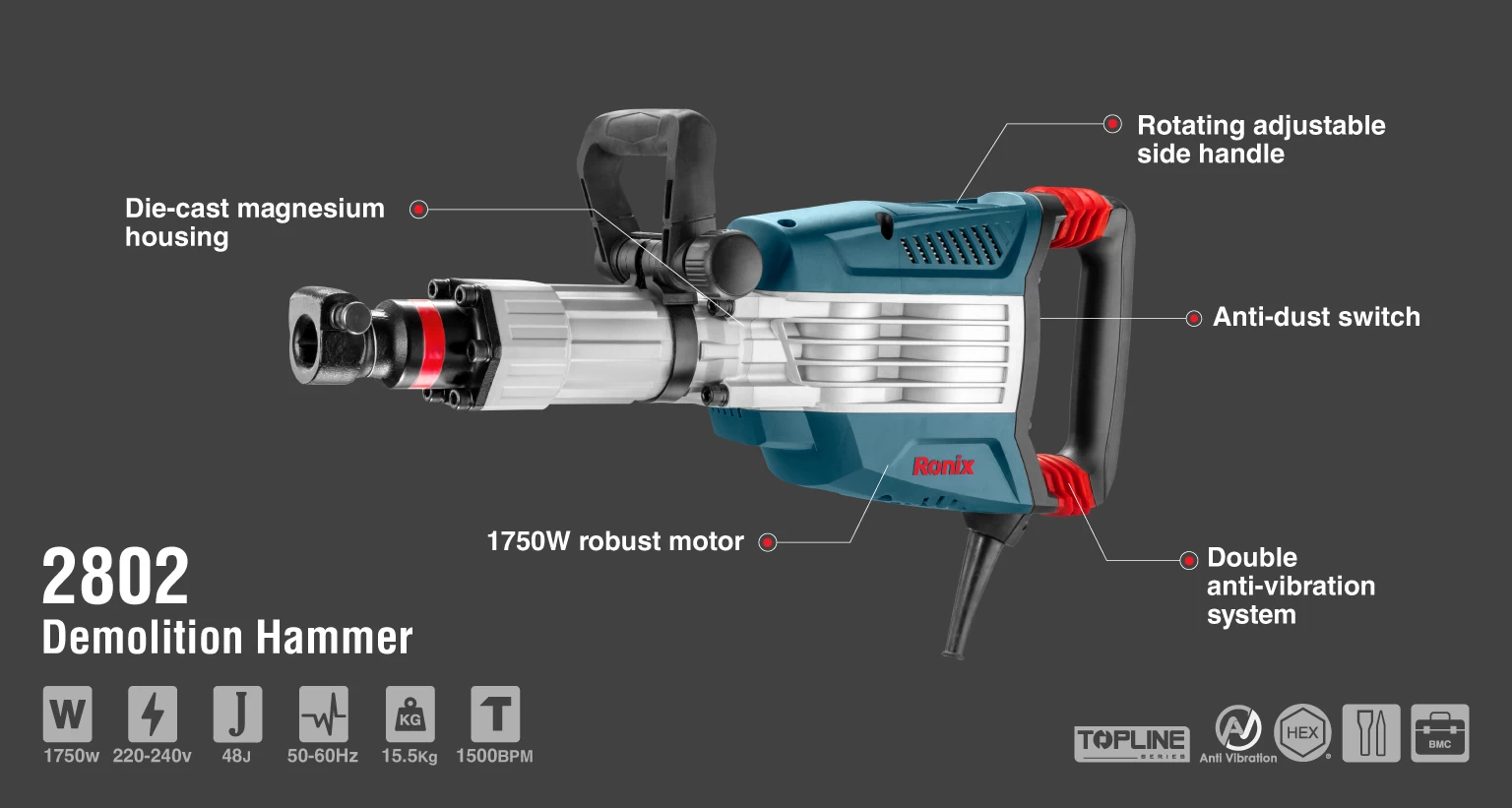 | | |
| --- | --- |
| Model | 2802 |
| Power | 1750W |
| Frequency | 50-60Hz |
| Voltage | 220 - 240V |
| Chuck Type | HEX |
| Impact Energy | 48J |
| Max Impact Rate | 1500BPM |
| Weight | 15.5kg |
| Supplied In | |
| Includes | Auxiliary Ronix-design handle, Grease tube, (1) Hex flat chisel bit 30*410mm, (1) Hex pointed chisel bit 410mm, wiping cloth |
Detailed Description
Ronix 2802 demolition hammer is the destruction machine needed for any construction or renovation project that comes with a double anti-vibration system for increased comfort and productivity.  
 
2802 Demolition Hammer: An Exploration  
Demolition hammers are essential tools for breaking down any tough material be it asphalt, tile, stone, or concrete.

The tool market is filled with different models of such power tools that each come with their own advantages and weak points. To help you make an informed choice based on your needs, here goes a detailed explanation of Ronix 2802's features: 
 
Motor:
This beast has a 1750W robust motor that feeds on a 220V outlet to deliver an impact force of 48J. With an impact rate that can go up to 1500 beats per minute, you can expect maximum efficiency from this demolition hammer.
 
Bit holder:
2802 is equipped with a HEX bit holder that is robust and can impressively enhance demolition performance. In its packaging, you can find a Hex 30*410mm flat and 410mm pointed chisel bit to use with this tool holder. 
 
Body and Switches:
This machine is an ergonomic demolition hammer engineered for utmost convenience; Its die-cast magnesium alloy housing enables superior heat dissipation and enhances its structural strength. This 15.5kg tool comes with an extensive soft grip that lets you work for long hours with no hand fatigue! 
The good news is that thanks to a switch lock function, you won't need to keep pressuring the trigger during the operation which is enough to ensure the safety of the armature.    
 
Grease Lubricating System:
This efficient demolition hammer is equipped with a special grease lubricating system that alleviates friction between the moving parts of the machine to guarantee its long service life.
 
Packaging and Accessories:
2802 comes in a wheeled BMC case that contains all the essential add-ons including an auxiliary Ronix-design handle, a Grease tube, a Hex 30*410mm flat chisel bit, a Hex pointed 410mm chisel bit and a wiping cloth.