Demolition Hammer 2821
18656
MVR 3,56000

MVR 3,560.00

Save MVR 2,440
---
---
-1500W robust motor brings the top-ranking impact force of 27J, competent for all kinds of working operations
-SDS-MAX tool holder with robust power can impressively enhance demolition performance
-Die-cast aluminum alloy  housing enables lightweight, superior heat dissipation and enhances body strength
-Extensive soft-grip impressively reduces fatigue during long hours of working
-Switch lock function can keep the armature in continuous operations
- Optimized drive design, with high overload resistance 
- Reliable anti-oil leakage technology to improve machine durability
- Creative dustproof design to enhance the machine's life
-Ergonomic Auxiliary D handle for better handling and control during operation
Demolishing at its best!
For the drilling and demolition work that often accompanies a renovation, remodeling of your home, or other construction activity, you need the right tools. Tile, walls, and concrete foundations: nothing can resist a demolition hammer. Your safety is also important when handling heavy equipment. That's why we, at Ronix Tools, make sure that our machines are safe and can be handled properly. The Ronix 2821 demolition hammer, with an impact energy of 27J and a bit rate per minute of 2000 BPM, is strictly designed for all kinds of work operations. Because of its versatility, the Ronix demolition hammer remains in high demand. Similarly, the Ronix 2821V demolition hammer is manufactured with all the same features and capabilities; the only difference between these two devices is their voltage and frequency.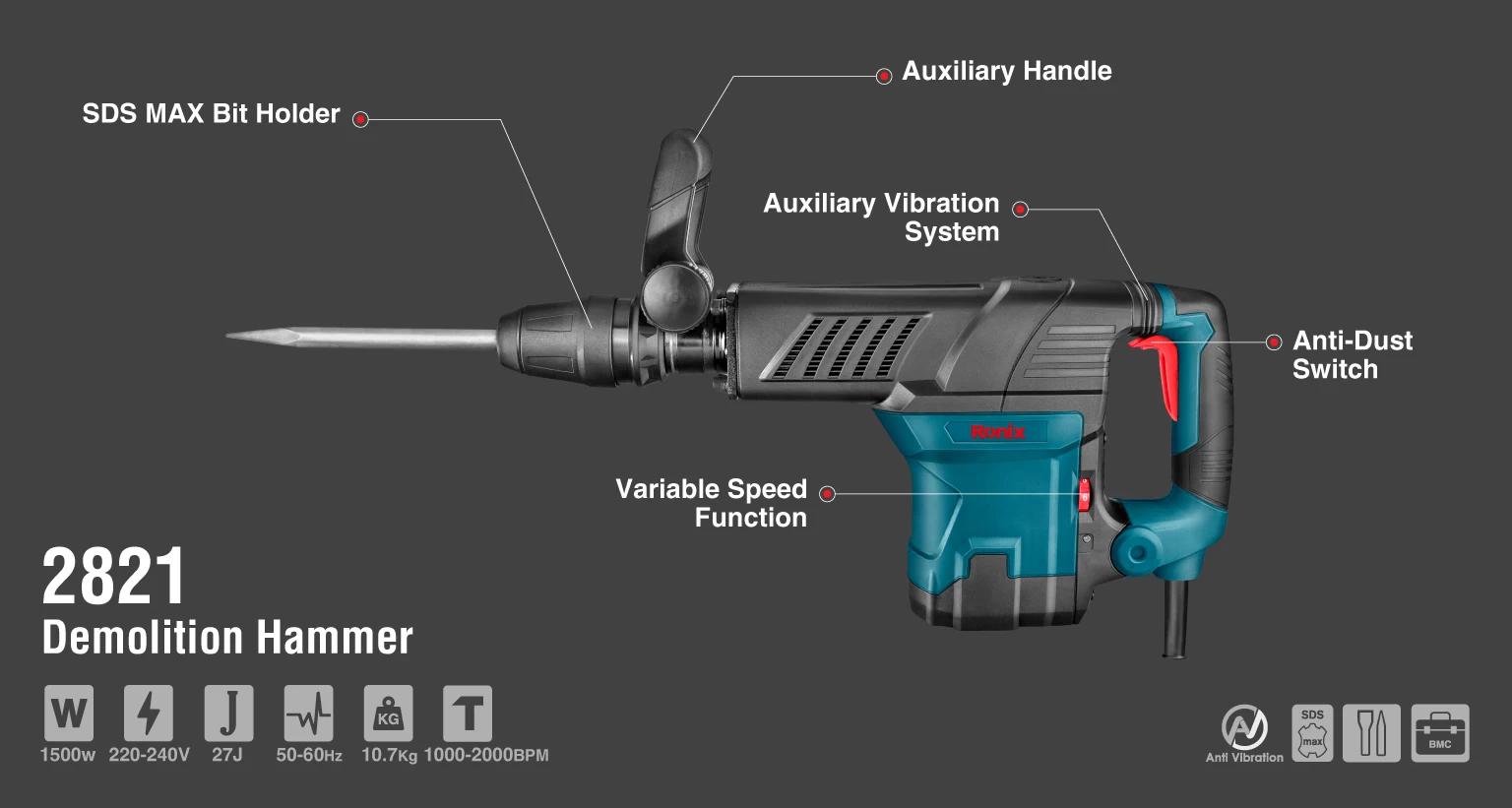 | | |
| --- | --- |
| Model | 2821 |
| Power | 1500W |
| Frequency | 50-60Hz |
| Voltage | 220 - 240V |
| Chuck Type | SDS-MAX |
| Impact Energy | 0-27J |
| Max Impact Rate | 1000 - 2000 BPM |
| Weight | 10.7kg |
| Supplied In | BMC |
| Includes | SDS-MAX flat chisel18*300mm, SDS-MAX pointed chisel18*300mm, Grease tube, Pair of carbon brushes, Auxiliary handle |
Detailed Description
Ronix 2821 demolition hammer, with its 1500W power, hexagonal SDS MAX tool holder, and the use of the best alloys in the construction of the different parts of the tool, will be the best choice for heavy and semi-heavy demolition.
 
Ronix 2821, 10.7 kg 27J SDS Max Demolition Hammer:
Ronix 2821 demolition hammer with the highest quality and different capacities of use is produced according to the needs of the users. On this page, you may find the right tool for the needs of a construction specialist or even a DIY enthusiast.
 
Motor and mechanism:
In addition to breaking or crushing concrete, the demolition hammer is also used to remove wall tiles or for lighter construction activities. The Ronix 2821 demolition hammer, with a 1500W motor, an impact energy of 27 joules, and a maximum striking speed of 2000 beats per minute, is designed and produced for both heavy and light applications. Its compact and optimized drive design with high overload resistance makes the tool ideal for heavy-duty tasks such as chiseling applications in brick, masonry, and occasionally in concrete. Anti-dust ball bearings have been designed into this handy, multi-functional tool to improve its efficiency and durability. This means you can use your demolition hammer wherever you work without having to worry about possible dangers. A reliable anti-oil leakage technology is also made for Ronix 2821 to improve machine durability.
 
Bit Holder:
The Ronix 2821 demolition hammer has two chisels; using your spanner, you can secure one chisel in the head. The hexagonal bit holder (SDS max) with robust power can impressively improve demolition performance.
 
Body:
Ronix's sturdy demolition hammer, weighing 10.7 kg, needs a strong body. It is made of a special alloy; the die-cast aluminum alloy housing is lightweight, allows for better heat dissipation, and enhances the strength of the body. The Ronix 2821 demolition hammer features an ergonomic D-shaped handle for maximum control during heavy-duty operations. Its ergonomic Ronix handle greatly reduces fatigue during long working hours. The lock-on button feature makes this tool easy, pleasant, and comfortable to use. This locking system protects the frame during continuous operations.
 
Accessories and packaging:
The Ronix 2821 demolition hammer comes in a BMC case that includes a bottle of grease, an auxiliary Ronix-designed handle, a D-shape handle, a pair of carbon brushes, a spanner, and two chisels: one SDS-MAX flat chisel (18*300mm) and one SDS-MAX pointed chisel (18*300mm).