Diamond Glass Cutter, Tungesten Cardbid,350 mm RH-3400
06288
MVR 2500

MVR 25.00

Save MVR 25
---
---
-Equipped with 6 diamond blades made of tungsten carbide for continuous and fast cutting
-handle material from natural walnut Wood to increase the life span
-Unique design in the operating part for quality cuts up to a depth of 6 mm    
- Applied to glass, ceramic tile and minerals cutting
-Glass cutting head is replaceable
Cutters are used every day for a variety of applications. They all have a blade with a cutting edge that is ideal for the toughest of cutting jobs with precision. Depending on the material that needs to be cut, you can choose between several knife cutters. Make sure that you are using an appropriate knife cutter for your job. Ronix Knife Cutter RH-3004 with 18mm blade is great for cutting paper, cardboard, roofing, drywall, etc.
| | |
| --- | --- |
| Model | RH-3400 |
| Cutting Thickness | 2-19mm |
| Length | 350mm |
| Handle Material  | Wooden shank |
| Cutting wheel Material  | Tungsten carbide |
| Handle Material | Tungsten Carbide Alloy |
| Supplied In | Ronix Color Box |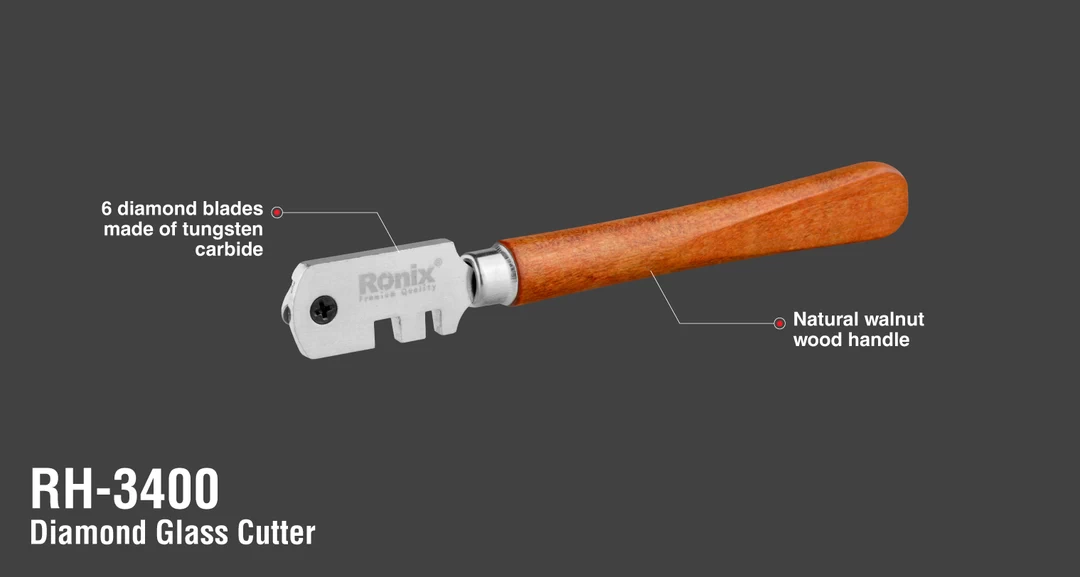 Detailed Description Diamond Glass Cutter RH-3400
Glasscutters are popular tools that are designed to cut glasses and other materials. There are different tools that can be used to get the job done; depending on the thickness and hardness of the tool, you can cut different types of glasses with different thickness and hardness. Ronix RH-3400 Diamond Glass Cutter with the cutting range of 2-19mm is a professional grass cutter that can be applied to glass, ceramic tile, and minerals cutting. Ronix RH-3400 Diamond Glass Cutter with a maximum cutting length of 350mm and a cutting thickness of 2-19mm is among the trusted names in the market. The offered diamond glass cutter, which is made from high-grade materials, ensures accuracy. This Diamond glass cutter tool is distinguished by its unique and ergonomic design; this rough tool uses the depth of cut of 6mm.
Tungsten carbide and also other carbides are hard enough and can cut tough materials. Although they are more expensive than steel, they are becoming more common than other materials. Ronix RH-3400 Diamond Glass Cutter that is equipped with 6 diamond blades is made of tungsten carbide and makes the tool ideally perfect for continuous and fast cutting.

This diamond glass cutter has a glass cutting head that is replaceable. So, it makes it perfect to cover all your cutting needs.
A handle from natural walnut wood is designed for Ronix RH-3400 Diamond Glass Cutter to increase its life span. Its wooden shank handle acts essentially as a holder for the diamond glass cutter.

If you select and use the right diamond glass cutter, it will provide a good cutting speed for you. If you select the wrong tool, you will definitely lose your money by damaging your diamond glass cutter. Ronix RH-3400 Diamond Glass Cutter with its high-quality cutting wheel and handle minimizes the friction and delivers a faster cut and provides toughness and good performance for cutting all types of glasses.