Double Speed Electric Mixer 2410
18685
MVR 1,30000

MVR 1,300.00

Save MVR 800
---
---
-Powerful 1300W motor for mixing various materials 

-Heavy duty gear system with large torque and high efficiency.

-Ergonomically designed handle with soft grip  rubber to reduce user fatigue during long term work

-Variable speed controlled by a speed adjuster wheel for precise mixing speed.

-Ideal for adhesives, ready-mixed mortar, paint, plaster, filler, coatings, etc.

-2 Speed gearbox Suitable for heavy duty, continuous use.
Experience the Real Drilling Power
Get ready for the only tool you'll need for your material-mixing needs. This powerful heavy-duty 1300 W electric mixer is an ideal tool for mixing adhesive, ready-mixed mortar, paint, plaster, filler, coatings, etc. The amount of power is suitable for continuous heavy-duty applications.

Other than its immense power, this tool provides versatility and ease of use. This tool has a 2-speed gearbox that allows you to change the speed for different tasks. The first setting gives you a speed of 200-500 RPM and the second setting gives you a speed of 280-700 RPM. For accurate speed variability you can use the speed adjuster wheel for more precise mixing.
This tool has an ergonomically designed handle with a soft grip made of rubber to reduce user fatigue during lengthy work.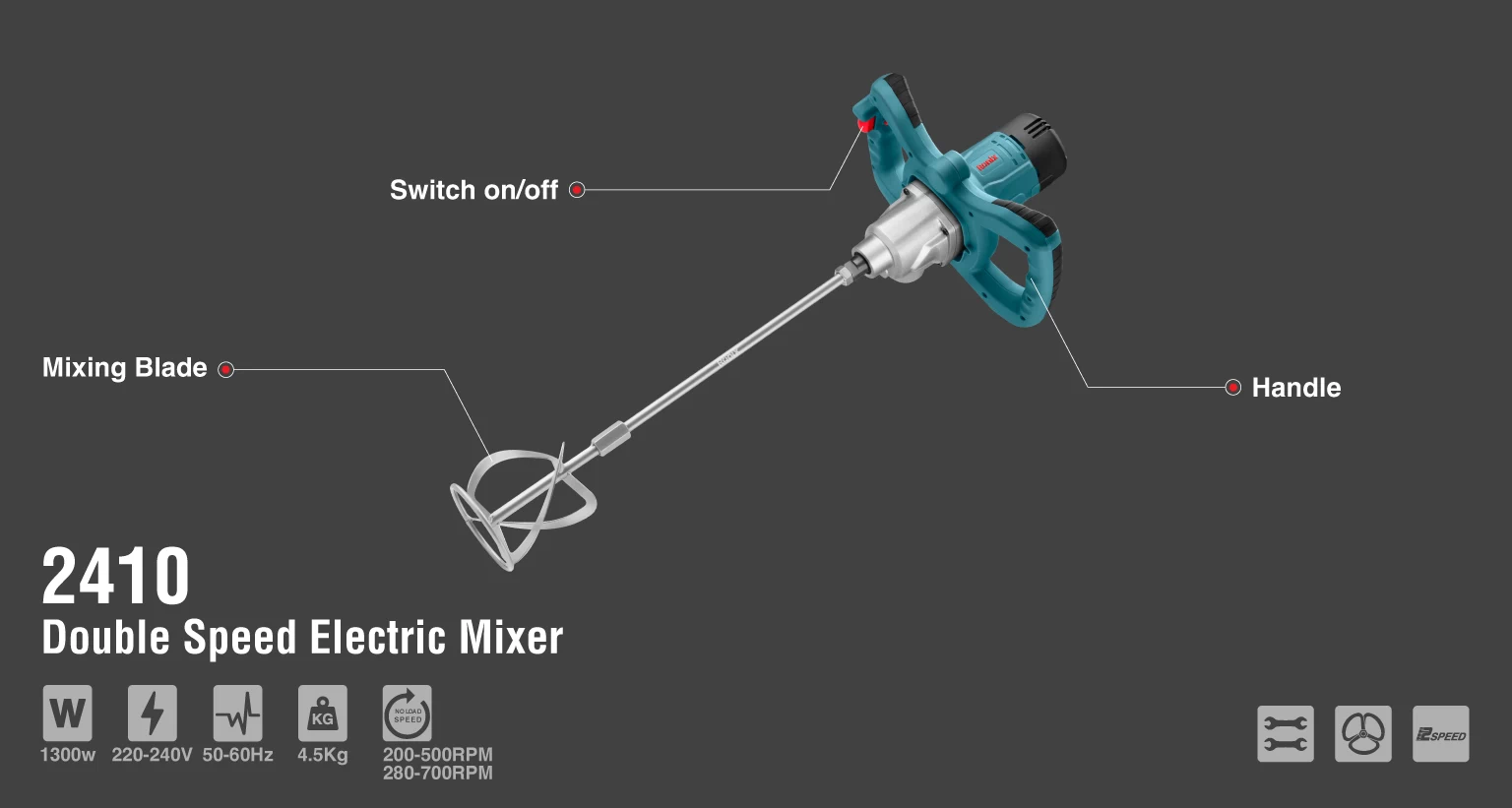 Specifications
| | |
| --- | --- |
| Model | 2410 |
| Voltage | 220-240V |
| Frequency | 50-60Hz |
| Power | 1300W |
| No Loads of Speed | "I : 200-500 RPM , II : 280-700 RPM" |
| Paddle | Single |
| Paddle | 120mm |
| Tool Connection Size | M14 |
| Weight | 4.5kg |
| Supplied in | Ronix Colour Box |
| Includes | 2Wrenches , 1 Paddle , a Pair of carbon brushes |
Detailed Description
Ronix 2410 Electric Mixer is a powerful tool with high torque and efficiency perfect for all of your heavy-duty mixing applications.
 
Ronix 2410: Powerful and Versatile
This industrial tool has a two-speed gearbox and a speed control, making it an optimal tool for different tasks and materials. 
Motor:
This powerful gearbox motor with a power of 1300 W and a maximum no-load speed of 700 RPM uses a voltage of 220-240 V. It provides the optimum amount of power and torque for every task at hand. 
Gearbox and Speed Control:
There are two different mechanisms for changing the speed on this device. The first mechanism is a two-speed gearbox. The first gear provides a no-load speed in the range of 200-500 RPM and the second gear has a 280-700 RPM range. The other mechanism for changing speed on this device is a speed wheel which can be used to change the speed to your desired amount. 
Body:
This device has a weight of 4.5 Kg and its paddle has a diameter of 120mm. This model has an ergonomically-designed body with a soft grip made of rubber. It reduces user fatigue and guarantees comfort, especially when used for long amounts of time. The tool has an M14 connector size for attaching the paddle. The on/off switch is made of anti-dust material. 
Packaging and Accessories:
This device comes in a Ronix color box. It contains a paddle, two wrenches, and a pair of carbon brushes.