Electric Hoists 900W / 250Kg RH-4133
16026
Features
-Robust,Powerful motor with copper winding to ensure long life 
-Provides with IP54 safety class standard
-Durable Steel body suitable to work in difficult situation and workpalce
-Equipped with twist-resistant steel wire rope with suitable strength with a length of 18 meters
-Equipped with Thermal switch to protect motor from damage 
Equipped with automatic cut-off system-
Powerful Motor with Copper Winding
Electric hoists are powerful lifting devices that operate using an electric motor and a system of pulleys and chains. These hoists are designed to lift and move heavy loads efficiently in various industrial and commercial settings. They utilize an electric motor to rotate a drum or pulley, which in turn lifts the load attached to the hoist's hook or lifting mechanism. Electric hoists are one of the most essential tools for individuals and industries that require frequent lifting and maneuvering of heavy objects, such as construction sites, warehouses, manufacturing facilities, and shipyards. Combining the power of its 800-watt motor with its twist-resistant steel rope, Ronxi RH-4133 is one of the more powerful members of our lineup of electric hoists that is ready to help you deal with any lifting operation safely.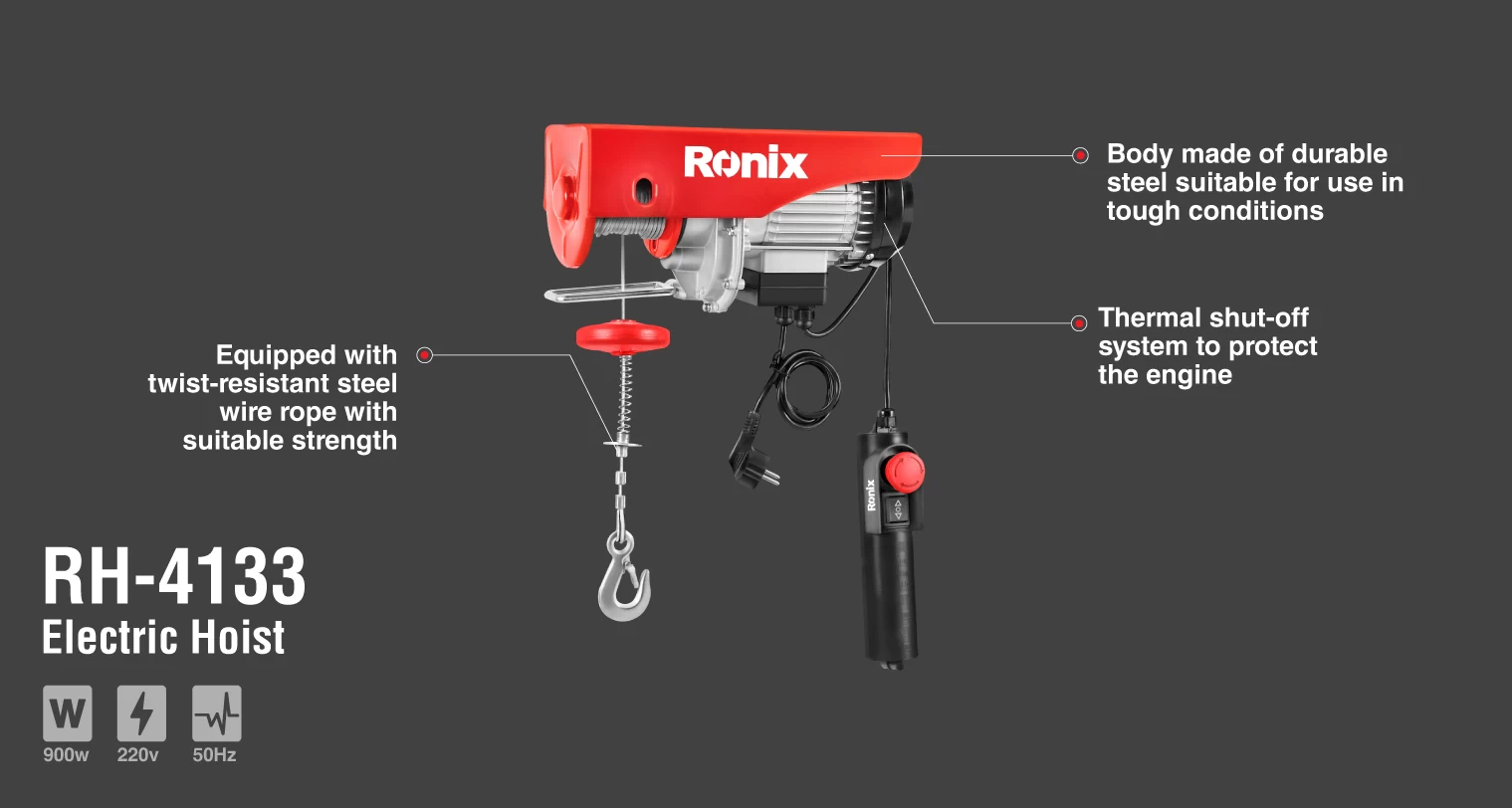 Specifications
| | |
| --- | --- |
| Model | RH-4133 |
| Power | 800W |
| Voltage | 220V |
| Frequency | 50 Hz |
| (Double) Lifting Capacity | 500Kg |
| (standard) Lifting Capacity | 250Kg |
| | 9m |
| (Standard) Lifting Height | 18m |
| | |
| | |
| | 18m |
| | 4mm |
| | |
Detailed Description
Ronix RH-4133 is an 800-watt electric hoister that offers a maximum lifting capacity of 500kg at a maximum speed of 10m/min.

Ronix RH-4133, 800W Electric Hoist:
Electric hoists can be particularly advantageous for repetitive or high-volume lifting tasks, as they enhance productivity and reduce the risk of manual lifting injuries. They can be used for loading and unloading heavy materials onto trucks, lifting and positioning equipment or machinery, and hoisting heavy components during construction or installation projects among many other applications. With their robust lifting capabilities and ease of operation, electric hoists provide a safe and efficient solution for a wide range of lifting applications. Our RH-4133 is no exception to this versatility and useability by combining the immense power of its 800-watt motor with the strength of its 18m-long steel rope. If you are looking for a new electric hoist, Ronix RH-4133 is one of the best options available. Keep reading to find out more about this robust and mighty device. 
Motor:
As previously mentioned, Ronix RH-4133 is equipped with an 800-watt motor. This motor works with 220V AC electricity. 
Lifting capacity:
This device boasts a maximum lifting capacity of 250kg with a maximum speed of 10m/min. This is the case when using the device in standard mode, if you choose to use it in double mode, you will have access to a maximum lifting capacity of 500kg with a maximum speed of 5m/min. It is also worth mentioning that the attached rope of the RH-4133 model is 18m long and thanks to it, Ronix RH-4133 can offer a maximum lifting height of 18m in standard and 9m in double mode. 
Body:
Ronix RH-4133 is designed for use in heavy-duty industries and applications. Hence, its powerful motor is encased in a steel housing with a protection rating of IP54 that shields the motor and other internal components of Ronix RH-4133 from damaging elements. In addition to this protective layer, the RH-4133 model's motor is also protected by a thermal switch as well as an automatic cut-off system that ensures the safety of operation and longevity of Ronix RH-4133. 
Cable:
We have also used a twist-resistant steel rope in the RH-4133 model that features a diameter of 4mm. In standard mode, this 18m-long rope provides a maximum lifting height of 18m which drops to 9m in double mode. Also, this rope has enough strength to lift objects as heavy as 1250kg. 
Packaging:
You will receive Ronix RH-4133 electric hoist in a Ronix-designed package.