Gasoline Chain Saw, 4647
15980
-52cc, 2-cycle high-power 1.9kw engine with outstanding performance
-Automatic lubricating system reduces the friction between the bar and chains and makes cutting smoother and easier
-Anti vibration system makes the operation more comfortable and reduces fatigue during long hours of working 
-Specific safety break reduces the risk during cutting operations
-New smart start system makes the machine start easier with less effort
-Excellent new ignition system results in powerful, smooth running
-Special exhaust system design reduces fuel consumption and minimizes gasoline emissions
-New design clutch design results in better performance and higher efficiency


Chain Saw, 4647
With high power and cutting capacity, Ronix 4647 gasoline chainsaw is the best tool for forest management, pruning branches, felling old trees, cutting firewood, or even wood carving. 

This 1900W beast delivers a maximum speed of 3000RPM and has a fuel capacity of 550ml that spare you the trouble of constant tank refilling. Thanks to the sparks of a new ignition system that is responsible for igniting the fuel-air mixture, this chainsaw runs smoothly. Its specially designed exhaust system can reduce fuel consumption and minimize gasoline emissions and thanks to a new smart start system, you can start the saw with less effort. 

Chainsaws normally take a toll on the arm of the user by too much vibration during long hours of work, a problem that is solved in this model thanks to an anti-vibration system. 

Automatic lubricating system, specific safety break and new design clutch system are just some of the other features of 4647.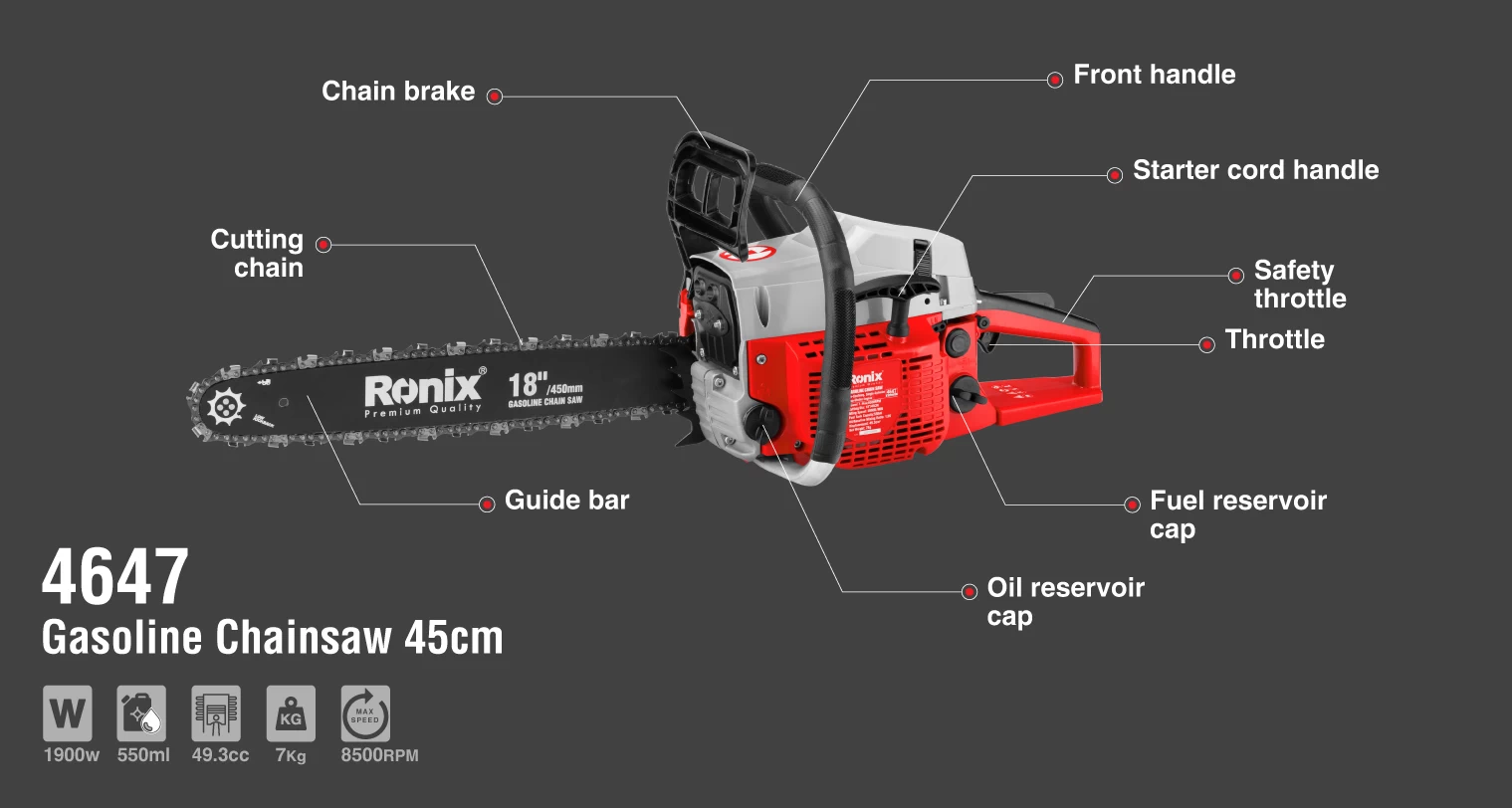 Specifications
| | |
| --- | --- |
| Model | 4647 |
| Engine Power | 1900W |
| Guide Bar Length | 18 in./450mm |
| Cutting Capacity | 40 - 45cm |
| Fuel Capacity | 550ml |
| Displacement | 49.3 cm |
| Power Source | Gasoline |
| Oil/Gasoline mixing | ratio 1/25 |
| Oil tank capacity | 260 ml |
| Carburetor | Diaphragm type |
| Idling speed Range | 3000 + 200 RPM |
| Max speed with Cutting Attachment | 8500RPM |
| Ignition System | C.D.I with timing advance function |
| Oil Feeding System | Mechanical plunger pump with an adjuster |
| Dry Weight (without guide bar & chain, empty tanks) | 7kg |
| Guide Bar Type | Sprocket nose |
| Saw Chain Type | Ronix |
| Saw Chain Pitch | 0.325in |
| Saw Chain Gauge | 0.058in |
| Supplied in | Ronix Color Box |
| Includes | Chain, Guide bar, bottle |
Detailed Description
Ronix 4647 gasoline chainsaw is the ideal power tool for anyone who wants to cut some of the thickest trunks in a short time and with utmost precision.
What Does Ronix 4647 Gasoline Chainsaw Have to Offer? 
A series of handy features Make the Ronix 4647 an efficient gasoline chainsaw for any cutting tasks you might have in a forest or a garden.

Motor and Mechanism:
A powerful 1900W motor with a displacement rate of 49.3 cm3 makes 4647 capable of delivering up to 3000RPM idling speed range and 8500RPM max speed with cutting attachment to ensure outstanding performance in cutting the target material with a cutting capacity that can go up to 40 to 45 cm.

This chainsaw that runs on gasoline has 550 ml of fuel and 260 ml of oil tank capacity with a 1.25 oil/gasoline mixing ratio. The oil feeding system in this model is a mechanical plunger pump with an adjuster for efficient operation. 

Thanks to a C.D.I. ignition system with an advanced timing function, 4647 users can enjoy powerful and smooth running. This chainsaw also features a new smart start system that makes the machine start easier and with less effort.
Its clutch system features a new design that results in better performance and higher efficiency, and it comes with a unique exhaust system design that reduces fuel consumption and minimizes gasoline emissions.

Lubricating System:
The Ronix 4647 gasoline chainsaw features an automatic lubricating system that reduces the friction between the bar and chains and ensures smoother and easier cuts.

Carburetor:
Chainsaw engines are two-stroke, which means that the engine does not have a separate tank for oil. So, that is where 4647's Diaphragm type carburetor comes to the rescue, adjusting the combination of air with oil and gasoline in a specific 1:25 ratio and pouring it into the fuel tank to make the tool work in the best possible conditions.

Body:
The Ronix 4647 weighs only 7kg without its guide bar and chain and with empty tanks. this tool comes with an anti-vibration system that is designed to reduce hand fatigue during long hours of work. The prolonged use of a chainsaw without this feature can cause numbness in the hands and lead to Hand Vibrating Syndrome (HAVS). 

Safety:
This chainsaw is equipped with a specific safety break, which reduces the risk of injuries when the tool is working. 

Accessories and packaging:
4647 Gasoline Chainsaw is supplied in a color box that includes a series of handy accessories, such as a chain saw, a guide bar, a guide bar sleeve, a bottle, a screwdriver, a raspier, and a plug wrench.