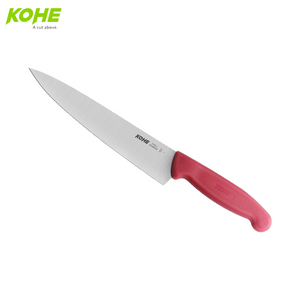 KOHE SS Carving Knife - 1172.1
16699
Features:
Long thin sharp edge blade
Conically ground full length & crosswise blade to glide through
Ergonomically designed handle provides a sure grip & easy handling even when wet
Hygienic food grade polypropylene handle
Laser tested cutting edge angle
Size 312mm
Usage:
Perfect for precise, thin slicing of Meat, Poultry & Fish.
A blunt knife is a homemaker's nightmare. It creates unclean cuts, uneven slices and wastes a lot of food. Repeated sharpening of the blade or replacing the knife is also a big hassle. We manufacture knives that stay sharp and smooth for a long time. Our carving knife has an impeccable design and is manufactured from defect-free, high-quality raw materials.
Our carving knife has a slender, long, sharp stainless steel blade and a hygienic polypropylene (food-grade) handle. It allows smooth, long slicing action instead of back and forth saw movement. Consequently, our carving knife is in high demand among professional cooks and chefs. We laser test the cutting edge angle of our knives to minimize your initial cutting effort by 40%. You can slice thin cuts of meat and poultry with high precision due to the conically ground blade of our carving knife. Filleting salmon is a piece of cake with this knife. The ergonomic design of its handle gives you a sturdy and firm grip.
For professional-looking slices of meat, get our carving knife today.