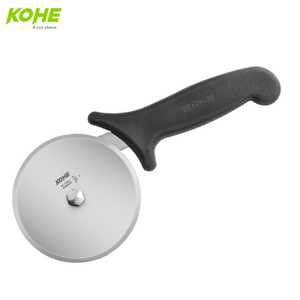 KOHE SS Pizza Cutter - PC-1104.1
16712
Features:
Burrless edge for precise & smooth cutting
Easy to clean rotary wheel
High quality stainless steel
Hygienic food grade polypropylene handle
Size 240mm
Usage:
Cutting pizza, sandwiches and pastries.
Imagine piecing 20 pizzas evenly in a minute. But, more than the skill and confidence, it requires a sturdy, unbreakable, and user-friendly pizza cutter. Our premium quality pizza cutter can cut both hard crust and soft pizza base smoothly.
For the ease of cleaning, our pizza cutter is dishwasher-safe. You can use our pizza cutter for multiple purposes as it glides through sandwiches, pastries, tarts, and quiches effortlessly. A safety guard at the front of its food-grade polypropylene handle protects your thumb & fingers while cutting. The ergonomic handle design allows slicing without much effort. Both left-handed or right-handed home cooks and professional chefs can comfortably use it. Even after continuous daily use, the stainless steel blade stays sharp. Our product design allows for easy slicing without applying substantial pressure.
Whether deep pan pizzas or delicate lasagnas, our pizza cutter assures clean cuts.