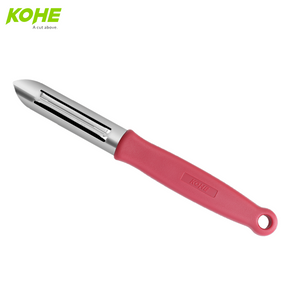 KOHE SS Straight Peeler (Fixed Blade) - 1101.1
16701
Features:
Glides through even the tough fruits & vegetables skin
Dual edges perform both side smoothly
Ultra sharp straight edge for firm peel
Potato eye remover to dig out eyes & blemishes
Stainless steel blade for corrosion resistant
Easy to use & clean
Provision for easy hanging
Food grade PP made ergonomic handle provide safety & durability for long period
Size

165mm
Usage:
Peeling tough fruits & vegetables like Carrot, Radish, Ridge Gourd & more.
Peelers are something that is considered to be one of those kitchen tools which are utterly important in our day-to-day life. Among those, straight peeler with fixed blade category glides through the rough and tough fruits and vegetables. The straight peelers are duly performable and work smoothly from both sides. The fixed blades of straight peelers are very easy to use and can also be cleaned easily. The peelers come with an extra benefit that is provision for easy hanging. This provision requires a small amount of space and so it helps in saving the storage space for other utensils. The potato eye removing process is also sorted out with the help of the peelers and also dig out the eyes and blemishes. The handle of the peeler is ergonomic and food grade PP made which provides safety and it also comes with long durability of time. The blades of straight peelers are of stainless steel for corrosion resistance. This peeler is very helpful in peeling the tough surface of the fruit and vegetables like carrot, radish and many more. It is an absolute kitchen appliance that fits every dining space.