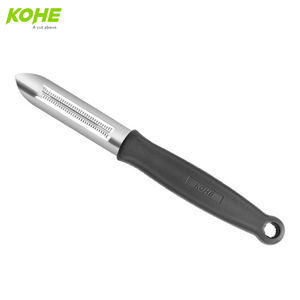 KOHE SS Straight Serrated Peeler (Fixed Blade) - 1201.2
16702
Features:
Glides through even soft / tough fruits & vegetables skin
Ultra sharp serrated edge helps to peel skin of waxy & slippery fruits & vegetables
Potato eye remover to dig out eyes & blemishes
Stainless steel blade for corrosion resistant
Provision for easy hanging
Food grade PP made ergonomic handle provide safety & durability for long period
Easy to use & clean
Dual edges perform both side smoothly
Size

165mm
Usage:
Peeling soft / tough fruits & vegetables like Cucumber, Bottle Gourd & more.
Multi usage product by Kohe gives both soft and tough fruits and vegetables a smooth glide through. Straight serrated peeler which comes with a fixed blade is very easy to handle and can be washed and cleaned without any extra effort. The peeler is dually functional which gives smooth finishing as the end result. The durability of the peeler is stated to be for a longer period and the handle is ergonomics and food grade PP manufactured which provide safety as its priority. A smooth run-over slippery fruits and vegetables is a must of straight serrated peelers. The edge of the peeler is ultra-sharp serrated which finishes its job by peeling off the skin of waxy fruits and veggies in a gist. The storage problem is solved because of the provision of an easy hanging facility which is provided by Kohe. These peelers are very reliable and can run over tough crusts of vegetables like bottle gourd and many more. The foremost feature of the peeler is the peeling of the soft surface of fruit and vegetables like cucumber and radish etc.