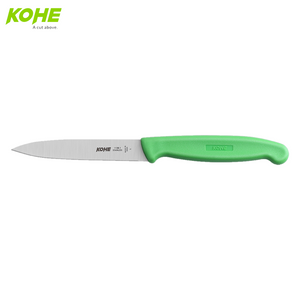 KOHE SS Utility Knife (Small) - 1138.1
16694
Features:
Versatile knife excels at everyday task
Conically ground full length & crosswise blade to glide through
Ergonomically designed handle provides a sure grip & easy handling even when wet
Hygienic food grade polypropylene handle
High quality stainless steel blade
Size 

211mm
Usage:
Precision task like peeling, trimming and slicing fruits and vegetables.
A utility knife is a jack-of-all-trades. It can perform every food prep task in a kitchen. We specialize in the production of a wide variety of utility knives. Gourmet chefs, culinary professionals, and homemakers much appreciate our utility knives. The size of our utility knife is suited for error-free cutting of smaller foods like shallots. You can also make compact cuts of meat with it like salami, pepperoni, or small fish fillets.
Our utility knife gives you greater control over culinary actions. Its ergonomic handle, lightweight, and laser-tested edge angle allows for comfortable cutting and chopping. In addition, the high-quality stainless steel blade of our utility knife stays sharp. It can accomplish varied cutting, peeling, slicing tasks alone. Cleaning this knife is easy. It is washable in a dishwasher. The gentle curve of the utility knife allows for detailed cutting and quick slicing. If you are tired of improper cutting of foods, your kitchen set is missing our small utility knife.