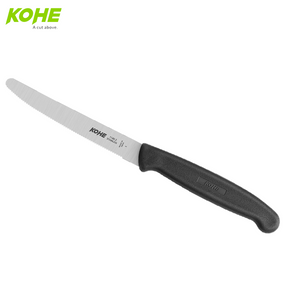 KOHE SS Utility Narrow Serrated Knife - 1140.2
16696
Features:
Tiny serration on blade prevents skin from tearing
Hygienic food grade polypropylene handle
High quality Stainless steel blade
Size 

212mm
Usage:
Precision task like peeling, trimming and slicing fruits and vegetables.
Food presentation, styling, and serving are art. Whether it is a fruit salad, a dessert, or an appetizer, presentation and styling can be intricate, varied, and detailed. There is a perfect knife to peel, slice, and dice every fruit. We have designed our utility narrow serrated knife especially for soft and delicate fruits like gooseberries, kiwi, and grapes. Slender and tiny serrations on the blade edge glide smoothly into the flesh of the fruit. The premium stainless steel blade and a food-grade polypropylene handle make our knife irreplaceable and reduce your cutting force. You can also easily clean it in a dishwasher.
Choose our lightweight utility narrow serrated knife to peel and cut soft vegetables and fruits.