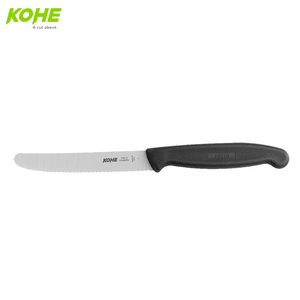 KOHE SS Utility Wide Serrated Knife - 1141.3
16695
Features:
Cutting the fruits / vegetables which have many layered within
Conically ground full length & crosswise blade to glide through
Ergonomically designed handle provides a sure grip & easy handling even when wet
Hygienic food grade polypropylene handle
High quality Stainless steel blade
Size

219mm
Usage:
Small slicing jobs such as Bagels / Sandwich, layered fruits and vegetables.
A machine is anything that reduces effort. Cooking begins with cutting vegetables on the chopping board. There is a diversity of knives. If you choose the knife most suitable for the cutting action, your effort will be negligible. We bring you our utility-wide serrated blade for cutting layered fruits and vegetables. It is even beneficial for slicing through bagels and sandwiches.
Serrations on the knife blade hold onto the skin of the vegetable and fruit while cutting. We specially designed our utility-wide serrated knife to glide into multiple layers easily. Features like the lightweight, ultra-sharp edge, ergonomic handle of this knife lessen the cutting force dramatically. It is the knife of choice for house and professional cooks that is easy to clean and maintain.  The stainless steel blade of the knife is durable. Additionally, the food-grade polypropylene handle does not crack or break easily.
Now easily cut vegetables with multiple layers like cabbage and onions with our utility-wide serrated knife.