Long Neck Die Grinder 3302
18738
MVR 86000

MVR 860.00

Save MVR 640
---
---
-Efficient robust 710W motor ensures maximum functionality

-Long grinding spindle enables working in tight and hard to reach places

-Protective anti-heat rubber cover for comfortable and safe working

-Variable speed setting from 12000 RPM to 28000 RPM

no-load of speed regulates the speed to adapt to the operator's needs

-Direct airflow system which cools the motor for more reliable performances

-Slim body design for ideal handling and higher working performance

-Precision collet enables the operator to do accurate applications faster and easier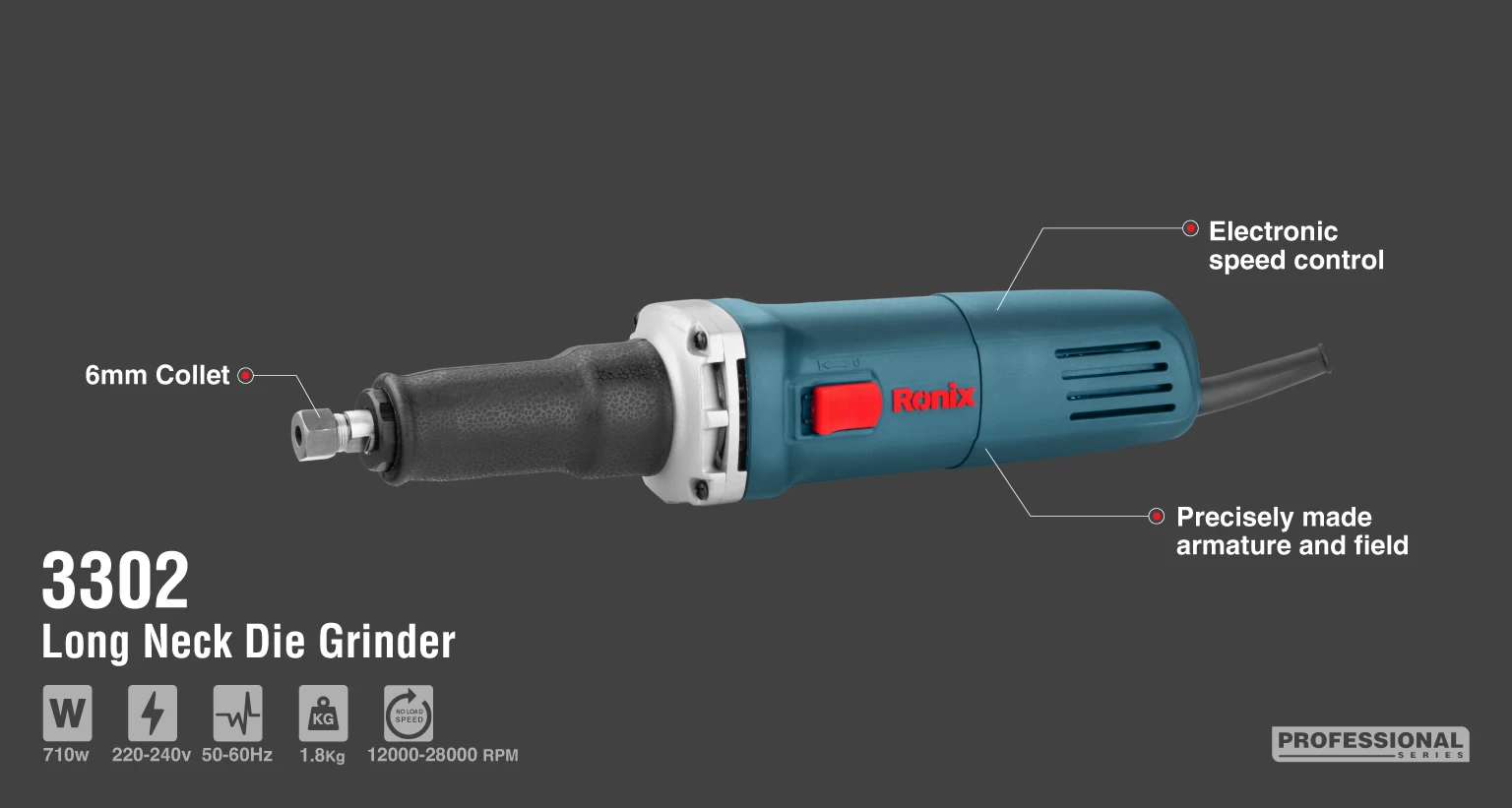 If you are looking for a tool that can be used for grinding, polishing, sanding, and shaping materials, a long-neck die grinder is a good choice. Wherever there is metal, as well as plastic or wood, a sturdy die grinder should not be overlooked. The Ronix 3302 long-neck die grinder, with its powerful motor and extended grinding spindle, is perfectly designed for deburring or smoothing weld seams in hard-to-reach areas. If you need to buy a tool of this type, it is best to know that Ronix 3302 with 710W power, an idle speed of 12000-28000 RPM, and 1.8kg weight can make your work easier.
| | |
| --- | --- |
| Model | 3302 |
| Power | 710W |
| No-load RPM | 12000-28000 RPM |
| Voltage | 220 - 240V |
| Frequency | 50-60Hz |
| Weight | 1.8kg |
| Collet Size | 6mm |
| Supplied In | Ronix Colour box |
| Includes | 2 spanners |
Detailed Description
The product presented in this section is one of the best die grinders available on the market, which is produced with the best raw materials and supplied to the global market. This Ronix long-neck die grinder meets the highest standards in the world and has been created to be your constant companion in your workshop.
 
Ronix 3302, 710W Long Neck Die Grinder:
The Ronix 3302 6mm Long Neck Die-grinder is a simple but effective tool for grinding various materials. In this section, the different parts of this device and their features are studied in more detail. Stay with us. 
Motor:
The Ronix 3302 Long Neck Die-grinder uses an industrially manufactured universal motor to convert 220-240v electricity into 710W of power. For optimal use, this efficient and durable motor delivers full power to the collet. The motor has a speed range of 12000 to 48000 revolutions per minute, making the 3302 ideal for a variety of activities such as grinding, cutting, polishing, and more. in addition, this device is fitted with a direct airflow system that can cool the motor for more reliable performance. This powerful motor is designed to handle the toughest jobs. 
Collet:
The Ronix 3302 Long Neck Die-grinder's precision collet (6 mm) ensures perfect circularity, and the tool holder allows the user to make correct applications faster and easier. There are also wrenches for lighting and loosening the collet.
The Ronix 3302 long neck die grinder with its long grinding shaft allows you to work in tight, hard-to-reach places. Note that the grinders with a long grinding shaft have a removable rubber protective cap for more safety. 
Switch:
To set the speed for different applications, the Ronix 3302 long neck die grinder has a variable speed adjustment from 12000 to 48000 RPM. 
Body:
The slim, manageable body allows for higher work performance and is designed for ideal handling. The Ronix 3302 is constructed with ergonomic composite housing, which makes it durable yet lightweight (1.8 kg). When using a die grinder, it gets hot and can burn your hand, but the Ronix 3302 long-neck die grinder's heat-protective rubber keeps the tool safe from getting hot. 
Accessories and packaging:
The Ronix 3302 long-neck die grinder is supplied in a Ronix-deigned color box and includes two spanners.