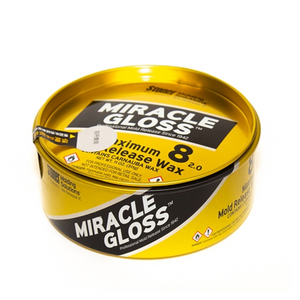 M0811 Miracle Gloss No. 8 2.0 Maximum Mold Release Wax
16329
MVR 39500

MVR 395.00

Save MVR 325
---
---
Miracle Gloss V2 Maximum Mold Release Wax is classified as a non-hazardous costly blend of imported waxes specially formulated for the maximum number of releases per application.
As the world's first non-flammable paste wax designed for FRP and other Composites molding, Miracle Gloss V3 provides a hassle-free wipe on and wipe off experience. This method allows for optimum thickness of wax on the mold surface. Miracle Gloss V2 does not appear to haze and can be wiped off 1-10 minutes after application.

HOW TO USE
New and Seasoned Molds:
1. Apply by hand five (5) to eight (8) coats of Meguiar's Maximum Mold Release Wax (M-08 v2.0). o Apply a thin coat of wax, wait for approximately 5 to 10 minutes for the wax to haze up.
Wipe off the haze using a 100% cotton terry cloth towel.
Wait for an additional 20 to 30 minutes for the wax to fully cure then apply next coat.
2. Once all five (5) to eight (8) coats have been applied, the mold is ready for production.
3. For the first five (5) pulls add one (1) additional coat between each pull.
4. After the fifth pull, run mold until release becomes slight snug then apply one (1) additional coat of wax.
5. Once there is enough build up of styrene and the mold surface has become dull then the mold requires cleaning and re-application of mold release wax.