Marble Cutter, 1500W, 14000RPM, 3411
03158
Features
- 1500W powerful motor for highest working efficiency which brings 14000 rotations per minute
- Easy cutting through several materials
- Heat dissipation system extends the service life of the machine and ensures that the powerful motor performs efficiently for a lifetime.
- Self-locking switch enables continuous cutting safely
-Bevels to 45 Degrees for quick angled cuts
- Height adjustable shoe allows user to cut at various depths up to 34 mm
- Soft handle grip assists the users to easily perform their tasks for a prolong period of time.
- The high-quality steel base provides the operators with cutting stability and more accurate cutting.
- Handy and portable design for more convenient use
Small Dimensions, the Numbers Blow Your Mind
Marble cutters are power tools that are used not just to cut through marbles. They can be used to cut wood, steel, granite stones, etc. so, the same tool can be used for different tasks; and you just need to change its blades. Depending on your project, choose a suitable blade to cut different materials. Ronix 3411 Marble Cutter with its 1500W powerful motor and 14000RPM no-load of speed is perfectly ideal for heavy-duty operations. For more information scroll down. 
Specifications
| | |
| --- | --- |
| Model | 3411 |
| Power | 1500 W |
| Voltage | 220V |
| No-Load Speed | 1400RPM |
| Frequency | 50Hz |
| Wheel Diameter | 115mm |
| Max Cutting Capacity | 34mm |
| Weight | 2.5 Kg |
| Supplied In | Ronix Colour Box |
| Includes | 1Pc Blade , 3m water Hose,1 pair Carbon Brush, 2 Spaner،2 Washer،1 connector،1 nozzle |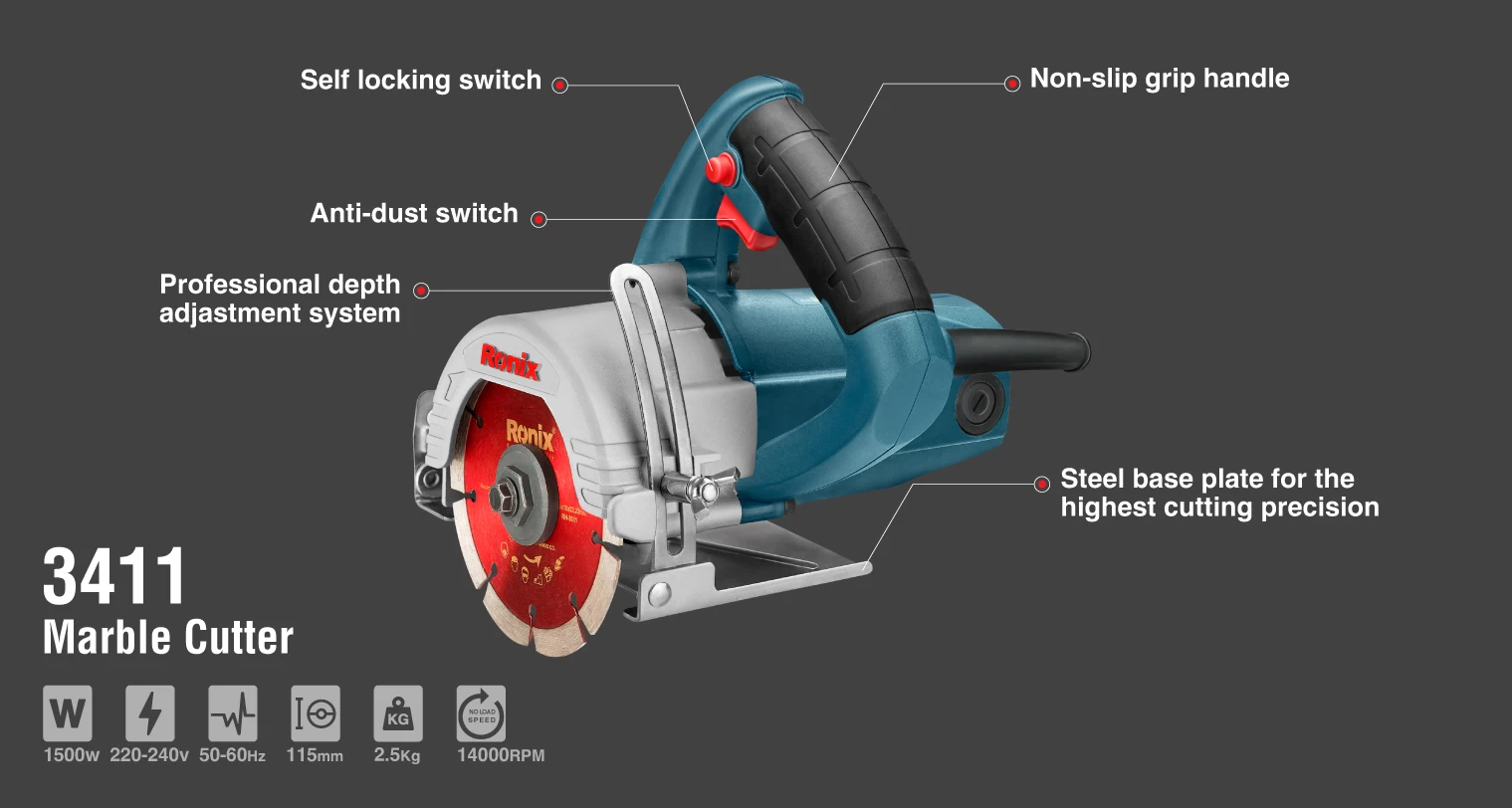 Detailed Description

Marble cutters are power tools that are not only used to cut marble; they can also be used to cut wood, steel, granite, stones, etc. So, the same tool can be used for different tasks; you just have to change the blades. The Ronix 3411 Marble Cutter, with its powerful 1500W motor and 14000 RPM idle speed, is perfectly suited for heavy-duty work.

Ronix 3411, 1500W Marble Cutter:
The powerful motor, ergonomic body, and convenient accessories provided with the Ronix 3411 marble cutter make this product the ideal choice for users who want to cut marble and multi-layered surfaces made of different materials. In this section, the specifications of this great cutting tool will be explored in more detail. 
Motor:
The Ronix 3411 is equipped with a powerful 1500-watt motor with a voltage of 220-240 volts and a frequency of 50-60 Hz. This heavy-duty motor can run at 14000 RPM in free-running mode. In addition, this unit also features a motor cooling system to increase the durability and efficiency of the motor. The heat dissipation system extends the service life of the machine and ensures that the motor performs efficiently for a lifetime. 
Blade:
The blade designed for this marble cutter has a diameter of 115 mm and allows for fast and angular cuts up to 45 degrees. Its height-adjustable shoe allows the user to cut at different depths up to 34 mm. 
Switches:
The Ronix 3411 marble cutter is equipped with a dust-free main trigger. It also has a self-locking switch for safe, continuous cutting. 
Body:
The Ronix 3411 is an ergonomic, small, and portable marble cutter that weighs only 2.5 kg. This handy device features a soft, ergonomic handle that makes it easy to use and allows users to easily perform their tasks for extended periods. In addition, the high-quality steel base provides operators with cutting stability and a more precise cut. 
Accessories and packaging:
The Ronix 3411 marble cutter includes many items which are all supplied in a Ronix-designed color box. The items are a blade, a 3m water hose, a pair of carbon brushes, two spanners, a washer, a connector, and a nozzle.