Measuring Tape, 7.5mm, ABS Housing RH-9075
16050
MVR 7000

MVR 70.00

Save MVR 25
---
---
-Features an impact-resistant, Soft-Finish coated ABS housing to have a more durable and easy-to-use measurement tape.

-Includes a strong metal belt clip that holds tight and is easy to use on uniforms.

-The extra-large magnetic hook grabs material from both sides and holds the metal tight while taking measurements.

-Different lengths of reach to increase versatility. 

-Durable nylon blade coating withstands different jobsite conditions.

-2-sided large, easy-to-read font on the 1.1mm thick blade
Easy Operations
Are you a professional or an amateur? It doesn't matter because one tape measure should be in the toolbox of every homeowner for common home construction projects and all workplaces. It is an inexpensive and handy tool that has many uses. Working with Ronix PVC Measuring Tape is fast and easy; both professionals and DIYers can measure different sizes and distances of objects with it. They are available in a variety of models (RH-9030/RH-9050/RH-9055/RH-9075/RH-9017) and lengths ranging from 3m to 10m.


| | |
| --- | --- |
| Model | RH 9075 |
| Blade Length | 7.5m |
| Blade Width | 25mm |
| Blade Thickness | 1.1mm |
| Hook | Magnetic |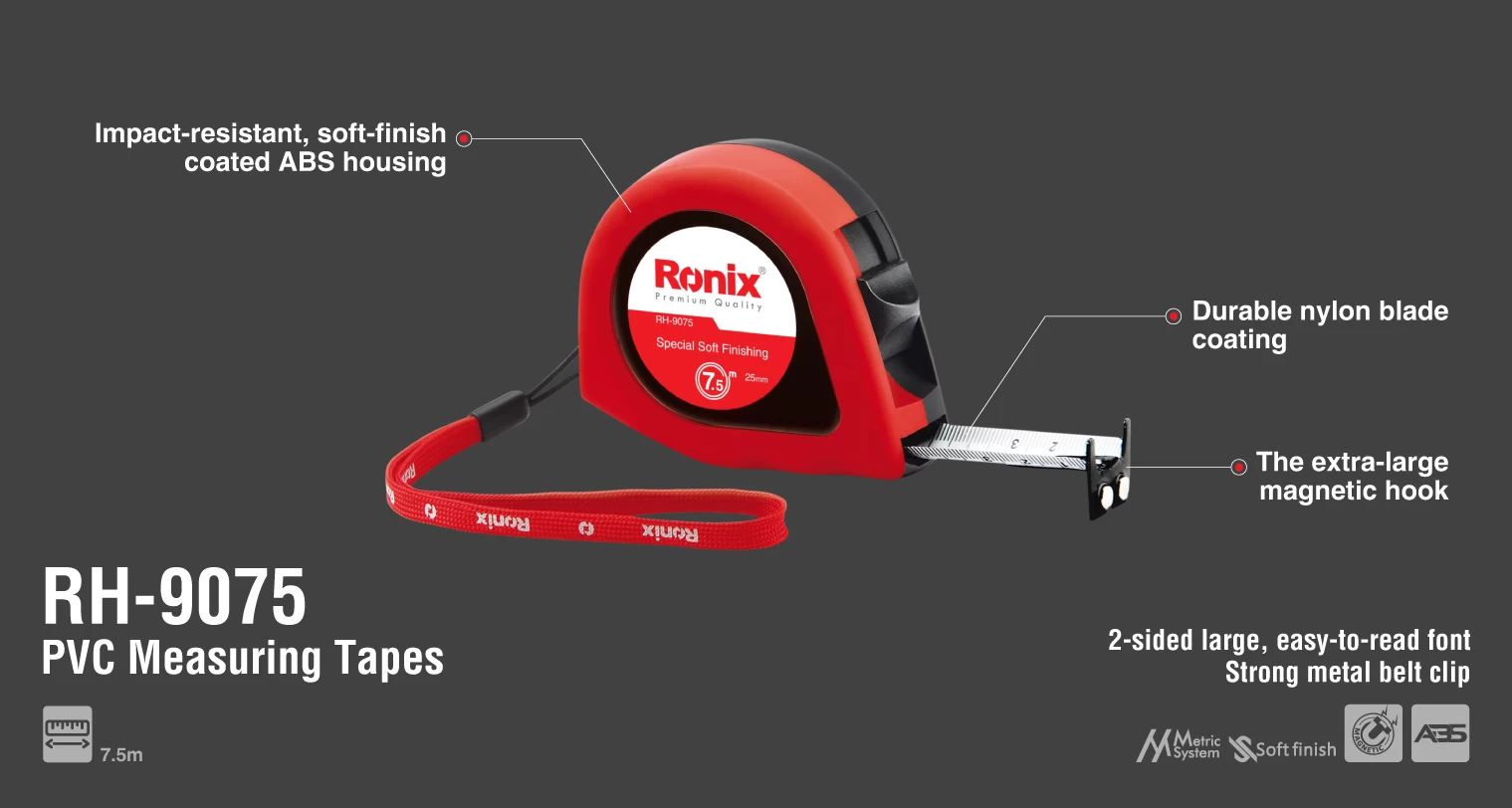 Detailed Description
You use it all the time, but you probably don't know much about how your tape measure is made. Let's dive into how each part works and talk about some of the secret features you may have never heard about.
Blade
The blade is what you use to get your measurement. Ronix PVC Measuring Tapes are 3m-10m in length, 19mm-25mm in width, and 1.1mm in thickness. The blade in these measuring tapes are coated with a layer of Nylon to resist rust and corrosion and ensure a longer life time.
ABS case
Ergonomic tools that fit your hands do not only feel better to use, they make you perform better. For measuring tapes it's important to choose a case that is designed to fit your hand. Choosing a case that is too big for your hand will cause a bad grip and in the long run; make you less efficient. When holding the measuring tape, you should be able to reach all functions without any problem. It is provided in different sizes to cover a wide range of applications. Tough impact resistant ABS case with the soft-finish coating is designed for more durability and comfort.
Hook
True zero dual magnetic hook greatly enhances the stability of the blade and improves the accuracy of inside and outside measurement. 3 rivet end hook provides 40% longer life for the blade.
Lock system
High accuracy is only achieved by making sure the blade stays in position when locking it. The blade should be easy to lock in position and most importantly, it should stay in position until you release it. Two operation system lock including a thumb lock system plus finger stop functions, is suitable for professional users. Speed brake can lock the blade for extra tension or unlock it for smooth, controlled retraction.
Belt loop
Ronix PVC Measuring Tape includes a metal belt loop for easy attachment on the work wear.
As it is mentioned at the beginning of this post, Ronix PVC Measuring Tapes with different sizes (3m-10m in length, 19mm-25mm in width, and 1.1mm in thickness) can be an ideal choice for both professionals and amateurs