Metal Grinding Wheel RH-3704
13204
MVR 6500

MVR 65.00

Save MVR 25
---
---
Features
- very high stock removal, very long service life, resin bonded, very productive
-Grinding Application For  cast steel, steel, structural steel, tool stee
-Suitable for Working on all Angle Grinders Devices  in Diffrent Jobs
-Manufactured under accordance of 
 EN 12413 Standard and SQ safety Quality System
For many metalworkers, the most intense part of their everyday tasks, is the grinding. It is a highly time-consuming task and has a rigorous nature. To decrease the time of grinding operations, Ronix produces metal grinding wheels. The Ronix RH-3704 and RH-3724 Metal Grinding Wheels have an extremely high stock removal and can be widely used in grinding applications for various kinds of steel.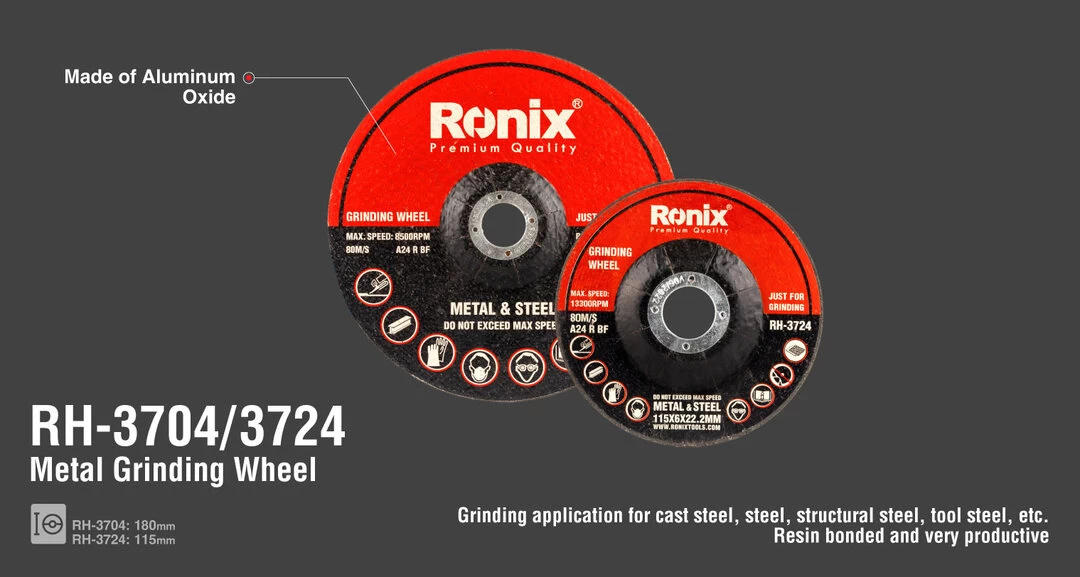 Specifications
| | |
| --- | --- |
| Model | RH-3704 |
| size | 180x3,0x22,23 |
| shape | Depressed |
| Max Speed | 80m/s |
| Arbor Size | 22.23mm |
| Max Rpm | 8500Rpm |
| Application | Grinding Metal |
| Components | Aluminum Oxide |
| Wheel Diameter | 180mm |
Detailed Description Metal Grinding Wheel RH-3704
The Ronix RH-3704 Metal Grinding Wheel is an exceptional tool for achieving pristine, polished metal surfaces in the metalworking industry and metal cutting. With its impressive stock removal capability, this wheel enables swift task completion.

Ronix RH-3704, 180mm Grinding Wheel:
The maximum speed of this power tool accessory is 80m/s, and the maximum RPM you can operate this disc in is 8500 RPM. The Ronix RH-3704 is equipped with Aluminum Oxide components to make this Grinding Wheel suitable for industrial usage in metal fabrication. This grinding disc is manufactured in accordance with EN 12413 Standard and SQ safety Quality System. It also has a long service life so you can use and benefit from it in your projects for an extended period. Read on to uncover the full story!

Body:
Measuring 180 x 6.0 x 22.23 mm, the Ronix RH-3704 Grinding Wheel features a disc diameter of 180mm and an arbor size diameter of 22.23mm. Made of aluminum oxide, it is widely used in grinding metal.

Mechanism:
The Ronix RH-3704 can reach a high speed of 80 meters per second, with a maximum RPM rate of 8500.

Packaging:
Ronix RH-3704 grinding wheel is supplied in a package designed by Ronix.