Pipe Cutter 42mm One Touch RH-3206
19383
Features
-Ideal for cutting plastic pipes and pipes, PVC, CPVC, PE, PEX, PPR, O.D. 

-Safety lock at the end for easy storage, prevents accidental injury when not in use.

- Cutting capacity: up to 42 mm outer diameter.

- Replaceable blade

- Non-slip grip

- Safety lock on the tail
Cutting Your Pipes Is Not a Pipe Dream!
PVC pipe cutters are versatile tools that specialize in cutting PVC pipes. They work by clamping onto the pipe and using a sharp cutting blade to slice through it cleanly. These tools are a must-have for plumbers, electricians, and construction workers who often work with PVC pipes.
They are also beneficial for DIY enthusiasts who need to make precise cuts on PVC pipes for various projects around the home. Equipped with a body made from aluminum in addition to using stainless steel blades, Ronix RH-3206 is ready to help you in any of the aforementioned scenarios and so much more.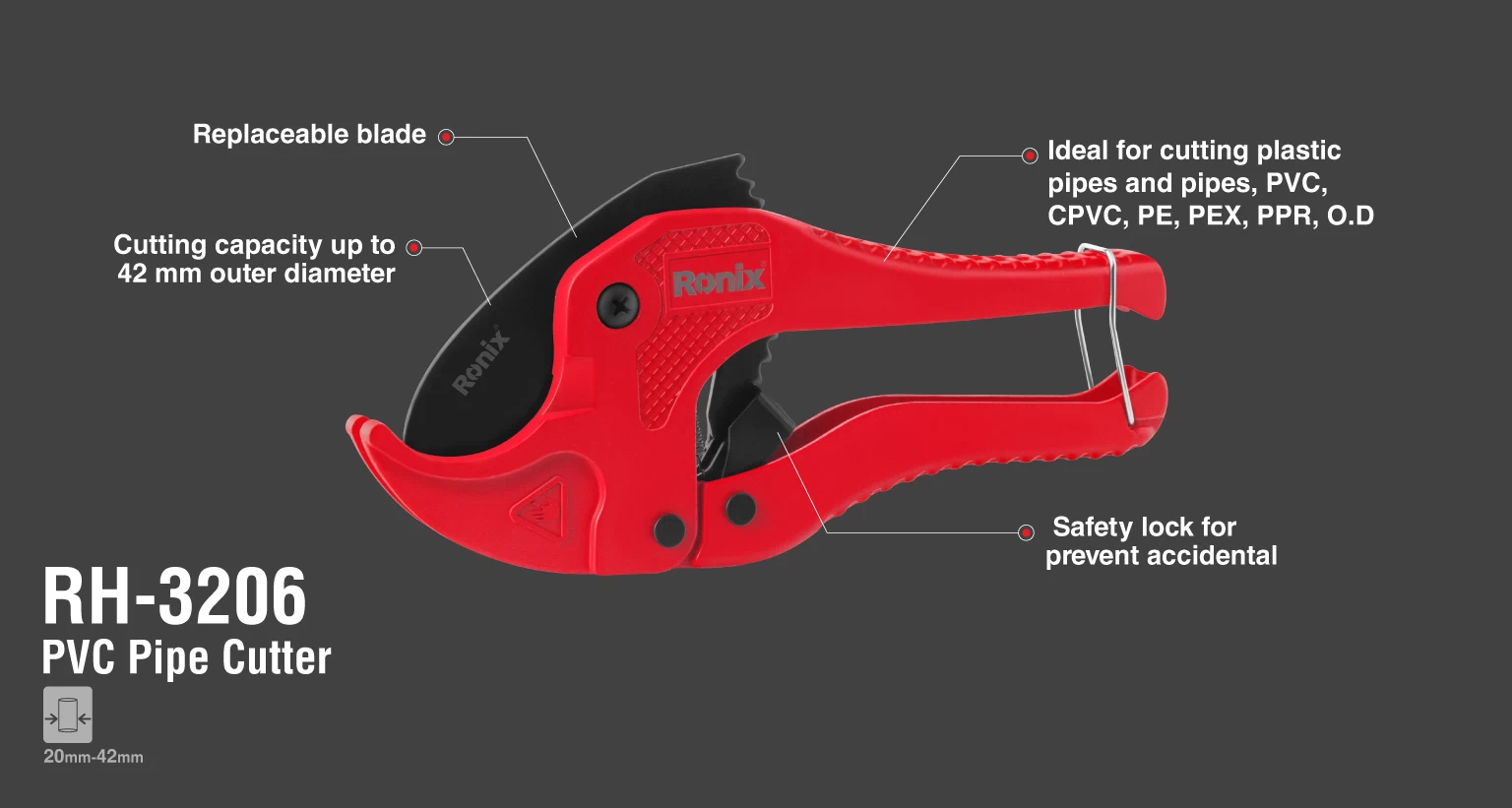 Specifications

Model
RH-3206
Blade Material
Stainless Steel - 

65MN

Handle Material

Dimension

Working Size
6mm-42mm
Type
One Touch

Weight

0.21kg
Detailed Description 
Ronix RH-3206 is a versatile PVC pipe cutter that features replaceable stainless-steel blades, capable of offering a wide cutting range of up to 42mm.

Ronix RH-3206, 42mm PVC Pipe Cutter:
PVC pipe cutters are so versatile that they can be used in many different use cases and job sites. In addition to all of the previously mentioned places, these cutters are also used in plumbing and irrigation systems, where PVC pipes are commonly used for transporting water and other fluids. They are also used in electrical installations, where PVC pipes are used to protect wires and cables. We have designed our RH-3206 model with all of this versatility and useability in mind, delivering one of the best yet most affordable pipe cutters on the market. And here, we will take a deeper dive into its construction and other features.

Body:
Since pipe cutters can be used in drastically different scenarios and environments, having a sturdy body is a necessity. With this in mind, we have made our RH-3206 model's body with a durable aluminum alloy material that will keep its integrity in any situation. This durable body is accompanied by a stainless-steel blade. Its 65Mn steel material helps our tool to not only be sharp but stay sharp too. Using this replaceable blade makes the RH-3206 model an ideal choice for cutting PVC as well as pipes made from CPVC, PE, PEX, PPR, and O.D. All of these features and capabilities go hand in hand to deliver a robust and versatile pipe cutter that can offer a wide cutting capacity of up to 42mm.

Design:
With the intent to make our performant tool more comfortable and easier to use, we have armed Ronix RH-3206 pipe cutter with a non-slip grip that ensures maximum control over the tool, leaving your other hand free to hold the tube or pipe in place. Additionally, Ronix RH-3206 is equipped with a safety lock that prevents accidental cuttings when the tool is not in use.

Packaging:
Weighing in at 0.21kg, Ronix RH-3206 measures 197*82*17mm and comes conveniently packaged in a blister card.