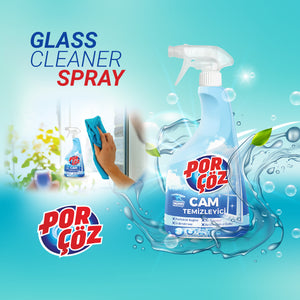 Porcoz Glass Cleaner Spray
18202
FIELD OF USAGE
Extra powerful special formula is effective on all kinds of glass and glossy surfaces.
Glass surfaces. Windows. Chandeliers. Mirrors. Display Windows. Televisions & Computers. Car Mirrors & Windows
USAGE INSTRUCTIONS
Rotate nozzle from STOP to spray position. Spray on dirt or stained surface and wipe with a damp cloth. For tough and stubborn stains, wait for a few minutes before wiping for the best results.
WARNINGS
Make sure to read the instructions label. Keep out of reach of children. Keep away from foodstuff. Do not use for cleaning hands, face, body and foodstuff. In case of contact with eyes, rinse thoroughly for a few minutes. Do not mix with other products or substances. Store in a cool place under 35C. Do not expose to direct sunlight.