Ronix 3D Laser level RH-9536
18680
Features
‐Mostly for indoor applications
-2 vertical & 1 Horizontal plane  
-Able to set up quickly and effortlessly to project horizontal or  vertical plane
-Self-leveling system compensate minor angular misalignments of ± 3° automatically
-Built-in locking system to lock the compensator when in
 transportation to avoid vibration
-Robust Over‐Molded Housing
-IP54 Water and Dust Proof to ensure years of dependable operation
-Working with various related accessories to reach nearly all 
applications easily
-Ergonomic anti-shock body design removes the risk of damage in case of falling or any kind of stroke
-Pendulum lock for protecting laser system during movements
-Equipped with magnetic pivoting base which can be easily adsorbed onto metal parts
Before purchasing a product, most consumers frequently ponder what is the best laser level out there. But first, you need to consider a few things, the most crucial of which is what application and type of work site you want to utilize it for. Because it is preferable to use some of these measuring tools indoors as opposed to outdoors, such as 3D laser levels.
RH-9536 is one of the several 3D laser levels that Ronix offers. It can be applied both vertically and horizontally. This 3D laser level is as accurate as it can be thanks to a self-leveling system that automatically corrects for small angular misalignments of ± 3°. A locking mechanism is installed to reduce vibration when shifting the tool to another location. This tool's body design eliminates the possibility of harm in case of a fall or stroke thanks to its sturdy over-molded housing and ergonomic construction.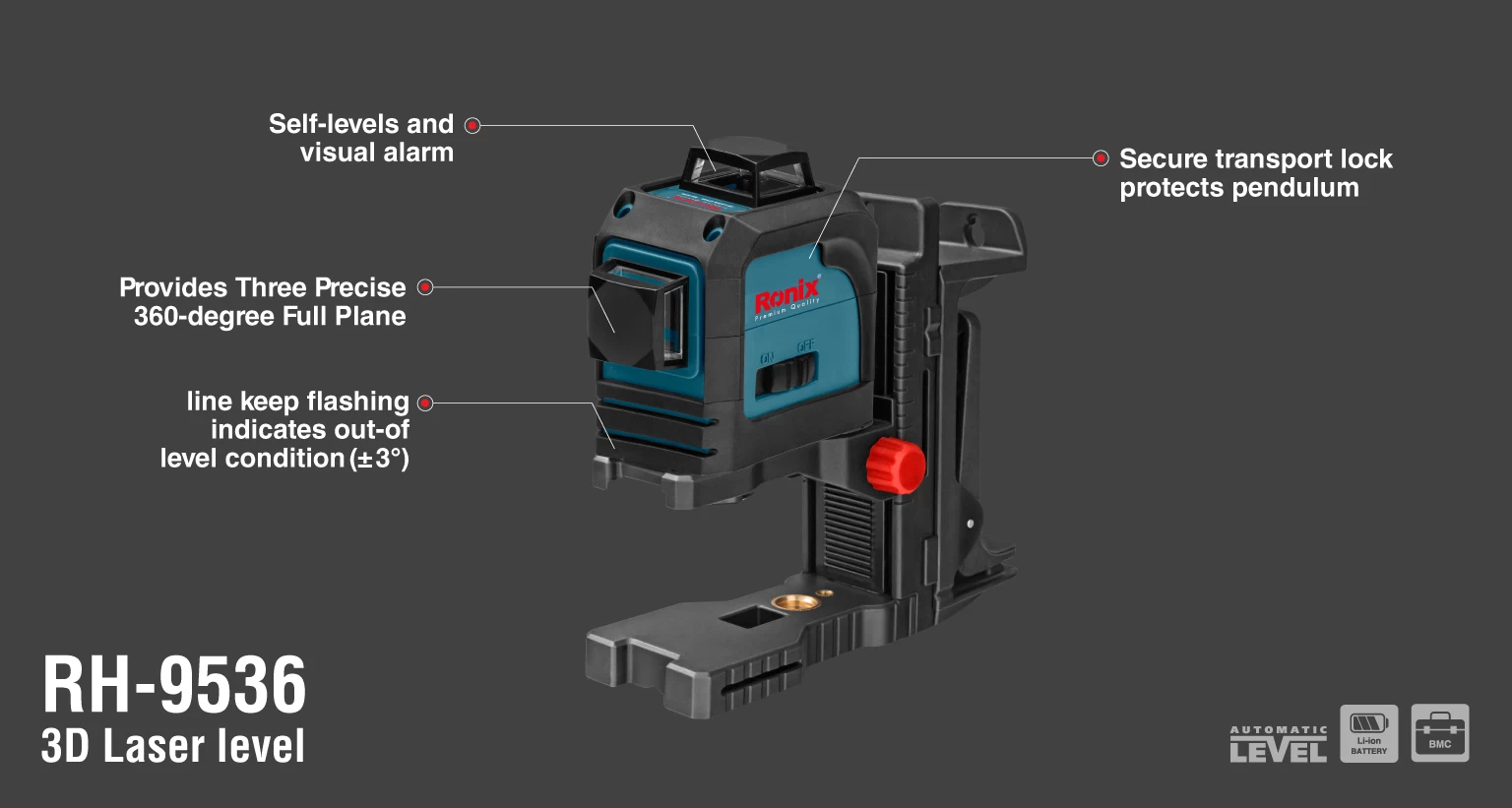 Detailed Description
The Ronix RH-9536 3D Laser Level is a perfect leveling tool to fulfill users' needs, primarily for indoor applications. It comes in a BMC case to help you with transportation and maintenance.
Why do you need a 360˚ laser level?
Before using a laser level, you need to learn about its characteristics and features. Laser levels are produced in different types and brands, and each one offers its usage, features, and advantages to the users. In the following, learn more about Ronix RH-9536 features and specifications.
Laser Technology:
Rh-9536 is manufactured with high laser leveling technology, and the laser type used in this product is a 660nm laser class II. Its laser width is also 3.5 mm@ 10m.
Measuring Accuracy:
The Working Range of this self-leveling laser level with the detector is 15m/70m, and the accuracy of vertical and horizontal lines is ± 2mm at 5m.
Operating Temperature:
The operating temperature of this laser level is -10˚C to 50˚C.
Self-Leveling System:
The self-leveling system compensates for minor angular misalignments of ± 3° automatically. To turn the self-leveling system off and work on tilt lines without vibration or alarm interference, you can use the side lock switch and disable the compensating system.
Pendulum locking system
Its built-in pendulum locking system locks the compensator when in transportation to avoid vibration.
Body:
The ergonomic anti-shock body design of the RH-9536 with 592gr of weight and robust over‐molded housing removes the risk of damage in case of falling or stroke. The dimensions of this tool's body are 115 x 68 x 107 mm3. Its IP54 water and dust-proof standard ensure years of dependable operation. The tripod thread of this laser level is 1/4".
Quick Set-Up System:
This laser level can be set up quickly and effortlessly to project horizontal plane or vertical lines.
Base:
It is Equipped with a magnetic pivoting base which can be easily adsorbed onto metal parts.
Battery:
This laser leveling tool has four AA alkaline batteries that provide≥ 5 hours of continuous work with all diodes.
Packaging and Accessories:
Ronix RH-9536 is supplied in a BMC case and includes accessories like a bracket base and goggles.
Model
RH-9536
Power Supply
4 x AA Alkaline batteries
Laser Width
2 mm@

 

10m
Operating Temperature
‐10℃to 50℃
Accuracy of V&H line
± 2 mm@ 5m
Leveling Range
±3.5°
Working Range/With Detector
15m
Tripod Thread
1/4"
Continuous Working Time (All Diodes)
≥ 8hour
Dimension

161(L)*161(W)*184(H)mm

Laser Type

635 mm Laser Diode

Supplied In
BMC without stand