Ronix 2212 Corded Impact Drill, 800W, 13mm
19361
Features:
-High power, resistance impact drill delivers 2800RPM for outstanding performances in drilling and impact drilling
-Robust 800W motor ensures longer lifetime and higher efficiency
-Ergonomic small handy body design enables fatigue free operations in different industries
-Full metal, strong 13mm keyed chuck
-360° rotating ergonomic side handle minimizes vibration and enables continuous low-fatigue work
-Forward and reverse rotation functions
-Anti-dust switch and variable-speed reversing function for accurate bit starting
-Variable speed control for working at customized speeds to suit various application materials
Experience the Real Drilling Power
Having a drilling tool is one of the first steps in entering the world of tools and becoming a professional; so, the quality of the chosen drilling tool can change the dynamics of your journey. Although, a drilling tool is not exclusive to professionals or DIYers, having such a versatile and powerful tool in your home can be handy in daily house repairs or decorations. With its small stature combined with a powerful 800-watt motor, Ronix 2212 corded impact drill is the best option for professionals and home users alike. Besides its powerful motor, Ronix 2212 is equipped with anti-dust switches, a strong full metal 13mm keyed chuck, and many more features that can change your expectations from other drilling tools.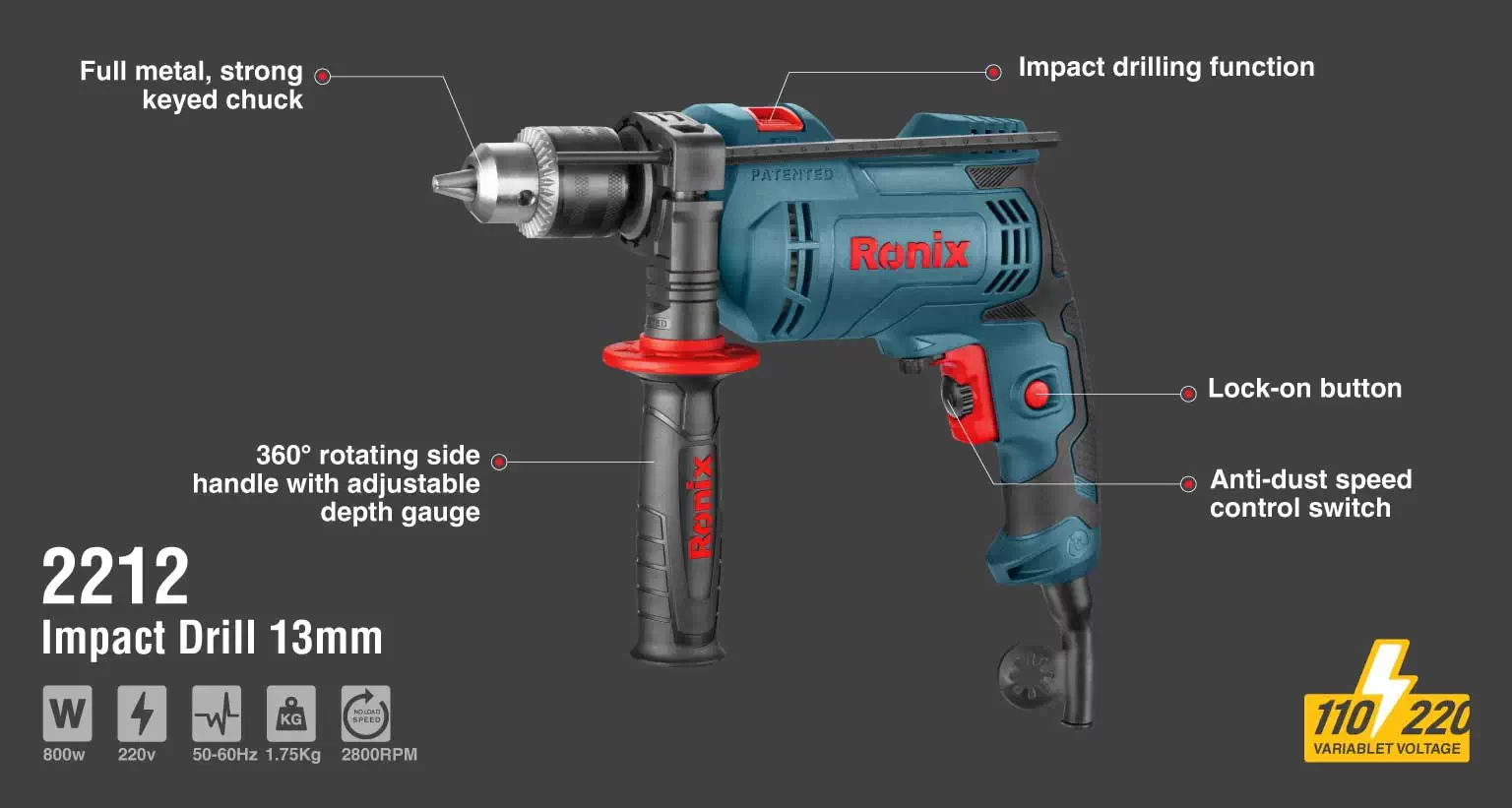 Specifications
| | |
| --- | --- |
| Model | 2212 |
| Chuck Type | Keyed |
| Chuck Size | 13mm |
| Power | 800W |
| Frequency | |
| No-load RPM | |
| Weight | |
| | |
| Voltage | |
| Supplied In | |
| Includes | Auxiliary Ronix-design handle, Depth gauge, Chuck key |
Detailed Description

Ronix 2212, 800W 13mm Corded Impact Drill is a keyed chuck drill with enough power to drill into any material without needing much pressure from the user. Its strong motor is equipped with industrial rotors and stators which are manufactured with automatic machinery, resulting in a robust motor that can rotate with a maximum speed of 2800 RPM.
 
Ronix 2212, 800W 13mm Corded Impact Drill:
Committed to delivering the best and the most robust tools to its customers, Ronix has designed its 2212 impact drill with both power and usability in mind. With a robust 800W motor, ensuring a long lifetime and high efficiency alongside quality-of-life and features such as a 360° rotating ergonomic side handle that minimizes vibration and fatigue, Ronix 2212 plans to be the last impact drill you'll ever buy. And here, we will take a look at its most prominent features. 
Motor and mechanism
As mentioned earlier, the Ronix 2212 is equipped with an 800W motor that can run at a speed of 2800 RPM. This tool has a drilling capacity of 13 to 30 mm depending on the material. This means that by using the Ronix 2212, 800W 13mm corded impact drill's percussion function, you can drill through wood, metal, and concrete without any hassle. 
Body:
Alongside power, an impact drill tool must be ergonomic and easy to hold. Packed in a small form (weighing only 1.75 kg) factor and equipped with a 360° rotating handle, Ronix 2212 is designed to be held all day without inducing any fatigue. In addition, Ronix has placed all the necessary controls on its ergonomic body so that you can change the settings of your tool on the go without any problems. Its variable speed control switch is located in the most common place and is equipped with anti-dust capabilities to prevent any material from getting into the machine and damaging the insides. Lock-on button is located on the tool's handle so it can be pushed with any of your free fingers, while the impact drilling switch sits on top of the tool, avoiding any accidental pushes. At the forefront of this small beast is the full metal 13mm keyed chuck that will host the drilling bits and penetrates any material in front of it.   
Accessories and Packaging:
Ronix 2212, 800W 13mm corded impact drill comes in the iconic Ronix color box but it's the inside that's important to check out. Ronix includes an in-house-designed auxiliary handle with a depth gauge and a chuck key to change the drilling bits.