Ronix 2250K Electric Impact Drill 13mm 850W-keyed
19362
Features:
-850W high resistance, overload, and high power motor
-High impact rate for the best efficiency in impact drilling mode
-Full metal, strong keyed chuck
-360° rotating ergonomic side handle
-Forward and reverse rotation functions
-Anti-dust switch and variable-speed reversing function for accurate bit starting
-Vario (V)-Electronics for working at customized speeds to suit various application materials
Experience the Real Drilling Power
Ronix 2250K is an impact drill kit supplied in a Ronix BMC case.
Ronix 2250K Impact Drill Kit comes with 850W power to drill into wood, steel, and concrete in the most comfortable way using its auxiliary and ergonomic 360-degree rotating side handle. This power tool delivers outstanding performance with only 2kg weight and produces a no-load drilling speed of 0-3,000 RPM to carry out the job site at home or in your workplace. Its full-metal and strong keyed chuck can hold different drill bits up to 13mm, allowing for more security when drilling and reducing the chance of injuries.
The ergonomic design of this power tool reduces hand fatigue, and it is comfortable to use at work for long hours. It supplies an anti-dust switch with a variable speed reversing function for more accurate drilling and forward and reverse rotation. This handy drill has two functioning modes, drilling/screwing, and hammer drilling.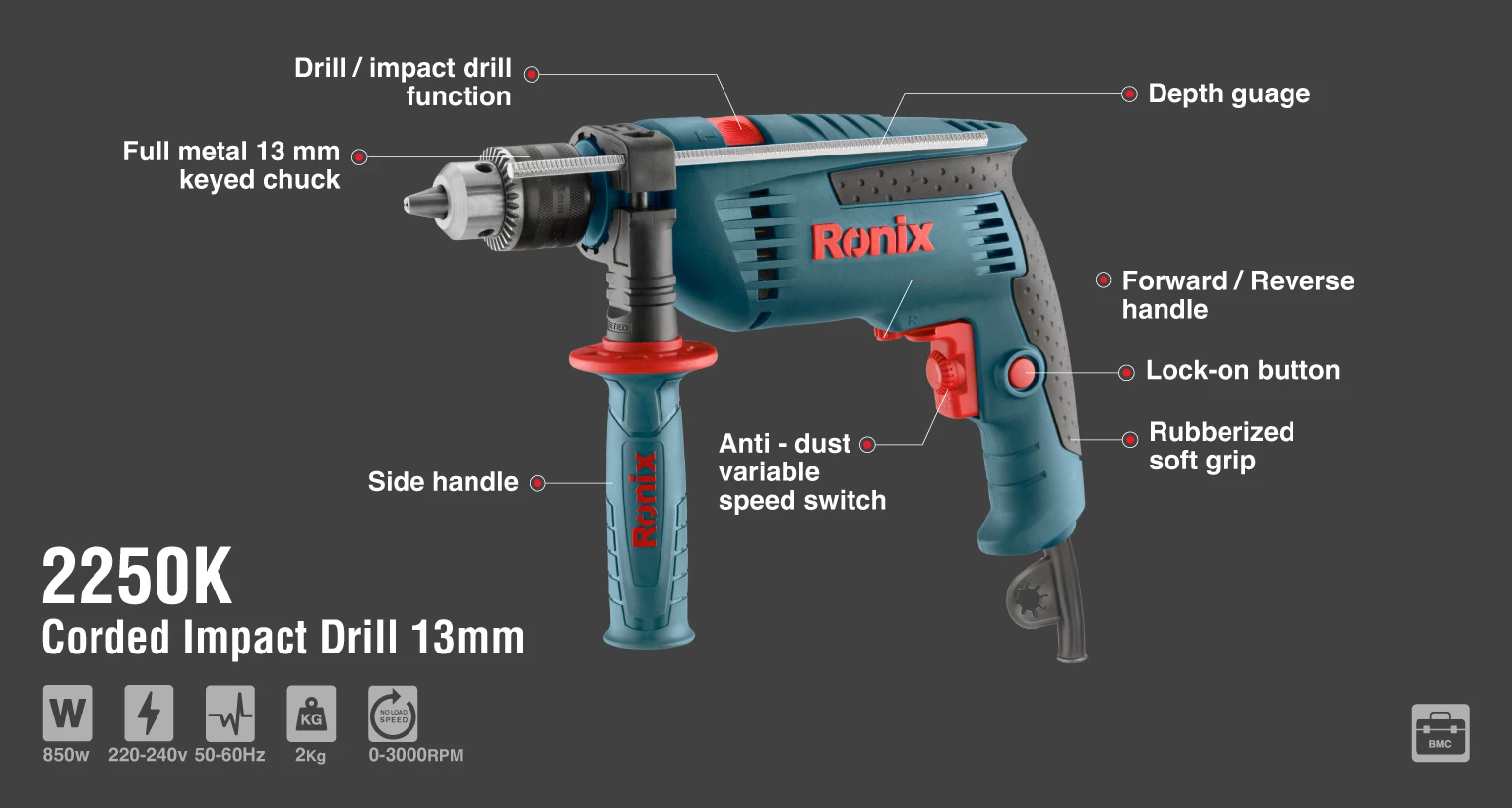 Specifications
| | |
| --- | --- |
| Model | 2250k |
| Chuck Type | Keyed |
| Chuck Size | 13mm |
| Power | 850W |
| Frequency | |
| No-load RPM | |
| Weight | |
| | |
| Voltage | |
| Supplied In | |
| Includes | Auxiliary Ronix-design handle, Depth gauge, Chuck key، Drill bit set and other accessories |
| | 20mm |
| Max Capacity in Steele | 13mm |
| Max Capacity in Concrete | 13mm |
Detailed Description

When working with rough surfaces, there are times when you realize you need a powerful tool to get the job done. That's when you can count on Ronix 2250K Corded Impact Drill to efficiently do what you need to in no time, sufficiently.
Ronix 2250K: The Power of Impact Drilling
To get more information on the detailed features of the Ronix 2250K, keep reading the following part.
Motor and Mechanism:
The engine of the Ronix 2250K Corded Impact Drill kit produces 850W of high power, which is sufficient for all drilling operations. It is incredibly efficient in impact drilling mode, allowing a no-load drilling speed of up to 3000 RPM. This drill's impact function may provide vertical force to the workpiece and make drilling under challenging materials more manageable and efficient.
Impact Drilling Mechanism:
The Ronix 2250K is capable of an impact drilling mechanism and is powerful enough to make any holes easily inside steel, concrete, and masonry.
Chuck:
The Ronix 2250K features a full-metal and robust keyed chuck that can accommodate drill bits up to 13mm in diameter. It increases drilling security and lowers the risk of injury. This 13mm chuck allows the user to drill holes of 20mm in wood and 13mm in steel and concrete.
Body:
The Ronix 2250K Corded Impact Drill Kit has a robust casing that provides long-term durability and resistance. This 2kg lightweight impact drill is ideal for various jobs due to its portability. This power tool's ergonomic design eliminates hand fatigue and makes it comfortable to use for long periods at work.
All the way through, the 2250K Impact Drill kit has a 360-degree rotating ergonomic side handle with a built-in depth gauge to provide the user with the most satisfactory experience possible.
Switches:
Dust on the job site is expected, but a broken tool switch is the last thing anyone wants. The first and most important is the anti-dust ON/OFF trigger switch, specifically designed to reduce dust penetration and, as a result, would guarantee the tool a longer life span. A variable-speed dimmer provides the control for working at customized speeds to suit various operations. On top of the trigger, the forward/reverse rotation switch is included for accurate bit starting. A drilling-mode switch on top of 2250K enables you to drill in both drilling and impact drilling functions. A lock-on button also locks the speed without requiring a steady hold on the trigger and reducing hand fatigue.
Accessories and Packaging:
Inside the Ronix 2250K color box, you will have an auxiliary Ronix-design handle, a depth gauge, a chuck key, a drill bit set and other accessories.