Ronix Brushless circular saw-125mm 20V 8650
19372
Features

-Powerful, high performance brushless motor delivers 6000RPM for greater speed and faster cuts.
-Ergonomic light weight design improves working efficiency and reduces user fatigue.
-Steel base plate allows precise bevel cuts at the most common angles 0°- 45°.
-Equipped with safety key to increase application safety.
-Spindle lock system for easy and fast blade changing.
-Ergonomic soft grip for more convenient use.
-Electric brake for safety operation.
-Adjustable cutting depth enables different working applications.
-Well balanced design for superior handling and performance.
Practically A lot Easy
Are you looking for a versatile and high-performance tool that suits every application? Well, look no further. 

Ronix 8650 has a powerful brushless motor with a no-load speed of 6000 rpm. Brushless motors provide many advantages such as reducing excess heat, and increasing the lifetime of the tool and its motor. Having a steel plate, this product provides excellent precision for making bevel cuts at most common angles between 0 and 45 degrees. The max cutting depth at 0 degrees is 42 mm and at 45 degrees it has a max cutting depth of 28 mm. It also utilizes a spindle-lock system that allows for easy and fast blade-changing. You can also change the cutting depth of the blade for any application that you desire to use it for.

If safety and convenience are also a big concern for you, as they should be, then there's nothing to worry about. This product also has a safety key and an electric brake for safety. It also has ergonomic features, including a soft grip and a lightweight design that improves work efficiency and reduces user fatigue.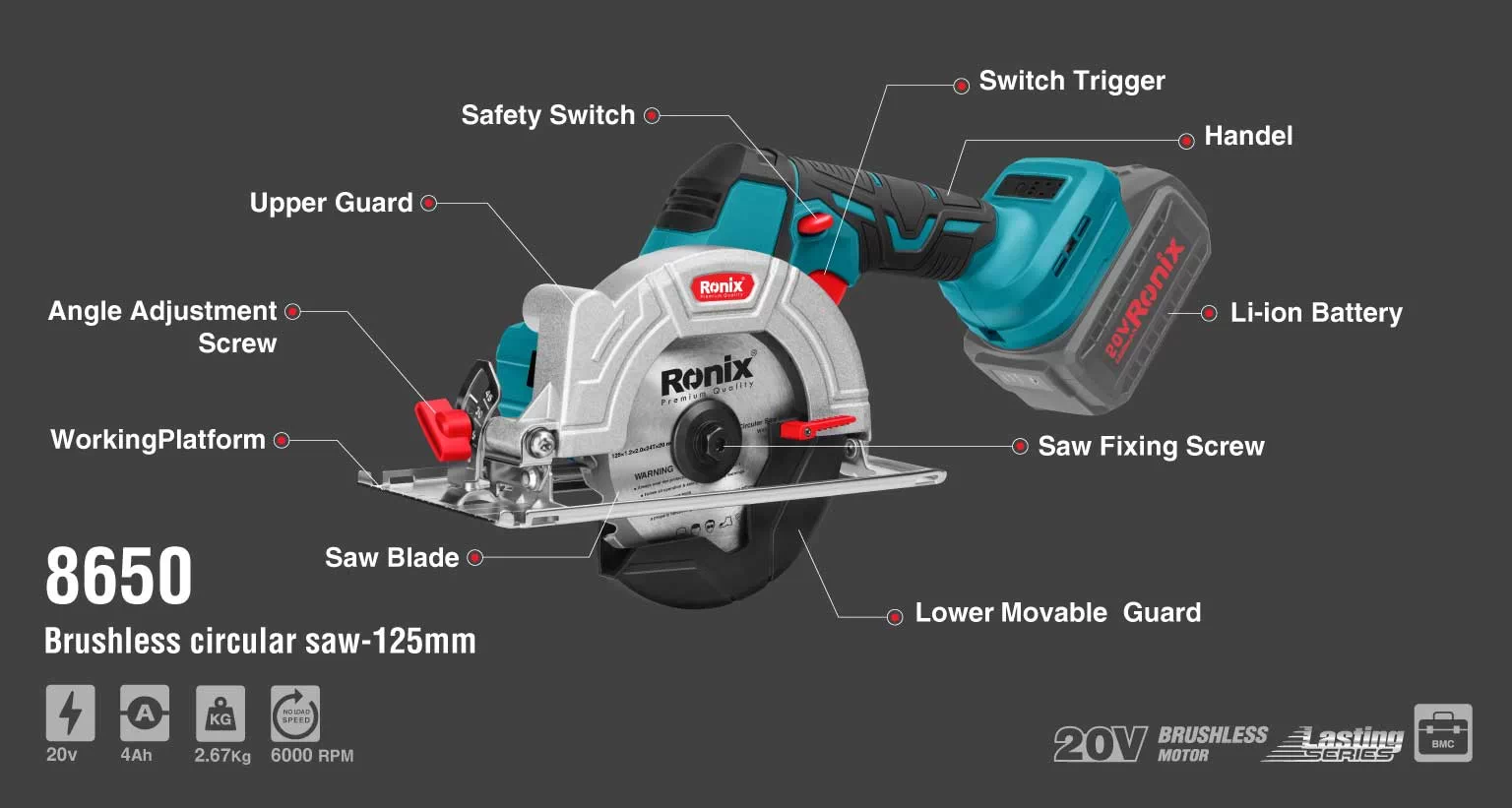 Specifications
| | |
| --- | --- |
| Model | 8650 |
| | 4Ah |
| Battery Voltage | 20V |
| | |
| | 6000RPM |
| | 125mm |
| | 42mm |
| | 28mm |
| | 1h |
| | 50min |
| | φ20mm |
| | |
| | |
| | |
| | |
| | Inner hexagon spanner 1pcs Guide 1pcs 4.0Ah battery 1pcs 4.0A charger 1pcs |
| | |
Detailed Description 
This 125-mm cordless brushless saw with a 20 V 4Ah lithium-ion battery and a steel plate is powerful and versatile for your woodworking needs. It's an ergonomically-designed tool that includes a safety key, an electric brake and a spindle-lock system.
Ronix 8650 Cordless Circular Saw: Ultimate Power and Versatility
With a no-load speed of 6000 rpm and a a max cutting edge of 42 mm and 28 mm, respectively at 0 and 45 degrees it can fulfill all your woodworking desires with no hassle.

Motor & Mechanisms
The brushless motor of this circular saw has a no-load speed of 6000 rpm which allows for greater speeds while cutting. The brushless motor allows for quieter operation, less heat, higher efficiency and increases device durability. This device uses an anti-dust trigger switch which provides convenience for operating at different speeds.

Battery
This product is cordless and is equipped with a 4.0 Ah Lithium ion battery with a voltage of 20 V.

Blade
The maximum diameter of the blade is 125 mm and it has a disc bore size of 20 mm. It can be used accurately for most angles between 0 to 45. The blade can be adjusted at different depths for different applications which makes it a perfect multi-purpose tool.

Safety
This cordless circular saw is designed with maximum safety in mind. It utilizes an electric brake and a safety key. Its spindle lock system also allows for extra safety. Using the spindle lock system, you can easily insert or remove bits without worrying about the chuck rotating and causing injury.

Body
This model is a lightweight circular saw with a net weight of just 2.67 kilograms which allows for enhanced operator productivity and reduces user fatigue. 

Accessories & Packaging
Included within the box is a spanner, a 4.0 Ah battery, a 4.0 A charger, and a manual. The product comes in the Ronix color box.