Ronix Cordless Impact Drill Kit, 20V, 13mm, Brushless Series 8900k
15988
Features
-Super power hammer drill with 3 function: Drilling, Screwing and hammer drilling
-High-performance brushless, waterproof motor ensures maximum longlife
-Light-weight ergonomic small body design with considerable power
-21clutch settings enable efficient and accurate screwing and reduce fastener damage
-45Nm maximum torque delivers great power and outstanding performance 
-2 speed functions competent for both high-speed and high-power applications
-High impact rate for the best efficiency in impact drilling mode
-Metal gear box enables heavy-duty application and longer life-time
-High resistance, anti-shock body designed with ergonomic rubber grip 
-Battery charging indicator lets you know the battery level fast and easy
-Fast charging system in charger provides optimum performance
A brushless motor has a 50% longer lifetime, 25% higher speed, and better performance. It also doesn't need maintenance service or changing carbon brushes!
Now, anything you expect from your brushless and durable impact drill is gathered here! A multi-functional tool for drilling, screwing, hammer drilling, and another member of the "ONE TO RUN ALL" family is in the market with unique features. Ronix 8900K Brushless Cordless Impact Drill Kit from Ronix's professional Lasting Series is powered by a robust brushless motor. This powerful brushless motor creates a 25500-impact rate, enough to demolish, screw, and drill in any material.
The ergonomic and compact design of the body and the handle makes this tool suitable for all drilling operations. The incredible 0-450 RPM and 0-1700 RPM no-load speed is what this beast gives you to tackle your tasks.
Ronix 8900K is an impact drill kit in a Ronix BMC hard case. A fast charger and two 2mAh/20V lithium-ion batteries are included in the packaging, too.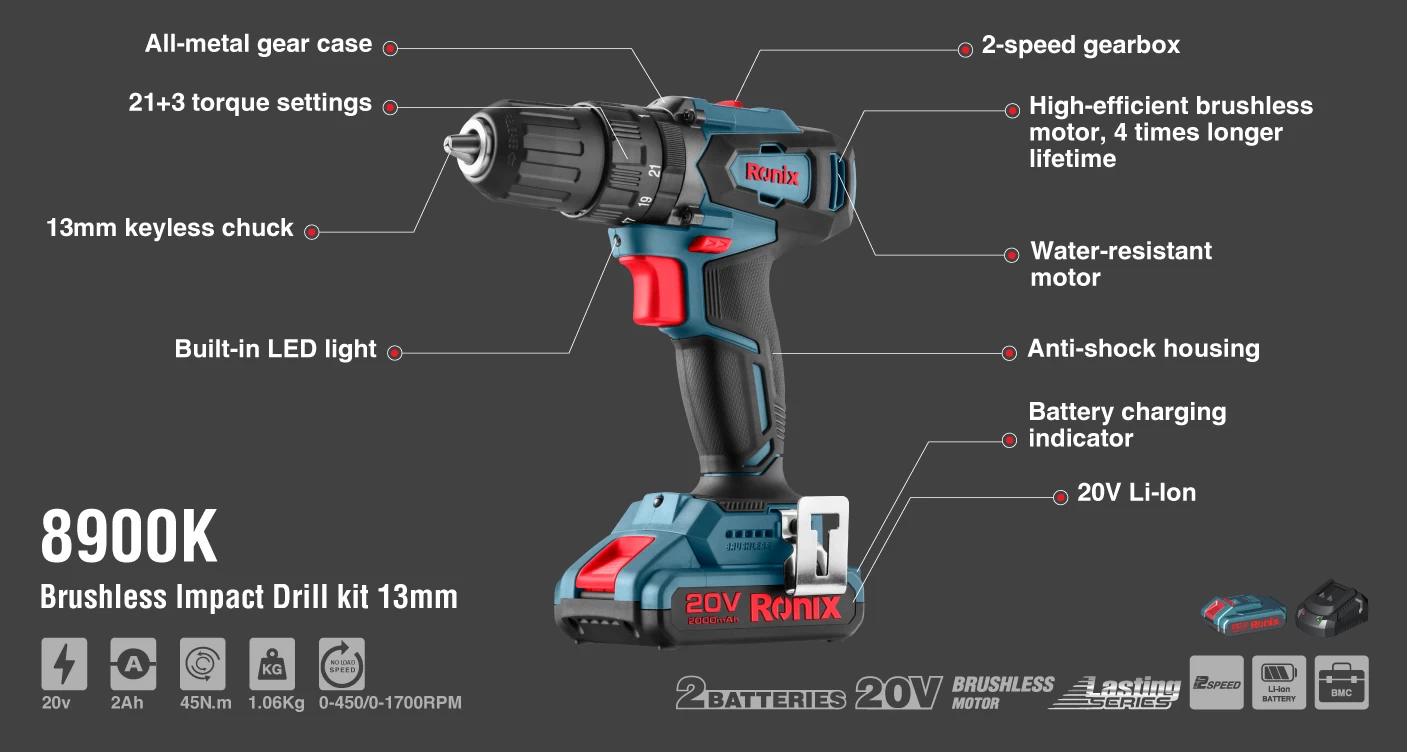 Specifications
| | |
| --- | --- |
| Model | 8900K |
| Battery Chemistry | Lithium |
| Battery Voltage | 20V |
| | 13mm |
| | 35NM |
| | |
| | |
| | 45NM |
| | 38mm |
| | 13mm |
| | 13mm |
| Weight | 1.06Kg |
| Supplied In | BMC |
| Includes | Two 2Ah/20V batteries, 1Fast charger |

Detailed Description 
Ronix 8900K Cordless Impact Drill Kit is equipped with a 20V brushless motor and is precisely the tool you need. You can drill, hammer, drill, and screw for hours with this tool in places with limited access, dark and without electricity, safely and without worrying about running out of battery. Don't miss working with this powerful and top-quality Ronix rechargeable impact drill!
More info about Ronix 8900K Impact Drill Kit
Motor & Mechanism:
Hammer drilling is all about power, and power is all about the tool's motor. A brushless motor is precisely what the Ronix 8900K needs to perfectly convert 20v of electric power to 25500 IPM of impact rate to generate 0-450 RPM and 0-1700 RPM no-load rotation speeds. This Brushless variant contains an electronic circuit board and a sensor that performs the same functions as other cordless hammer drills' tiny metal brushes.
Regarding performance, dependability, and durability, 8900K offers various advantages. This high-capacity, weatherproof brushless motor provides a long service life. The engine has crankshafts that deliver massive energy to the bit holder. The 45Nm maximum torque offers excellent power and outstanding performance.
Body:
Ronix 8900K Cordless Keyless Impact Drill Kit is a lightweight 1.06kg tool with an ergonomic small body design and considerable power. The high-resistance, anti-shock body of the tool is designed with an ergonomic rubber grip that is extensively soft and reduces fatigue during long working hours.
Gearbox:
The all-metal gearbox of the Ronix 8900K enables heavy-duty application and a longer lifetime. This 2-speed gearbox can generate 0-450 RPM and 0-1700 RPM no-load rotation speeds, making it competent for both high-speed and high-power applications. This strong gearbox makes the impact drill ideal for heavy-duty applications.
Chuck:
A 13mm fully functional keyless chuck on the Ronix 8900K Cordless Brushless Impact Drill Kit holds different sizes of bits as tight as possible for better performance. This strong chuck has a unique system to handle drilling, screwing, and hammer drilling operations. Maximum drilling capacities are 38mm in wood, 13mm in concrete, and 13mm in steel.
Clutch:
The 21+3 clutch settings enable efficient and accurate screwing and reduce damage to the fastener.
Switches:
The trigger is designed to help you control the speed and power. The more you pull the trigger, the faster it rotates and kicks. There is a mode selector ring to set before you start operating according to the task that you want to do and a torque adjustment ring to adjust 21+3 clutch settings. A forward/reverse switch is included in the tool to change the direction of the rotation. The switch trigger cannot be pulled when the reversing switch lever is in the neutral position.
Battery:
The Ronix 8900K rechargeable brushless motor gets its power from a 20V/2mAh lithium-ion battery, which has a long life and enough capacity for hours of continuous work.
With a chargeable battery, you can easily use the drill, screwdriver, or hammer drill in different conditions and places. It should be noted that all 89 series products work with the same battery, and to activate any of the 89 series products, you only need one battery. That's why this series is named "ONE TO RUN ALL." A fast charger and an extra battery are included in the 8900K kit for optimum performance.
Light Sensor:
The tool features a light sensor to light up dark and tight spaces
Charge Indicator:
A battery charging indicator is included in the tool to show the battery's charging level quickly and efficiently. Therefore, you won't run out of power unexpectedly in the middle of work.
Accessories and packaging:
The Ronix 8900K Brushless Cordless Impact Drill Kit is supplied in a BMC hard case and includes two 2Ah/20V batteries and one fast charger.