Ronix Cordless Rotary Tool Kit, 3.6V, 1.6/2.4/3.2mm 3420
18659
Features
-High efficiency motor delivers 5000–30000 RPM 
no-load of speed
-High performance, light-weight, efficient device suitable for a wide variety of operations
-High quality ball bearings reduce dust penetration and ensure motor durability
-Variable speed adjustment from 5000 to 30000 RPM regulates the speed to adapt to the operator's needs
-Includes 26 different rotary tool accessories for sanding, cutting, grinding, carving, polishing and cleaning solutions
-Locking pin system for easy and fast accessory changing and high safety mechanism
-3.2mm bit holder for different kinds of accessories
-Multipurpose cutting bit is for hollowing any shape on wood


Easier to Screw When You Have the Device for It!
Have you ever noticed the elegance of jewelry? What about the statues or decorative objects that surround you? This kind of beauty, in addition to the creative art, is the result of the use of an appropriate and practical tool that gives the user the possibility to pay attention to details and leaves their hand free to expose their art on the surface of wood, metal, stone, gold, etc. Rotary tool kits are one of the main tools needed for delicate work. These devices are usually small, very light, and handy, which increases the user's maneuverability on the workpiece.

The Ronix 3420 is a cordless rotary kit with a high-output DC motor that offers a no-load speed of 5000 to 18000 revolutions per minute. This gadget is well suited for a wide range of tasks because of its excellent performance and efficiency. If the operator needs a certain speed, the variable speed setting allows the user to do so since it covers a wide range of idle speeds. The Ronix 3420 features a locking pin system that allows the user to replace accessories more easily and quickly, as well as a high-security mechanism. The bit holder of this rotary kit ranges from 1.6 mm to 3.2 mm, and many accessories can be added to this rotary kit. The charge level is visible through three lights, allowing the user to know how much power is left in the battery of their device. The last but not least feature of this rotary kit is the LED light, which illuminates the work area and allows the user to operate in low-light conditions.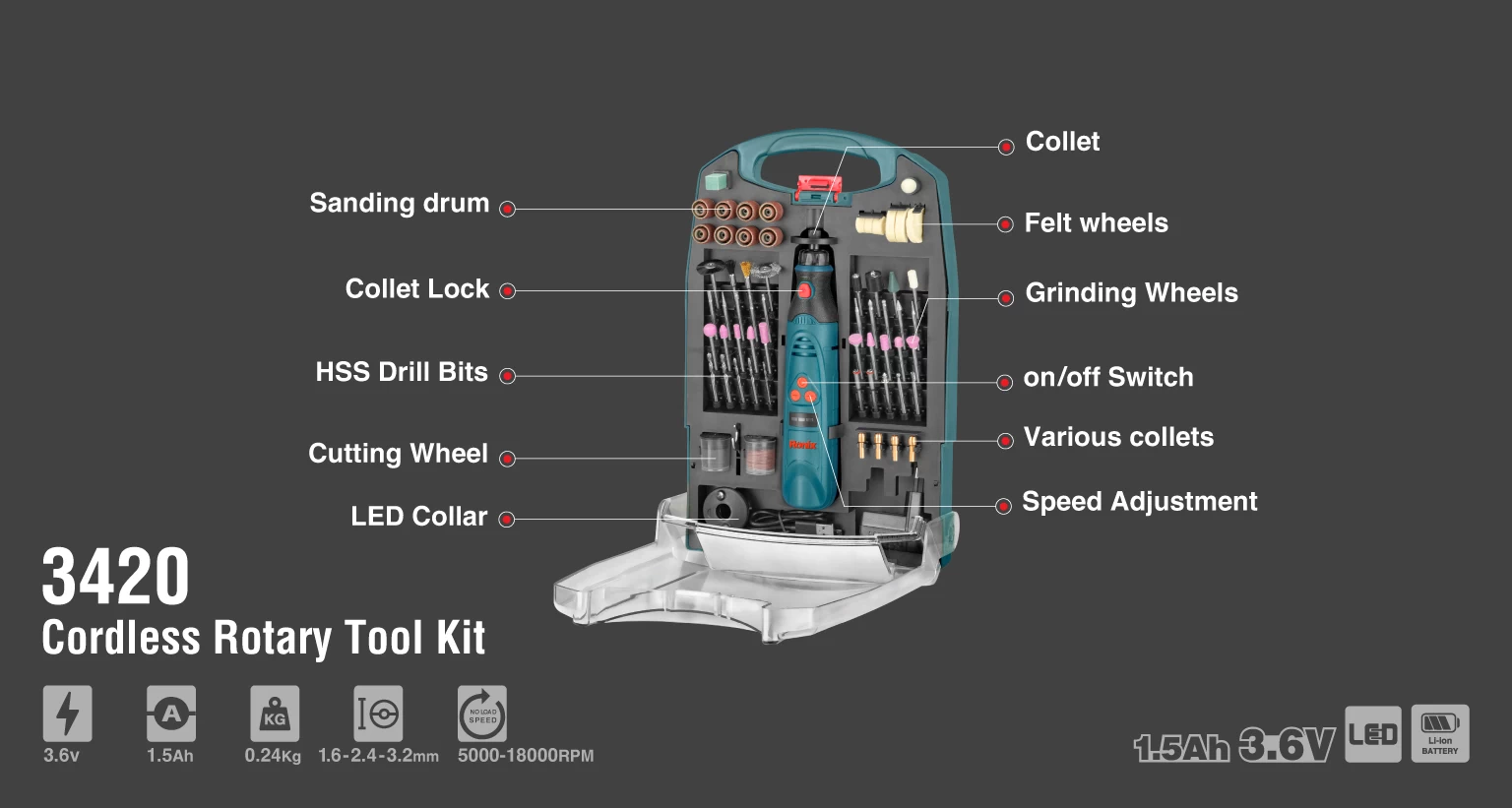 Specifications

| | |
| --- | --- |
| Model | |
| Battery Voltage | |
| Battery Chemistry | Li-ion |
| Battery Capacity | |
| Collect Size | |
| No Load Speed | |
| Speed Setting | 6 |
| Weight | 0.4kg |
| | |
| Supplied in | |
| Includes | 10 Pcs Grinding Wheels,10 Pcs Diamond Bit 2 Pcs Sanding band,1 Pcs Cloth Wheels 2 Pcs Polishing Wheels, 20 Pcs Cutting Wheels, 2 Pcs Hss Cutter, 32 Pcs Sand Papers, 3 Pcs Mandrels, 5 Pcs Felt Wheels 5 Pcs Drills, 1 Pcs Felt Wheel Pointed 16 Pcs Sanding Drums, 1 Pcs Dressing Stones, 4 Pcs Brush, 4 Pcs Collets, 1 pcs Usb Charching, 1 pcs 240V Charching Adaptor, 1 pcs Led Collar, 1 pcs Spanner |
Detailed Description

The Ronix 3420 cordless rotary tool kit, in addition to having the features of a good device, is rechargeable and can be moved to different environments for the user. This machine is equipped with a 3.6V DC motor that produces speeds up to 18000 RPM.

Ronix 3420, 3.6V, 1.5AH Cordless Rotary Tool Kit:
The Ronix 3420 rotary tool kit is used as a precision tool for grinding, sanding, cutting, polishing, and more. This widely used tool has ideal performance in activities such as carving, engraving, and jewelry making. In this section, read about the features of this product.

Motor:
The powerful 3.6V DC motor can create a mature idle speed in the range of 5000-18000 RPM, which allows users to get the best performance in various work operations. Besides, the Ronix 3420 is equipped with variable speed control that can adjust the speed in different modes in the range of 5000-18000 RPM according to the needs of the users. The motor of this unit is powered by a lithium-ion battery with a capacity of 1.5 ampere-hours; a durable and long-lasting battery that can be fully recharged in 3 to 5 hours.

Collet:
The 3420's 1.6-, 2.4-, and 3.2-mm bit holders allow the user to attach a wide range of accessories to the unit for various applications. In addition, a locking pin system for easy and fast accessory changing and high safety mechanism is designed. 
Body:
The Ronix 3420 rotary tool kit is a tool with an ergonomic design and a very light weight of 0.24 kg. This small and compact device is very powerful for very precise, delicate, and artistic work. In addition, this rotary kit is equipped with LED light which enables working in dark places.

Accessories and packaging:
The Ronix 3420 cordless rotary tool kit includes 122 items which are all supplied in a Ronix-designed color box. The items are 10 grinding wheels, 10 diamond bits, 2 sanding bands, a cloth wheel, 2 polishing wheels, 20 cutting wheels, 2 Hss cutters, 32 sandpapers, 3 mandrels, 5 felt wheels, 5 drills, a felt wheel pointed, 16 sanding drums, a dressing stones, 4 brushes, 4 collets, a USB charging, a 240V charging adaptor, a LED collar, and a spanner.