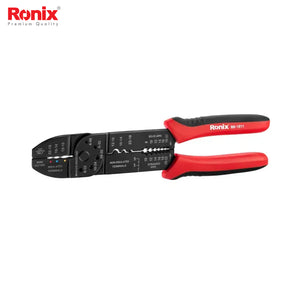 Ronix Crimping plier 10" RH-1811
18709
MVR 7500

MVR 75.00

Save MVR 75
---
---
-Multi-function tool for stripping wires up to Φ2.6 mm, shearing wires and cables up to Φ 2.6 mm and Crimping terminals up to6 mm²
-Sharp Shear edge made of high-quality stainless steel for fast and efficient cutting
-More durability by Overall heat treatment process and highest hardness up to HRC 42-48
-Suitable for cutting copper (material) wires
-TPR grip handle provides User convenience
-Widely used in electronic components assembly, maintenance and power line shear 
The easiest test of your life is here!
Crimping pliers, also known as crimpers or crimping tools, are specialized tools used for crimping or compressing metal sleeves or connectors onto wires or cables. They squeeze the crimping pliers onto the connector or sleeve, creating a secure connection between the wire and the connector. Crimping pliers are one of the essential tools for those who work with electrical wiring or cables, such as electricians, and technicians. However, they are not exclusive to professional settings and even hobbyists can benefit from having one in their toolboxes. Made from durable grade 50 stainless steel, Ronix RH-1811 is a 10-inch crimping plier that offers a wide range for crimping, cutting, and even stripping wires while also featuring an ergonomic handle. By purchasing this tool, you will never need another crimping plier for years to come.
| | |
| --- | --- |
| Model | RH-1811 |
| Size | |
| Body Material | |
| | TPR |
| Hardness | |
| | "American standard(AWG): 10-22AWG metric diameter(mm): 0.6-2.6mm Sectional area(mm²): 0.2-6mm2" |
| | "Wire diameter up to 0.6-2.6mm core section area up to 0.2-6mm2" |
| | Sectional area(mm²): 0.2-6mm2 |
Detailed Description
Ronix RH-1811 is a 10-inch crimping plier that combines the sturdiness and durability of its steel body with the comfort and usability of its TPR-made handle.
 
Ronix RH-1811, 10 Inch Crimping Plier:
From repairing or creating electrical connections to attaching connectors to cables for networking and even creating jewelry or crafts, crimping pliers can be quite useful. They also can be used in the automotive industry to create secure connections for wires or cables in vehicles. In general, crimping pliers provide a simple, efficient, and reliable way to make secure connections between wires and connectors. With this in mind, we have designed and created the RH-1811 model to excel in all of these scenarios while offering other quality-of-life features as well. Here, we will take a deeper dive into these features and capabilities so you can make an informed decision when purchasing this versatile tool. 
Body:
Ronix RH-1811 is made of high-quality grade 50 stainless steel that is treated through a heat-treating process and offers a hardness level of 42 to 48HRC. This material is known for its rigidity and durability which means that our RH-1811 model inherits all of these features, making a long-lasting tool that will outlive any other member of your toolbox. 
Performance range:
With its 10.5-inch body, Ronix RH-1811 can offer a wide range of cutting, crimping, and stripping wires. It can strip wires from 10 to 22 AWG (American standard) as well as wires that have a diameter of 0.6 to 2.6mm. Also, this tool can strip wires that have a sectional area of 0.2 to 6mm2. When it comes to wire cutting, Ronix RH-1811 can work wires with diameters of 0.6 to 2.6mm with a core section area of 0.2 to 6mm2. This wide range means that you can use our RH-1811 model to deal with any task without ever worrying about its capabilities. 
Design:
In addition to its durable body and excellent performance, we have also kept an eye out for the usability and comfort of using the RH-1811 model too. This is why it features an ergonomic TPR handle cover that ensures maximum control while also reducing fatigue even after long hours of cutting, stripping, and crimping wires of various types and diameters. 
Packaging:
Just like most of our quality hand tools, Ronix RH-1811 comes packaged in a blister card.