Ronix Electric Jigsaw 550W 4101
15977
Features

-High-power robust 550W motor enables cutting up to 65mm depth in wood and 6mm in metal plate
-Light weight, comapct design for more convenient use
-Bevel cutting mechanism for 3 position
-6-position speed wheel control to adapt to the operator's needs for optimal cutting performance on different materials
-3-position orbital action improves cutting control and cutting speed
-Tilting  base plate allows precise bevel cuts at the most common angles 0°, 15°, 30°, and 45°
-Dust blower system removes the dust from cutting line and gives better visibility and more comfort during work
Feel the Power of Multi-Cut!
The jigsaw is one of the basic tools of the Handyman. It is equipment that offers great versatility of straight and curved cuts on various materials. But how do you find your way through all the models available on the market? Are you fully aware of all the advantages of this tool? Do you know the specifics to consider when choosing the right electric jigsaw? Are you sure it is the right one for the job you want to do? This guide will help you get all the information you need to make your purchase.  With its 2 kg, the Ronix 4101 electric jigsaw is light and very handy. Its corded power supply gives it a good power of 550 watts. It can cut wood up to 65 mm deep and 6 mm for hard metals like steel. You will be able to diversify the cuts thanks to the 45° tilt of its base. The blower function that cleans the cutting line of any sawdust while working is very effective and can be turned off as needed. Note that Ronix 4101 comes in a box with a guide ruler. You can complete your equipment with compatible accessories to improve the precision of the cut.
Similarly, the Ronix 4101V electric jigsaw is manufactured with all the features and capabilities listed; the only difference between these two devices is their voltage and frequency.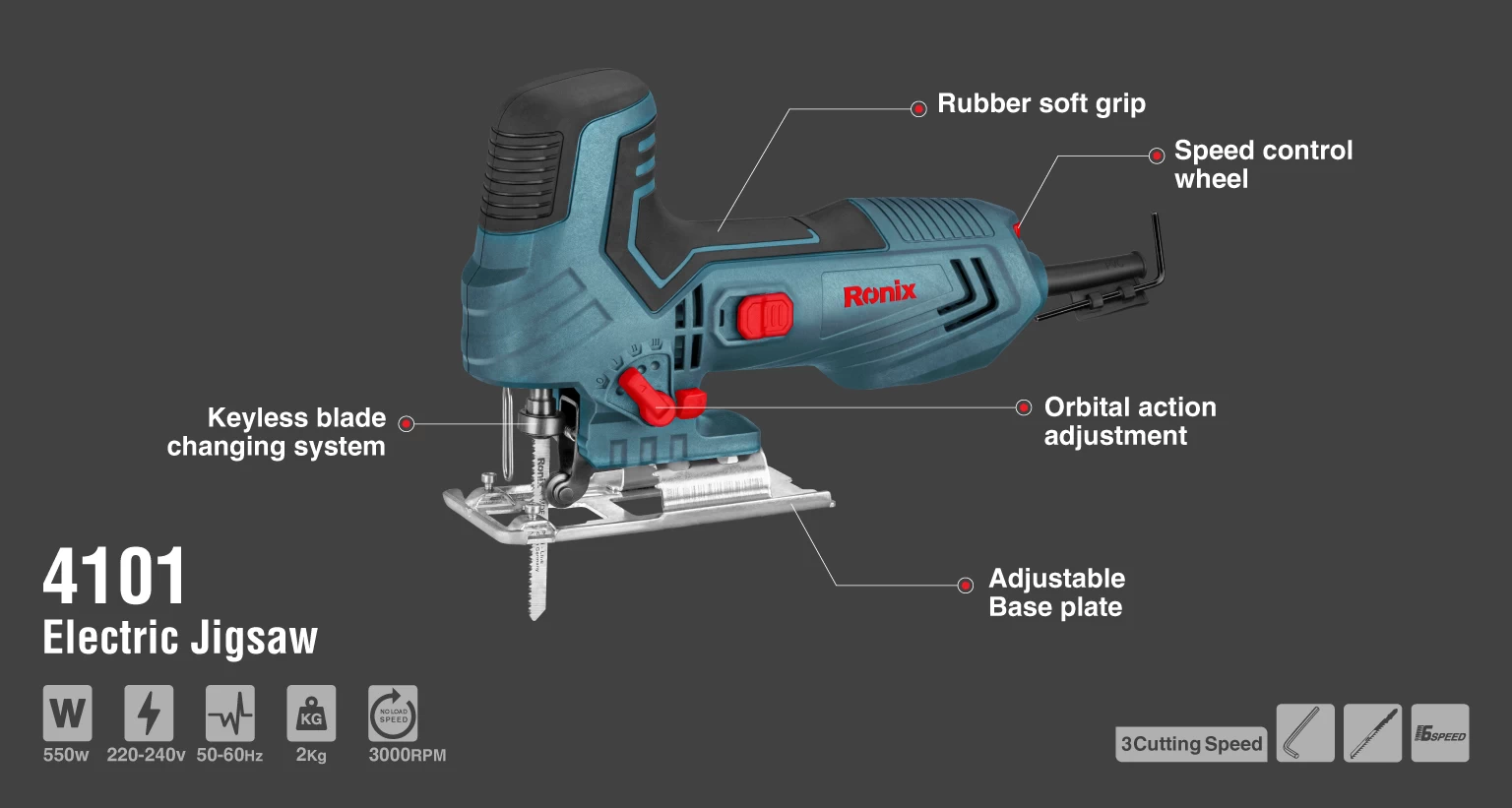 Specifications

| | |
| --- | --- |
| Model | 4101 |
| Power | 550W |
| Voltage | |
| Frequency | 50-60Hz |
| | |
| | Wood 0°: 65mm , Steel 0°: 6mm |
| Weight | 2kg |
| Supplied in | Ronix box |
| Includes | 1 Wood blade, Dust pipe connector, Wrench, Guide ruler |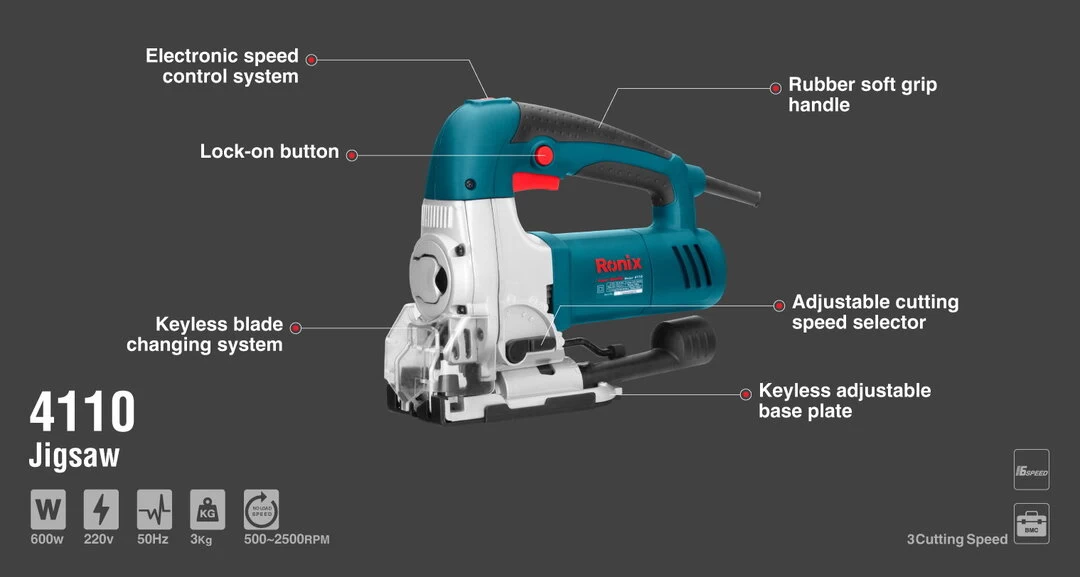 Detailed Description
The Ronix 4101 jigsaw is a powerful and well-equipped standard model that is a good way to start your career as a professional or amateur user at a low cost. Powerful enough to cut a wide variety of materials, it is very comfortable to use over time.

Ronix 4101, 550W Electric Jigsaw:
The Ronix 4101 electric jigsaw with 550W power is perhaps the most practical device for making curved and straight cuts. This tool is not only portable, but it is also less expensive than other woodworking equipment and takes up less space. That's why it is very popular among woodworkers and craftsmen related to the wood industry. If you're looking for an electric model that can do a good job, follow the guide!

Motor and mechanism:
The Ronix 4101 Jigsaw is equipped with a 550W motor that can cut thick and thin wood. This motor operates at a speed of 0-3000 RPM. The rotational movement of the motor is converted into up-and-down linear movements; so, the cutting of wood and steel becomes possible. With the help of a 6-position speed wheel, you can adjust the speed from zero to 3000 revolutions per minute between 6 different levels. The motor of this jigsaw is powered by 220-240 volts with a frequency of 50-60 Hz.

Body:
The popularity of this model among users is primarily due to its weight of 2 kg and its ease of use. You can cut at different angles and in different positions for hours without tiring your hands. The ergonomic handle of this device also prevents vibrations from being transmitted to your hand and allows you to better control your work. The base of the jigsaw is always in contact with the surface of the wood. That's why the Ronix 4101 jigsaw is equipped with a solid metal base plate that guarantees long-term quality work. By adjusting this plate, you can cut at different angles (zero, 15, 30, and 45 degrees).

Switches:
Dust and wood chips are an integral part of woodworking shops. These tiny particles can interfere, with the operation of the motor and other parts, by getting into the electrical devices and shortening the life of the unit. That's why Ronix uses dust-proof keys in its machines, including the 4101 Jigsaw, to ensure long tool life. In addition, this unit's lock-on button makes it easier for woodworkers to work long-term and allows users to work continuously without fatigue. It is also equipped with a 6-position speed wheel control to adjust to the operator's needs for optimal cutting performance on different materials.

Maximum saw capacity:
The blade used in this device is a T-shank design. Today, most tool manufacturers use T-shank blades as their standard blades. U-shank blades are another type of blade, but T-shank blades are much more popular because of their quicker, easier, and toolless replacement. This machine is equipped with an SDS system for easy blade replacement. Ronix 4101 can cut up to 65 mm in wood and up to 6 mm in steel. Plus, if you need angled cuts in wood, its 3-position orbital action improves control and cutting speed.

Dust blower system
When working with a jigsaw, seeing the cutting path is one of the most important factors in getting the job done more accurately and cleanly. The Ronix 4101 saw is equipped with a dust-blowing system that cleans the cutting path of different particles.

Accessories and packaging:
Ronix 4101 electric jigsaw is supplied in a Ronix-designed color box to help the users to keep all the accessories the device comes with. In the box, you can find a wood blade, a dust pipe connector, a spanner, and a guide ruler.