Ronix Foldable Cordless Screwdriver, 3.6V, 5N.M 8530
10325
Features
-High performance motor enables perfect functionality in fastening with different torques
-Light-weight, ergonomic small body design for maximum efficiency and convenient use
-Provides up to 210 RPM and 5NM of torque for effortless operation
-High performance, long life and fast charging 1.5Ah, 3.6V Lithium battery
-Special advanced tool holder with perfect functionality
-Clutch settings enable efficient and accurate screwing and drilling and reduce fastener damage
-Quick change chuck system for easy and fast bits replacement
-Equipped with LED torch which makes this tool as a 2-function tool
-Battery charging indicator lets you know the battery level fast and easy
-Fast charging system in charger provides optimum performances in tight working situations
-All-inclusive screwdriver set includes 39 applicable bits and sockets made from high quality S2 material plus charger
-Dual angle handle
Easier to Screw When You Have the Device for It!
Are you one of those people who have to handle a lot of screws every day? Do you want a tool to help you with all types of screws and bolts? Well, congratulations! We have the perfect tool for you. It's a functional cordless screwdriver that will save you time and strength and help you with your tasks. The Ronix 8530 foldable cordless screwdriver is equipped with a high-performance motor that allows you to make fasteners with different torque levels and the battery of this cordless tool is 1.5 Ah. For a fast and breathtaking experience, it is recommended to use this tool.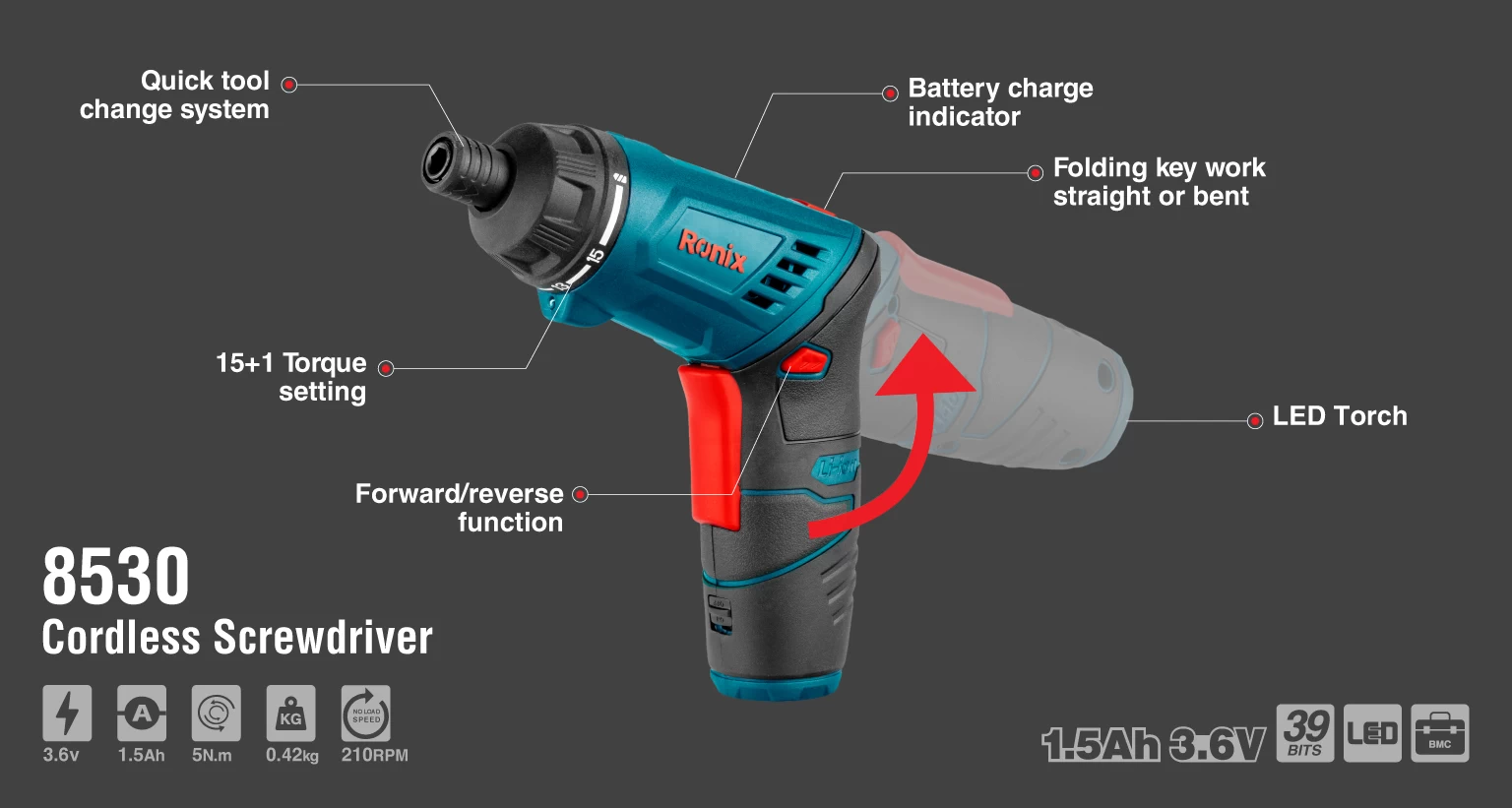 Specifications 
| | |
| --- | --- |
| Model | 8530 |
| Chuck Capacity | 6.25mm-1/4 inch |
| Battery Chemistry | Lithium |
| Battery Voltage | 3.6V |
| Battery Capacity | 1.5Ah |
| Max Torque | 5NM |
| No-load RPM | 210 |
| Weight | 420gr |
| Supplied In | BMC |
| Includes | 1 fast charger, 39 Accessories |
Detailed Description
The use of rechargeable screwdrivers dramatically increases the speed and accuracy of screw-driving in industrial and home applications. The Ronix 8530 cordless screwdriver is designed with folding capability. Ronix has used a 3.6-volt, 1.5-amp-hour lithium-ion battery to increase the life and maximize the performance of this cordless screwdriver.
 
Ronix 8530, 3.6V, 1.5Ah, Foldable Cordless Screwdriver:
With a long-lasting lithium-ion battery and no cords or power outlets, you can move around your workplace more easily. With the Ronix 8530, a small and handy companion, you can finish your tasks quickly and easily. In this section, the specifications of this small but widely used Ronix foldable cordless tool are discussed in more detail. 
Motor:
The Ronix 8530 Foldable Cordless Screwdriver has a maximum speed of 210 RPM and a torque of 5 NM for smooth operation. You might imagine that automatically tightening screws would drive them further in, but this tool includes a chamber that limits the force of the action and doesn't let you worry about that. The Ronix 8530 features a 15+1 clutch for fast, accurate screwing and drilling, which reduces fastener damage. 
Chuck:
The chuck capacity of this unit is 6.25 mm. Changing bits and drills couldn't be easier or faster. All you have to do is push the tip slightly inside to be able to hook the parts. In addition, this gadget comes with an all-in-one screwdriver set that includes 39 useful bits and socket bits made of high-quality S2 alloy. 
Battery:
The Ronix 8530 cordless screwdriver is fantastic because you don't have to worry about a short cord. With a 3.6V battery and a capacity of 1.5 Ah, this machine offers great performance and extended life. In tough working situations, the charger's fast charging technology ensures optimal performance. On the body of this cordless tool, there is a battery charge indicator that helps you know the battery level quickly and easily. 
Body:
Ronix is known for its ergonomic design, which makes it easy to use and provides superior results. The Ronix 8530 cordless screwdriver is small and lightweight (420 g) with an ergonomic design. It has a dual-angle handle that allows for a better grip. This allows you to work in different situations and angles. One of the most interesting features of this gadget is that you don't need a flashlight to use it; it comes with an LED light, making it a two-in-one tool. 
Accessories and packaging:
The Ronix 8530 foldable cordless screwdriver comes in a hard BMC case and includes 39 accessories and a fast charger.