Ronix Gasoline Water Pump 2″ RH-4051
19393
Features

-212cc, 4-stroke high power 7HP engine with outstanding performance
-Self Priming Centrifugal Pump with new design and capable of generating high flow
Suitable for clean water and free of solids and abrasives, non-viscous, non-aggressive, non-crystallized and chemically neutral, clean liquids
-Self-priming ability for Total suction lift up to 8m
-Designed with a Full Frame Protector to withstand harsh environments
-Low Oil Alert Helps to prevent engine damage
-applicable in water supply and drainage for factories, mines, municipal facilities and field irrigation. 
Gasoline Water Pump 2″
Gasoline water pumps are mechanical devices powered by gasoline engines specifically designed to move large volumes of water. They consist of a gasoline engine, an impeller, and an inlet and outlet system and work by the combustion of gasoline in the engine, which provides the power to drive the impeller. The impeller, connected to the engine, then rotates rapidly, creating a centrifugal force that draws water into the pump through the inlet and then expels it with force through the outlet. This process allows the pump to move water efficiently and effectively.
A wide range of individuals and industries can benefit from using gasoline water pumps. Construction sites, agricultural operations, landscaping companies, and emergency response teams often rely on these pumps to handle water-related tasks. They are particularly useful in scenarios where there is a need to remove standing water, drain flooded areas, irrigate fields, or supply water to remote locations without access to electricity. Ronix RH-4051 is a 2-inch gasoline water pump equipped with a 7hp engine that can offer a maximum flow of 30m³/h which guarantees an excellent performance in any of the aforementioned scenarios.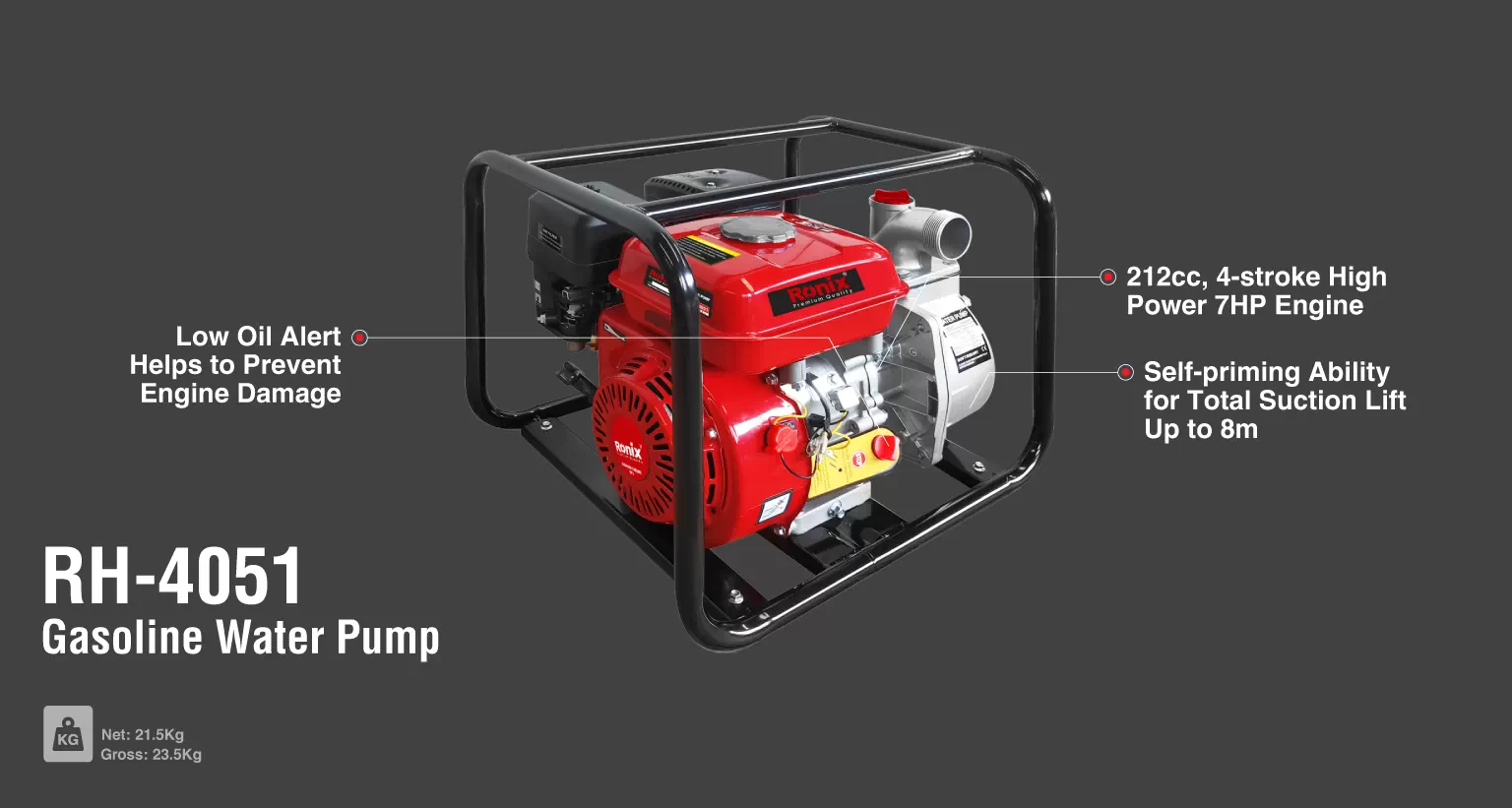 SPECIFICATION
| | |
| --- | --- |
| Model | |
| Type | |
| | |
| | 32m |
| Inlet/outlet port diameter | |
| | |
| | |
| | |
| | |
| | |
| | |
| | Ceramics |
| | |
| | |
| | |
| | |
| | "single cylinder , 4-stroke,forced air cooled" |
| | |
| | |
| | |
| | |
| | 3.6L |
| | |
| | |
| | |
| | |
| | |
| | |
| | |
| | |
| | |
| | |
| | ",1 pc-Spark plug sleeve 1 pc-Rod 1 set-ACCESSORIES" |
Detailed Description
Ronix RH-4051 is a robust 2-inch self-priming centrifugal pump armed with a 7hp gasoline engine that has a working pressure of 3.2 bar and a maximum pumping head of 32m.

Ronix RH-4051, 7hp Gasoline Water Pump:
Gasoline water pumps are commonly used for dewatering flooded basements or construction sites, draining swimming pools or ponds, supplying water for irrigation in agricultural settings, and providing water during emergencies or natural disasters. Gasoline water pumps offer portability, versatility, and high water-moving capacities, making them ideal for applications where electric power sources are unavailable or impractical. Their robust construction and ability to handle various water conditions make them reliable tools for water management in diverse settings. Designed with all of these use cases in mind, Ronix RH-4051 is equipped with a powerful gasoline engine encased in an aluminum housing that protects it against harmful elements, prolonging its lifespan beyond any competition. If you are looking for a robust water pump, our RH-4051 is one of the best options available on the market. Keep reading to learn more about its features and construction elements.

Motor and mechanism:
Our RH-4051 model is equipped with a single-cylinder, 4-stroke, and forced air-cooled gasoline engine that can produce a maximum flow rate of 30m³/h. Furthermore, this engine can deliver a maximum pumping head of 32m with a suction height of 8m. It has a maximum power of 7hp with 3600RPM using petrol as fuel. It is also connected to a 3.6L fuel tank and can work continuously for 2.5 hours, creating a working pressure of 3.2 bar. This powerful engine has a recoil start and uses SAE10W-30 oil to function while also having an ignition system of TCI and F7TC/F7RTC spark types.

Body:
Ronix RH-4051 is a self-priming centrifugal encased in an aluminum housing that protects its casting iron-made impeller and its shaft which is made of ductile iron. With dimensions of 500*430*430mm and a frame diameter of 22mm, the RH-4051 model has net and gross weights of 21.5 and 23.5kg respectively. This model also has inlet and outlet ports with a diameter of 2 inches.

Safety:
The RH-4051 model has a semi-open impeller that in addition to its aluminum housing, is protected by a ceramic mechanical seal. These two features work together to help Ronix RH-4051 be one of the most resilient pumps out there. Thanks to these features, our RH-4051 can work in environments as hot as 40 degrees Celsius in addition to having the ability to pump liquids with a maximum temperature of 65 degrees Celsius.

Oil Alarm:
Furthermore, Ronix RH-4051 is also equipped with an oil alarm that warns you if the amount of oil is not at the recommended level which prevents engine damage, increasing the lifespan of this robust pump.

Accessories and packaging:
Ronix RH-4051 comes neatly packaged in a Carton alongside a spark plug sleeve and a rod in addition to a complete set of necessary accessories to jumpstart any pumping operation.