Ronix Hex and Torx Key Set RH-2051
11870
Features

-A complete set of short arm keys in different applicable sizes suitable for a wide range of applications
-Different sizes of hex & torx keys which can cover all your requirements
-Made of chrome-vanadium steel for rugged strength and more durability
-Hardened ends for extra-high torque during operations
-Hex ends are square-cut for a secure full-depth fit 
-Unique hinged storage box opens flat for easy access to the keys and has a high visibility dimension marks for a quick selection of dimensions
Full Set for Professionals!
Screws and bolts come in different sizes, so you need different-sized hex and Torx wrenches for tightening and loosening the screws. The Ronix RH-2051 Hex and Torx Wrench Set is a small, lightweight, and convenient set of 18 different sizes of hex and Torx wrenches. This practical set is made from the highest quality raw materials, with a compact design for convenience. The finest raw materials are used to make this amazing hex and Torx wrench set. Heat-treated chrome vanadium steel ensures the strength and durability of the tool. In addition, the aluminum body makes the RH-2051 a very lightweight set with a rustproof chrome coating to protect the wrenches from corrosion. The Ronix RH-2051 short arm Hex and Torx Key Set has hardened ends to provide the user with very high torque during operation. These ends are cut square for a secure fit and maximum contact with the hex socket to prevent slippage and fraying of the socket. 
Specifications

| | |
| --- | --- |
| Model | RH-2051 |
| Material | CR-V |
| Type | Short Arm |
| Ends | Straight Ends |
| Supplied In | Storage Box |
| Included Sizes | 1.5 mm 2.0 mm 2.5 mm 3.0 mm 4.0 mm 5.0 mm 6.0 mm 8.0 mm 10.0 mm T10 T15 T20 T25 T27 T30 T40 T45 T50 |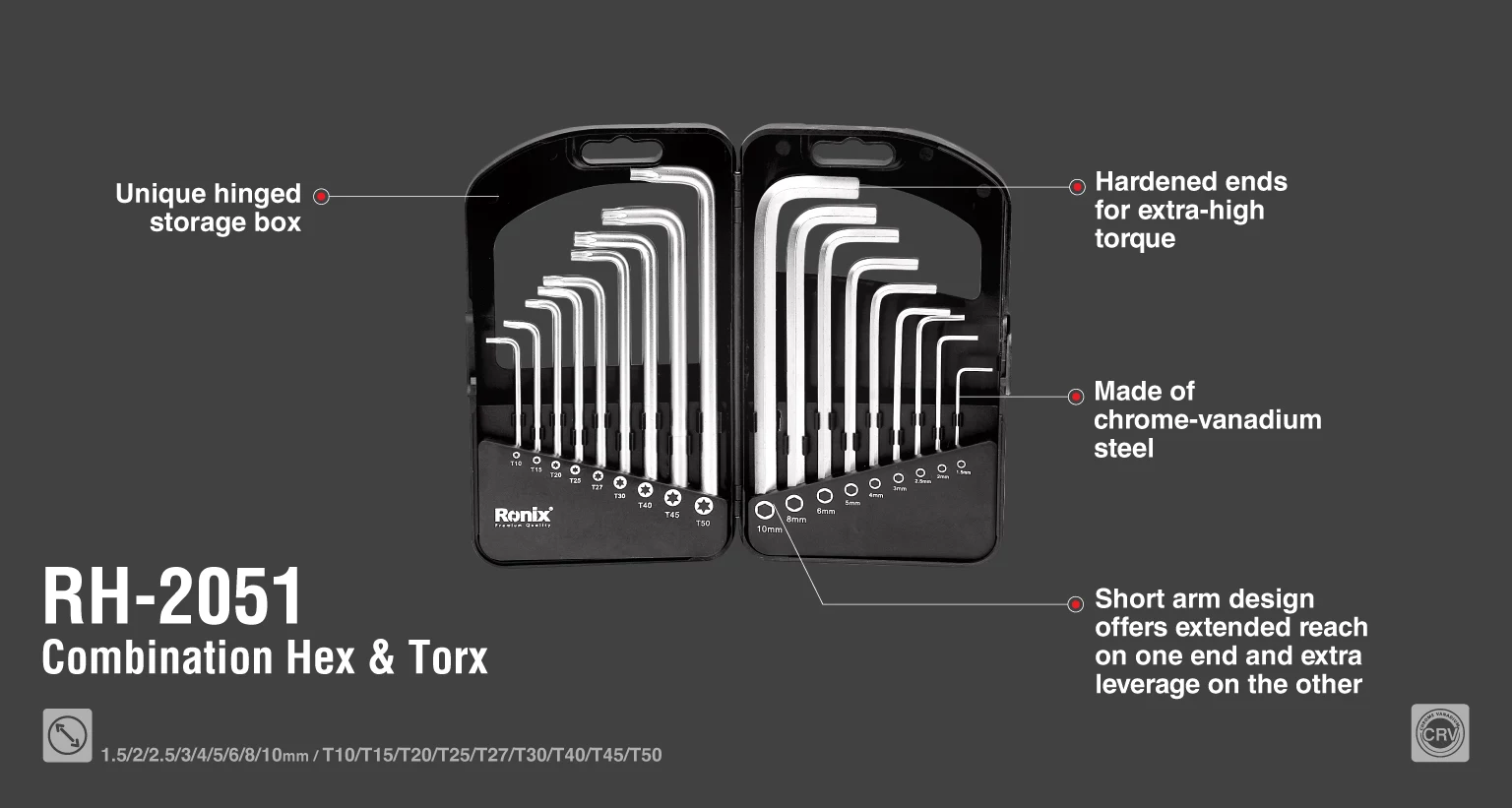 Detailed Description
This Ronix full set contains the most popular and commonly used sizes of 1.5, 2, 2.5, 3, 4, 5, 6, 8, and 10 mm for hexes and T10, T15, T20, T25, T27, T30, T40, T45, and T50 for Torx keys. These 18 pieces of keys help the user with quick tightening and loosening fasteners.
 
Ronix RH-2051, 18pcs, Combination of Short Arm Hex and Torx Key Set:
Ronix RH-2051 is a set of 18 different-sized hex and Torx wrenches with hexagonal and star-shaped heads. These wrenches are commonly used in the automotive and construction industries. They can also be used in other contexts, such as furniture assembly or home repairs. Keep reading to learn more about the features of this Ronix product. 
Construction:
The Ronix RH-2051 18-Piece Short Arm hex and Torx Key Set offers reliable performance with a chrome vanadium shaft that has a matte surface finish for durability and wear resistance. The hardened ends of keys are designed for extra-high torque during operations and also are square-cut for a secure full-depth fit. 
Size:
The Ronix RH-2051 18pcs Short Arm Hex and Torx Wrench Set is a versatile and powerful tool designed to tackle a variety of tasks. With its high torque output, this set offers exceptional performance, making it suitable for demanding applications. The set includes 9 short-arm Torx wrenches (T10, T15, T20, T25, T30, T40, T45, and T50) and 9 short-arm hex wrenches (1.5, 2, 2.5, 3, 4, 5, 6, 8, and 10 mm), ensuring compatibility with a wide range of fasteners. 
Packaging:
Ronix has further improved the design and you can see the result in the RH-2051. All the hex and Torx wrenches are grouped in a convenient, single box that opens up-flat for easy access to the wrenches. This amazing box features highly visible size markings to make it easy to quickly select the right key.