Ronix Laser Digital Termometer-550°C - RH-9601
18676
MVR 31000

MVR 310.00

Save MVR 490
---
---
Features

-Infrared thermometer for non-contact surface temperature measurement for use in monitoring electrical, mechanical, HVAC, automotive systems, cooking usage

-Distance to Spot  ratio 12:1  for measuring targets at a longer distance

-Adjustable emissivity from 0.1-1.0 allow to measure temperatures precisely on different surfaces such as froze food, glass, iron, marble, clay, brass, wood ,… 

-High and low alarms for rapid detection of measurements outside the limits

-Large backlit display makes it easier to read data, even in dark areas

-Features rugged, ergonomic design that stands up to tough industrial, electrical, and mechanical environments
A laser digital thermometer, also known as a temperature gun, is a handheld device used to measure surface temperatures without direct contact. These thermometers use infrared technology to detect and measure the thermal radiation emitted by an object. By aiming the built-in laser at the target surface, the thermometer captures the infrared radiation and converts it into a temperature reading. Featuring a color display with a response time of fewer than 0.5 seconds, Ronix RH-9601 is also a digital thermometer that only needs two AAA batteries to function. By purchasing this model, you will never need a new thermometer for years to come.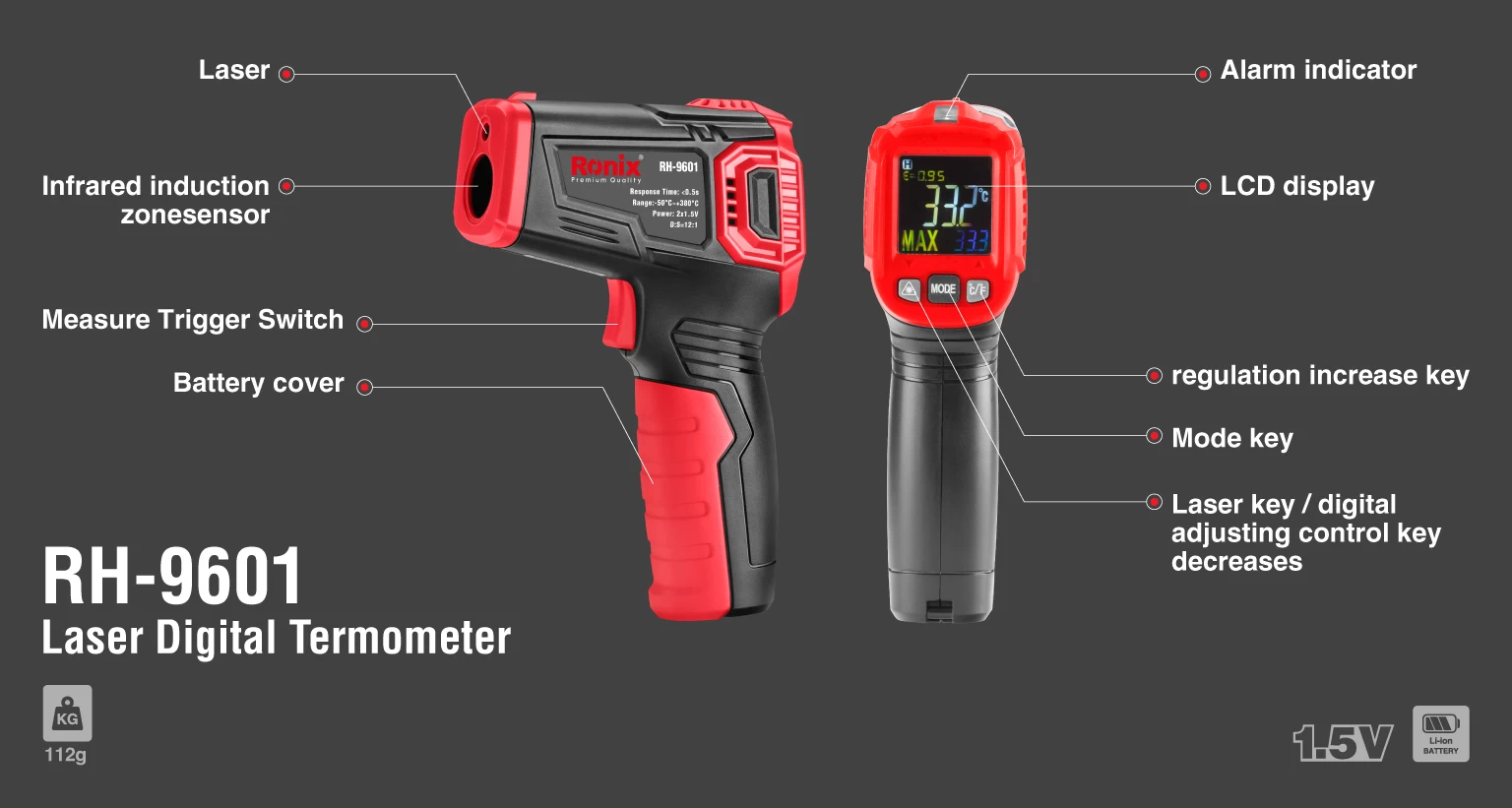 Specifications

| | |
| --- | --- |
| Model | |
| | -50°C~550°C (-58°F~1022°F),-50°C~0°C (-58°F~32°F):±3°C 0°C~550°C (-32°F~1022°F):±2% or ±2°C |
| Display | |
| | <1mW(630nm~670nm) 12 point circular measurement area indication |
| D:S | |
| | |
| | 8~14um |
| | <0.5S |
| | Yes |
| Temperature upper / lower limit alarm (Red) | Yes |
| | Yes |
| | Yes |
| | Yes |
| | Yes |
| | Yes |
| | |
| | |
| | |
| | |
| | |
Detailed Description
Ronix RH-9601 is a digital thermometer packed with numerous safety and convenience features that can offer a maximum temperature read out of 550 degrees Celsius.

Ronix RH-9601, 550°C Laser Digital Thermometer:
Laser digital thermometers can be utilized by a wide range of professionals and individuals, including HVAC technicians, food inspectors, automotive mechanics, and homeowners. They are particularly useful in scenarios where direct temperature measurement is difficult or unsafe, such as checking the temperature of a running engine, monitoring HVAC systems, ensuring food safety, or troubleshooting electrical equipment. Ronix RH-9601 not only offers all of these benefits, but it also features several other capabilities that take its performance and reliability to the next level. If you want to learn more about these features and capabilities, keep reading.

Mechanism:
Ronix RH-9601 is equipped with a less than 1mW(630nm~670nm) strong laser that features a 12-point circular measurement area indication. This model has a distance-to-spot ratio of 12:1 in addition to an emissivity of 0.10 to 1.0 and a spectral response of 8 to 14um. These features go hand in hand to produce a temperature read out in less than half a second in the range of -50 to 550 degrees Celsius or -58 to 1022 degrees Fahrenheit. From -50 to 0 degrees Celsius (-58 to 32 degrees Fahrenheit) the RH-9601 model can produce results with an accuracy of ±3 degrees while from 0 to 550 degrees Celsius (32 to 1022 degrees Fahrenheit) its accuracy increases to ±2 degrees. All of these functionalities are accessible with only two AAA batteries.

Body:
With dimensions of 145*92*45mm, our RH-9601 only weighs 112g and is packed with features and controls right on the body. It has a Celsius or Fahrenheit backlit display in addition to a low battery indicator and the ability to automatically turn off to save battery alongside the ability to save and hold data. Additionally, the RH-9601 has safety ratings of EN61326 and EN60825 which ensures user safety and peace of mind.

Accessories and packaging:
Just like our other premium devices and tools, Ronix RH-9601 comes neatly packaged in a Ronix color box and includes two AAA batteries so you can start using it right away.